Sports is a big part of everyone's lives and people love to follow sports events happening around the world on a daily basis
Even though there are always a variety of athletic events taking place around the globe, including your favorite sports, there are few significant competitions that every sports enthusiast should put on their bucket list. Last year we saw some great sports tournaments which saw massive turnouts in the stadiums. These are the things audiences waited for almost two tears and they are relishing each and every opportunity they get at watching their favorite sports and athletes live. Here are the top athletic events we think you should attend in 2023. If you have the chance, watch them live.
1) Women's Cricket World Cup (February) 
South Africa can also be considered favorites since the tournament is in their country and are acclimatized to the conditions
The ICC Women's T20 World Cup 2023 is scheduled to start on February 10 and India will kick off their campaign against Pakistan in Cape Town on February 12. The semi-final matches will include the top two teams from each group at the conclusion of the group stage. It will take place on February 26. Early in 2020, Australia was put to the test by a young Indian team, but three years prior, Australia simply outperformed the Indian team at home. All eyeballs will be on India when they compete in this World Cup, and they will be seeking retribution. In order to continue building their collection of trophies in their glory period, Australia would like to defend its title.
2) Rugby World Cup (September – October)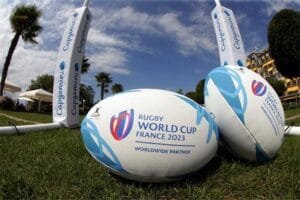 France are a team to be reckoned with especially at their home
As Antoine Dupont captains the hot contenders France together into the home World Cup involving 20 nations competing at nine sites, all attention will be on him. France will play New Zealand in the tournament's opening match, which promises to be exciting. Wales are placed in a group with Australia, Georgia, and Fiji, the first two of which they succumbed to during the Autumn Nations Series, while the defending champions South Africa are placed in the same pool as Ireland. England entered the competition in a state of uncertainty after Steve Borthwick replaced fired coach Eddie Jones.
3) Wimbledon 2023 (July – August)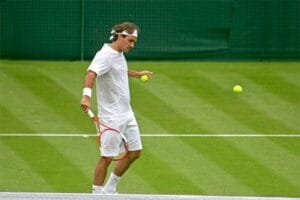 The legend Roger Federer will surely be missed at the tournament where he achieved so many great wins
The most important event in British sport each year is Wimbledon. It consistently draws large groups and sends them home content. Additionally, it serves as a thrilling indication that summer has here for those who can only watch on television and has the ability to enthrall audiences across without costing a dime. In 2022, fierce Nick Kyrgios gave the defending champion Novak Djokovic a run for his money, while Elena Rybakina prevailed in the women's competition. The competition would be played for the first time following Roger Federer's retirement, so it would be interesting to see if he showed out to watch or serve as an ambassador for the event.
4) FIFA Women's World Cup (July – August)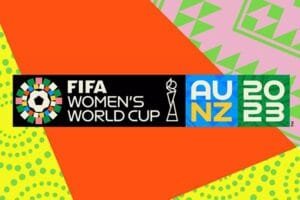 USA and England will be looking to challenge for the title right from the start
A number of new European World Cup candidates pose a serious threat to the dominant United States women's team. Although the Americans previously won four of the eight prior tournaments, including the most recent two, they were defeated this year by Germany, England, and Spain. At Euro 2022, England will be looking to build on their success at home, while co-hosts Australia will be expecting Chelsea star Sam Kerr to take the Matildas further than the quarterfinals. The inaugural 32-team women's World Cup will be held in ten locations spread among nine major cities in Australia and New Zealand, and it's expected to break attendance and viewing records, providing another sign of the sport's rising popularity.
5) Men's Cricket World Cup (October – November)
Indian fans would be hoping that they can win the tournament on home soil just like the team did 12 years back
England will fight for the title they thrillingly won at home in the 13th iteration of the international 50-over tournament in 2019. Only ten teams are competing in the seven-week-long tournament, which consists of 48 games. The top seven nations from the Super League, along with the hosts India, will advance, along with two nations from the qualification competition that will be staged in Zimbabwe in June or July. However, there is already controversy around the former president of the Pakistan Cricket Board Ramiz Raja's suggestion that Pakistan would boycott the World Cup should India decline to compete in the Asia Cup that is also scheduled for Pakistan in 2023.
The new year can't come any sooner for sports fans who would be thrilled to watch their favorite matches and tournaments play out in front of their eyes. Which athlete or tournament are you looking forward to watching in 2023?