2023 is here and it's time to have a blast with many fun events taking place in Delhi – NCR.
We all have wished for a better and happier new year and looks like Delhi folks are about to have a blast at the beginning of this year. Yes, we have some really good news for Dilliwalas. With many artists performing in Delhi-NCR, the initial month of January is surely going to be a blast. Here we have compiled a list of all the hot-and-happening events taking place in January 2023. So, if you are in Delhi, it's your time to make a plan right away with your folks and have a good time.
Amrit Wadali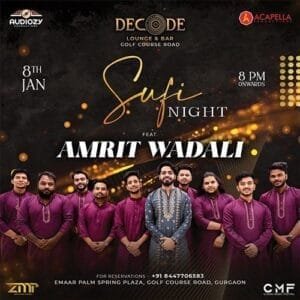 Amrit Wadali will be making a sufi ambiance with his melodious voice.
If you are a 'Sufi soul' who enjoys everything about good music, this is definitely for you. Amrit Wadali is a student of Ustad Nusrat Fateh Ali Khan Sahab and a trained professional vocalist. Take Sunday off the hook completely. Relax while taking in the musical ambiance and you can also enjoy some good food and drinks. So, make a plan with your squad to set you in the Sufi mood for your upcoming Sunday.
Date & Time: January 8, 2023, Sunday at 8:30 p.m.
Venue: Decode, The Palm Spring Plaza, Gurugram
National Street Food Festival
Get ready to experience the street food heaven.
Where there is food, there is fun. As the name suggests, you know there is going to be so much food from around the nation, and honestly, is there anything that tastes better than authentic street food? Nah. Especially when you have such a great variety of different flavors from all around India. There is going to be food from different states and the Union Territories of India. Also, there are going to be many fun activities.
Date & Time: January 13 – January 15, 2023, Friday to Sunday – 12 p.m. onwards
Venue: Jawaharlal Nehru Stadium, Gate No. 2, Delhi
Gaurav Gupta
Gaurav Gupta will tickle your funny bones.
Who doesn't like a good laugh? And it's time to have many good laughs. Famous comedian and baniya boy, Gaurav Gupta is all set to perform in Delhi and tickle your funny bones. If you haven't watched him perform yet but are a fan of his absolutely insane comic timing, it's your chance to have fun and watch him perform live. Go book your tickets now!
Date: January 13 and 28, 2023
Venue: The Laugh Store, The Vegas Mall Dwarka, Delhi
Javed Ali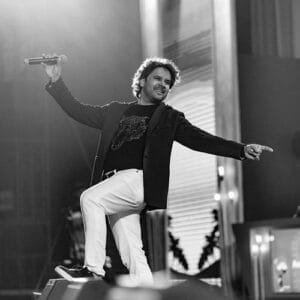 Javed Ali will give you a great time with a variety of classics from Bollywood, folk music and sufi arena.
The King of such a soothing voice, Javed Ali, who has sung numerous beautiful songs in Bollywood movies that forced us to imagine those dreamy love scenes in our heads is coming to Delhi. Prepare to be swept away in the joy of India's deep voice performing Sufi music. With a pledge to provide a heartfelt experience of exquisite Sufi songs that include their well-known classics from Bollywood, Sufi, and folk music, Javed Ali is ready to ignite a musical evening in Dilli.
Date and Time: January 21, 2023
Venue: Sirifort Auditorium, Delhi, at 7:30 p.m.
Guru Randhawa
Is there any party that is complete without Guru's songs?
It's time to let your hair loose and enjoy the party with the amazing Bollywood and Punjabi singer Guru Randhawa. We all danced to his tracks at our parties, but now, it is time to listen to him live and party with him. so, don't miss out on this chance to enjoy a fun and crazy night while dancing to some of the greatest party hits with the singer.
Date and Time: January 28, 2023, at 6:00 p.m.
Venue: Airia Mall, Gurugram