Purchasing Laptops from Dell Was Our Biggest Mistake. If You Are to go Out and About for Dell, Stop Before it's Too Late!
Some pages; when left unturned forget what they hold within. But don't worry Dell, we have got your back because we know your worth – in the trash. This is the update to our previous rant on Dell – how they make their products, how they treat their customers, and what issue we dealt with after purchasing around 10 laptops from Dell. If you haven't still read the first part, please click here. Are you ready for the 2nd Phase? Because Boy oh Boy, we have got so much to talk about. Fasten your seat belts and put on your reading glasses – because we are just about to enter the Hell by Dell all over again!
If any of you want to share your bad experiences with Dell, e-mail us at pr@tcg.media with screenshots and proofs 
Filing The Complaint 
The first thing that anyone does after getting to know the actual fault in their product is filing a complaint so that the brand gets alerted about the issue. Guess what? We did the same thing but didn't know that filing a complaint on Dell's Official website is more difficult than becoming a parent.
As you can see in the screenshot, Dell doesn't even provide the provision of talking to the executive or even messaging the required department. "Parts & Accessories may not be available for this product or this service is temporarily unavailable." We regret that why didn't this message was displayed while we were paying for the laptops. "OUT OF STOCK" would have been our three magical words at that time.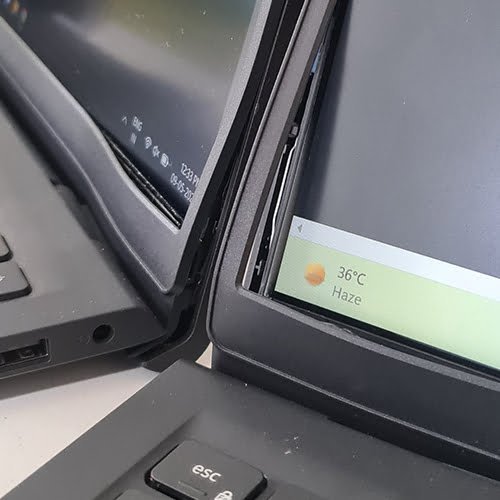 This is The Condition of Two Out of the ten Laptops Purchased from Dell Only After 2 Months of Corporate Usage.
Customer Support – Better to Ram Your Head into a Wall 
Just before you read any further, we would like to brief you on why did Dell message us in the first place:
We Posted on Instagram about their wrongdoings.
We have a verified account on Instagram.
We have more than 90,000 Followers.
Imagine the same happening with a normal user who is not that active on social media. Anyone would have been devasted as they would be as helpless as a lost sheep. Turning their backs on their consumers and putting the blame on the unavailability of parts is nowhere near acceptable.
We talked to the customer support and this is how it went: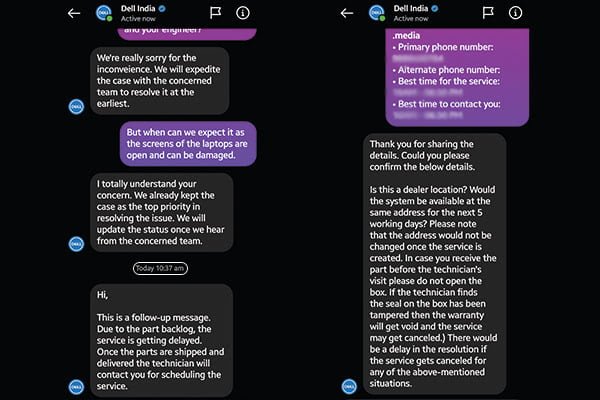 While 7 days have passed after filing a complaint, we are still getting an array of delays. Dell also has waved off its hand if any technical difficulty arose in between the time their (delayed) parts reach the laptop. No surety was given to us that Dell will take the responsibility for damages if their service is being delayed. Still, as you can see, we are in the "Top Priority". Do we wonder what happens if someone is way below Dell's priority list? We think repairs are transferred to their third generation because due to the covid situation – an eternity must be given to Dell, Come on!
Talking to Dell's Technician 
8 out of 10 laptops still lay ignored and broken, Dell sent their technician equipped with parts for only one of the laptops. Mostly he was trying to not engage in any conversation – but when we asked him about this issue, then he said, "This is a common problem in this specific model, I have received many complaints already."
Mind you, this is Dell's official technician and the laptop's model is Dell Inspiron 15 3511 with Intel i3 11th Generation. Remembering one of the top technology conglomerates, when the same incident happened with them, they recalled their 'Note 7' and that too without any extra costs. The company faces losses of around $17 Billion but they prioritised their consumers over profit. Shame on you Dell, learn something from your competition.
Hiding Behind the Shield of Covid-19
Declared a pandemic on March 11, 2020 – The novel coronavirus changed the entire world. We understand the effects of coronavirus but it has been more than 2 years and most of the businesses have recovered. A company worth around 5,000 crores can't cope with Covid-19 even after 2 years is quite strange.
Talking about facts, the work from home culture boosted the sales of laptops and tablets – the two of Dell's primary expertise. As you can see in the screenshot, the "Covid-19 Pandemic" is still an issue – we would like to call it a coverup for the worthless pieces of junk you manufacture; Dell.
Conclusion of This Trial 
We wanted to educate our readers and keep them updated on how Dell treated us. We, as a consumer, faced a faulty line of products, no solution, and lots and lots of trouble. This is not it; we will make sure devils like Dell pay for their faulty products. They should know how does it feel to be cheated.
We got some of your complaints on our social media handles and we have compiled them together. If any of you want to share your bad experiences with Dell, e-mail us at pr@tcg.media with screenshots and proofs and we will make certain that brands like Dell pay for their wrongdoings.