The Perfect Way To End The Year Is By Elevating Your Style For The New Beginnings! So, What Are You Waiting For? Get These Elegant Steel Cases To Dress Your Wrists ASAP!
Fashion is continuously evolving, that goes for watches as well. A sophisticated dress watch is not only the chicest jewel but also appeals your suit or tuxedos. Most watch aficionados consider a go-to dress watch to be a necessary addition to any collection. That's why, we are here with 10 best Dress watches launched in the year 2022. As December marking the end is formed from the Latin root 'Decem' which means 'ten'. Are you ready to look spiffy when noticed but without calling too much attention to yourselves? Hop On!
OMEGA – SPEEDMASTER CHRONO CHIMECOAXIAL MASTER CHRONOMETER
CHRONOGRAPH 45 MM
This watch speaks luxury! The dial, in blue aventurine "Grand Feu" enamel, features an inner bezel and subdials in 18K SednaTM Gold "exclusive acoustic waves". The hour markers and hour/minutes hands are in diamond-polished 18K SednaTM Gold. OMEGA has been using the exclusive 18K SednaTM Gold, since 2012. It also offers high resistance to the fading of colour and lustre over time. In 2022, Omega is still one of the most dominant brands in the luxury timepiece industry. They have the largest production of luxury watches in Switzerland, creating over 240,000 luxury watches every year.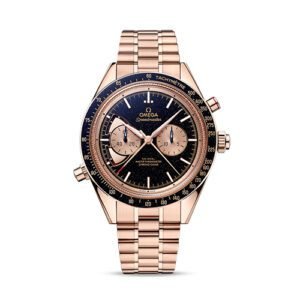 HUBLOT- CLASSIC FUSION AEROFUSION ALL BLACK SHEPARD FAIREY 45MM
The Swiss luxury watch brand and internationally renowned contemporary street artist Shepard Fairey join forces to launch this North American exclusive timepiece. Look how art and watchmaking – fusion of two exceptional worlds united to launch pure elegance. They are featuring Shepard Fairey's signature star mandala and Hublot's All Black iconic design signature. Leveraging the aesthetics and the utility of both has created this timepiece, which will be difficult to replace. Men can pair this watch with their black suits to create an all-black sophisticated look.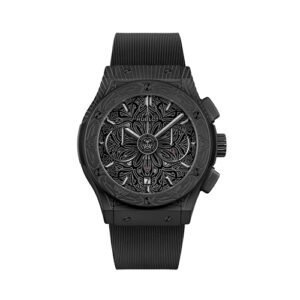 ALANGE SOEHNE – ZEITWERK IN 18K PINK GOLD
The second generation ZEITWERK having a mechanical heart goes a step forward with the double power reserve of 72 hours. It is aesthetically original and technically elaborate. The hours and minutes are displayed by large-format numerals that are 2.9 millimetres high and 2.3 millimetres wide. The curved time bridge and the size of the displays ensure impressive clarity. However, the most exciting event happens at the top of the hour when all three are simultaneously advanced by one increment.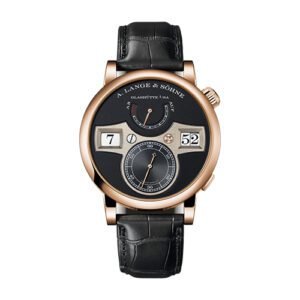 CARTIER – CLOCHE DE CARTIER WATCH
Watch of art or wristwatch? The Cartier unique technique never compromises on the design and creativity. The bell shape of this hand-wounded mechanical movement having 18K yellow gold, leather has distinctive shape. It blends the classic and contemporary in one subversive design. The watch, when placed flat and vertically, stands alone as a chic desk clock. As it neatly combines both the rectangular and the round shape. It is one of the rarest aesthetics in Cartier's watchmaking repertoire.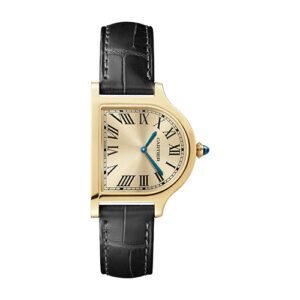 PATEK PHILIPPE – 5326G – COMPLICATIONS SELF- WINDING
The latest addition to Calatrava collection with the Ref. 5226G in white gold illustrates Patek Philippe's creativity. Indeed, this contemporary vintage style model combined with a new case adorned with 'Clous De Paris' hobnail pattern and a textual gray dial. It offers a new perspective of the very refined element of the Patek Philippe style. With its slightly chamfered bezel and the polished, inclined lugs, it underscores the sleek and timeless elegance.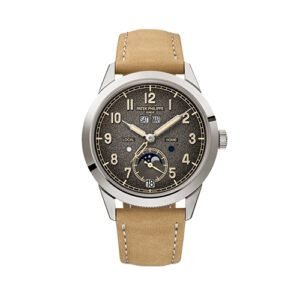 PIAGET – POLO SKELETON WATCH
Taking this distinctive watch to another level, each Piaget Polo Skeleton is delivered with an additional alligator leather strap. Ever heard of skeletonized movements? This watch has ultra-thin timepieces and skeletonized movement happens in a steel case. It allows the wearer to see the movements work. The blue movement is divided by applied hour markers displaying hours, minutes and seconds. This sleek luxury watch including two interchangeable straps can be swapped effortlessly that perfectly complements the ultra- thin curved case.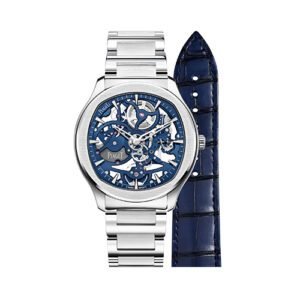 VACHERON CONSTANTIN – TRADITIONNELLE TOURBILLON 6000T/000R-B346
The tourbillon is often considered a masterpiece of the watchmaking art. And while it is not strictly speaking considered a horological complication, it is nonetheless a mechanical system as complex as it is fascinating. It is inspired by the Maison's iconic logo, the tourbillon houses has exceptionally finished components. The Traditionnelle collection is the supreme expression of the most demanding Geneva Haute Horlogerie traditions inherited from the 18th century. 
BAUME & MERCIER – CLIFTON AUTOMATIC WATCH 10592
A Clifton Baumatic COSC certified chronometer, this attractive timepiece combines the cool look of a polished steel case with the depth of the gradient green dial. The black alligator strap is interchangeable, allowing for seamless style versatility. They founded Baume & Mercier, Genève, in 1918. The firm soon became one of the most active ones in the field of wristwatches by offering remarkably balanced special-shaped models. In 1919, it was also awarded the highest international distinction of the time in the shape of the "Poinçon de Genève" quality hallmark.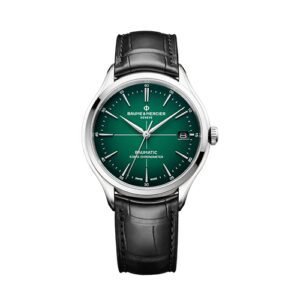 IWC SCHAFFHAUSEN – PILOT'S WATCH CHRONOGRAPH TOP GUN
The International Watch Company (IWC) is best known for manufacturing the world's finest pilot watches. The authentic Pilot Watch's remarkable conical crown traces back to the highly innovative days of aviation. The brand's special emphasis on aviation wristwatches continues to this day, but its product range does not end there. This launch has a classy elegance that can be worn for many years to come. Moreover, you can pair it with nearly all tuxedos without it looking out of its element.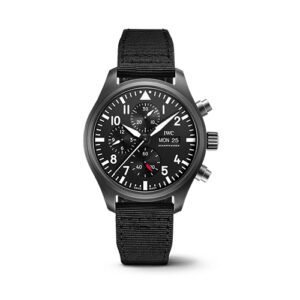 GIRARD PERREGAUX – LAUREATO 38 MM
The new 38 mm copper- coloured dial is sidestepping gender stereotypes, while keeping its timeless aesthetics and distinctive octogonal bezel. Since 1975, this icon is a byword for versatility, proving suitable for all roles. As these elements uphold the Laureato's timeless design language, much loved by purists since the inaugural model was unveiled in 1975. The timepiece is mastering light, transitioning from tawny brown to pink-toned gold with multiple shades in between.