To hydrate yourself this summer season, try these 6 thirst-quenching and refreshing summer beverages to beat the heat.
The sweltering summer is almost here! In this weather, we often look for a quick fix to refreshing and hydrating beverages that cool off our souls. But the question is that are these fizzy beverages and frozen desserts healthy for us? Are they actually help us to stay hydrated and quench our thirst? The answer is "No". Instead of sugar-laden frozen desserts and fizzy, aerated drinks, try some healthy homemade drinks, which are quick and easy to make and provide all the nutrients to your body to battle the heat. 
Fresh fruit juices are much more hydrating, refreshing and delicious and the best way to tackle heat-related issues and maintain your health. These drinks have a thirst-quenching property and make your summer more fun and bearable.
Here we have curated a list of six amazing summer drinks you must not miss out on:
Aam Panna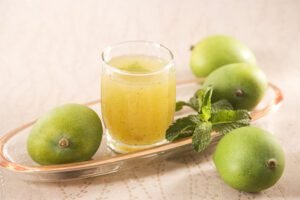 One of the most healthy and lip-smacking summer drinks is Aam Panna or Aam Jhora, which is very popular in Maharashtra. This tangy-sweetness drink has cooling properties and maintains our body temperature. It is prepared from unripe mangoes pulp, blended with cumin seeds, black salt, mint leaves, and jaggery mix it all of the ingredients well and store the panna in a bottle. Add 1 tablespoon of aam panna in chilled water and served it with mint leaves and ice cubes.
Sattu Sharbat
To beat the heat this summer what's better than a desi drink? Sattu Sharbat is the speciality of UP and Bihar. This drink is high in manganese, iron, and magnesium, which gives you rapid energy, reduces acidity and cools down your body temperature. It is prepared with some Sattu (roasted gram flour) and sugar or jaggery. Add sattu flour to one glass of chilled water and add some sugar or jaggery to it and ta-da, it's ready to drink.
Sugarcane Juice
Sugarcane juice is the most refreshing drink in summer and has numerous health benefits. It helps to build plasma and body fluids to deal with dehydration and fatigue and is a great source of energy. It's high in antioxidants. Add mint leaves to a glass of sugarcane juice enhances its flavour.
Lassi
No matter what your drink preferences are but nothing can beat the Punjabi Lassi. This creamy and smooth yoghurt-based refreshing drink comes in different variations such as strawberry lassi, mango, banana lassi etc. During the summer season, Mango lassi is the most cherished drink. To prepare a lassi, shake up yoghurt along with water with a pinch of rock salt and served it in an earthen pot with cumin powder and mint leaves. 
Watermelon Juice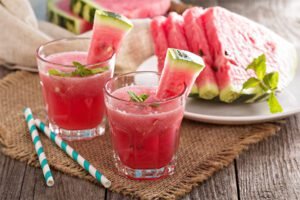 Watermelon is one of the best summer fruits and it's super hydrating, tasty and has many health benefits. It's a great source of Vit C, B6, and A. Watermelon juices are the perfect drink for any party as well. To prepare watermelon juice you have to chop the watermelon into small pieces and blend it with mint leaves, and chilled water and enjoy this tasty refreshing drink.
Lemon Iced Tea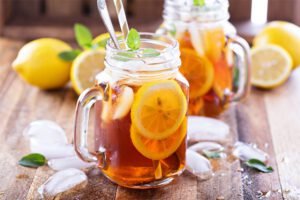 For all tea lovers, lemon iced tea is the perfect summer beverage. This lightly sweet, zesty, refreshing drink help you to survive the summer heat waves. All you need black tea bags, lemon, and sugar to make this super quick and easy drink. Or you can also add mint leaves to garnish. Heat some water in a pan and steep tea bags in boiling water for five minutes. Remove tea bags and stir some sugar, freshly squeezed lemon juice and cold water in it. Put this drink in a refrigerator for some time and it's ready to serve with ice and mint.