This T20I World Cup might be one of the best T20 tournaments that we have seen over the last decade or so, because you couldn't write any team off and all the teams had to be at their level best to get the win.
The T20 World Cup's Super 12 stage in Australia has been underway for three weeks. Huge shocks, last-over humdingers, historic partnerships, and dazzling centuries have already been witnessed. There are still some takeaways that we can all learn from the 42 matches that have been played at this year's World Cup, with only four teams remaining that can win the coveted title. 
1) Associate Nations Not To Be Taken Lightly 
Associate Members are the cricket governing bodies of nations recognised by the ICC, nations connected for cricket-related objectives, or geographic areas that do not meet the requirements for full membership but have a well-established and organized sport of cricket. But some associate nations take part in the World Cups as well after successfully qualifying from the World Cup Qualifiers. People make their assumption that the associate nations won't win matches against full member nations and they have less chances of making it to the knockouts. But since the past few years, the associate nations have been making brilliant progress and this World Cup is proof of that. Netherlands is the best example as they beat two full member nations in South Africa and Zimbabwe and Namibia who upsetted the Asian champions Sri Lanka on the first day of the World Cup itself. 
This tournament proved that every team is capable of winning on their day and there are no favourites in any match 
 2) South Africa Choke Again 
In a vital T20 World Cup match against the underdog Netherlands at Adelaide Oval, South Africa once again faltered when it meant the most. They lost by a score of 13 runs which may have been the  most disheartening low that can come in a game where a victory may have secured them a position in the semifinals. Even though it wasn't as bad as the Hansie Cronje affair, Temba Bavuma's team will be upset. Who knows, a depleted Bavuma may decide to step down as captain as a result. Even though South Africa only needed to win one of their two games against Pakistan or the Netherlands, they were defeated on both occasions. The side will experience consequences, and sooner rather than later, adjustments will be made.
The "chokers" tag will surely remain with South Africa for a long time due to such tournament exits 
3) Rain's Love Affair With ICC Events
Cricket fans all throughout the world experience a joyful energy when ICC events take place. But when the matches are impacted by weather, even the strongest hearts falter. One of the events that has been most severely impacted by weather is the current World Cup. Rain would undoubtedly have an influence, and some teams would still rue missing points as a result. Every time an ICC event is hosted outside of the subcontinent, rain simply dominates the conversation more than cricket. This is a very peculiar love affair between the rain and ICC tournaments. The calculations required by the experts and pundits to mentally wrap their heads around the permutations and combinations brought about by the tournament's rain require the assistance of calculators.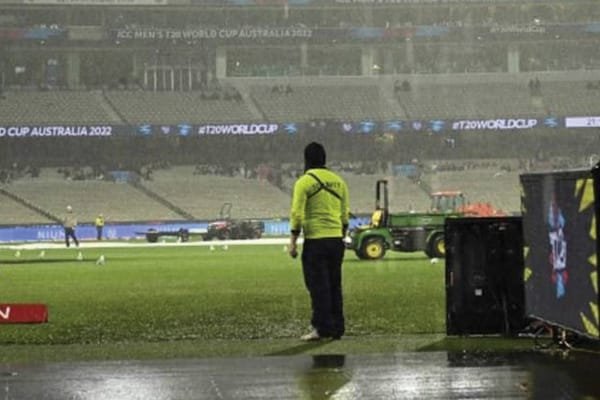 A total of four games have been abandoned till now at this year's World Cup and the forecast for the final also doesn't look good
 4) Suryakumar is the New "Mr. 360"
According to batting legend Sunil Gavaskar, Suryakumar Yadav has transformed into the new Mr. 360 degree and India will struggle to score enough runs without him. The current best T20 batter in the world, Suryakumar, has sparkled in the T20 World Cup, scoring brilliant innings in the Super 12 round to enable India advance to the tournament's semifinals. He and Virat Kohli, who have both recorded three half centuries in five games, have been the team's standout batsmen. However, Surya's innings has been scored at an extremely high strike rate. Surya can score in any section of the field, without a doubt.He has all the shots of a proper 360 degree player and is just toying with the bowlers for fun at this point. He is destined for bigger things and has shown that hard work has no substitute and one should never give up on their dreams.
It didn't feel like cricket fans missed AB De Villiers because the way Surya played, it reminded everyone of him
5) Pakistan Rise From The Dead
The Pakistan Cricket Team staged a remarkable comeback after almost being eliminated from the World Cup. The Pakistani cricket team encountered numerous comments after losing prior games due to poor play and an erratic batting order. But the team remained defiant on the pitch and triumphed three times in a row against South Africa, the Netherlands, and Bangladesh. Finally, Pakistan has earned a spot in the semifinals. After two straight defeats to India and the underdog Zimbabwe, no one gave them a chance to advance from their group. But because of an unusual turn of events, which saw them fight back valiantly, and a few other outcomes going their way, they have advanced to the semifinals, where they will face New Zealand on Wednesday.
Pakistan team never lost faith and played good cricket after a disastrous start to the tournament 
These were just a few of the takeaways from what has been one of the most exciting ICC events in a long time. People are claiming that this tournament is better than the World Cup last year as almost all the teams were good and the only thing that remains to be seen is who wins the World Cup on Sunday. Four teams remain and all four have a shot at the title but first they have to clear the semi final stage. On wednesday, New Zealand will take on Pakistan in Sydney while the second semi final would see India take on England at the Adelaide Oval.