On Twitter's #AskSRK, King Khan and his witty responses to trolls give netizens with nothing less than a great dose of entertainment.
Continuing the fun Q&A with his fans with #AskSRK on January 4 (Wednesday), King Khan of Bollywood, Shah Rukh Khan decided to interact with his fans and supporters yet again at the beginning of the New Year. Keeping it fun and simple, SRK clearly mentioned that the session would be all about fun answers and nothing too serious as we all enter the new year. However, some people missed the instructions by SRK and tried to troll the megastar.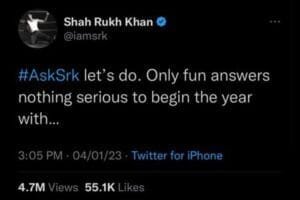 SRK conducted his #AskSRK session on Twitter for New Year.
And then came the witty replies by King Khan that he is known for other than his charming looks, sweet gestures, and his down-to-earth personality. For the unversed, SRK has conducted such Q&A sessions often to interact with his fans, but this time, it was special as Pathaan is about to hit the big screens soon. With Deepika Padukone opposite him, the DDLJ actor is quite excited about the release of the movie and to know the reaction of his fans to the film.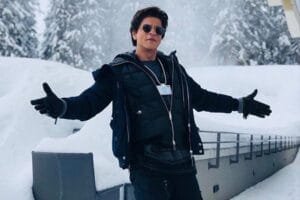 King Khan is often seen interacting with his fans and supporters.
Taking it to Twitter, SRK gave some savage replies to those who tried to troll him, along with some hilarious replies to those who wanted decided to have fun with him. So here we present to you some of the wittiest Twitter replies by the King of romance and sass, Shah Rukh Khan.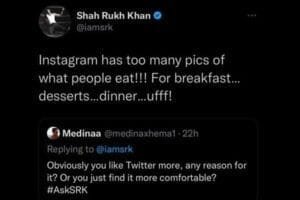 Here is why SRK is more active on Twitter.
For starters, when a fan asked SRK for a reason why he finds Twitter more comfortable and better than Instagram to connect with his fans, SRK mentioned that on Instagram, too many people are sharing pictures of the food they eat all the time, and there is no way one can deny that. Well, it was a good one Shah Rukh.
SRK is great at comedy not only in movies, and here's proof.
Another fan requested the megastar to release the trailer of his upcoming movie Jawaan along with Pathaan, the reply by the Bollywood Badshah was a hilarious one as he said there is no 'get one free' scheme for his movie trailers.
Shah Rukh Khan + Sarcasm = Perfect combination
When another fan requested Shah Rukh to release the trailer of his upcoming movies ASAP, King Khan gave him a dose of sarcasm in reply, and honestly, we are impressed.
Heartthrob for a reason.
When a user tried to ask SRK about his income, the reply by the actor was enough to prove why people love him so much.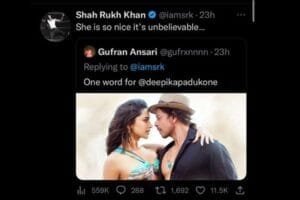 We will get to see the pair soon in Pathaan.
And when a guy tried to troll our favorite star asking him to retire, this is how he reacted in style. Some even asked him to describe his Pathaan co-actor Deepika Padukone in one work to which, he said that she is too sweet.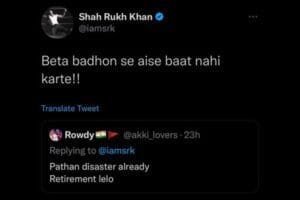 You can't mess with the Badshah of Bollywood.
We have often seen SRK getting candid with his fans or media in many interviews and thus, we love to see his fun side. Just like that, when a Twitter user described that he married two women and got them pregnant just to get a reply, SRK's reply to this was humorous. He replied that now his wives will only give him a reply.