Veteran actor Paresh Rawal confirmed on Twitter that Akshay Kumar, who was one of the main actors for the franchise won't be part of the sequel
The cast of the third film of the well-known Hindi comedy film series Hera Pheri will include actor Kartik Aaryan. The statement was made on Twitter by Paresh Rawal, who portrays Baburao Ganpatrao Apte in the films Hera Pheri and Phir Hera Pheri. In response to the tweet "@SirPareshRawal sir is it true that kartik aryan is doing Hera Pheri 3?," the author responded. Yes, it is true, Rawal remarked. As soon as this tweet came out, it sparked a lot of controversy and rumors regarding Akshay Kumar. Fans had questions of their own, as they wanted to see the iconic trio who made the first two films, a delight to watch for the audience.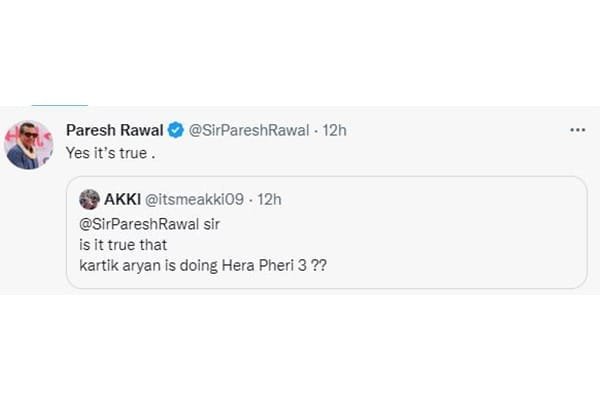 This is the twitter exchange which confirmed Akshay's absence from the movie
Although there were a few media stories in the past claiming that Akshay Kumar might return as the legendary character Raju in the follow-up to Hera Pheri 3, more recent rumors indicate that he is pulling out of the film, supposedly because the script is unclear. There have been speculations that he is also leaving the future sequels of Welcome, where he portrayed the role of Rajeev and Awara Pagal Deewana, was set to reprise his role as Guru Gulab Khatri.There hasn't been any clarification as to whether Kartik Aaryan is an extra cast member or whether he will be taking the place of any of the earlier actors. Kartik Aaryan featured in the follow-up to the Akshay Kumar film Bhool Bhulaiyaa in 2022. Kartik Aaryan made Bhool Bhulaiyaa 2, one of the highest earning films of this year and has been making strides at the box office as well as OTT platforms for a while now. 
Some people on social media are claiming that Kartik Aaryan's character will be in a new role and Akshay's character will stay as is, even in the latter's absence
With Akshay Kumar, Suniel Shetty, and Paresh Rawal in the key roles and Tabu, Om Puri, and Gulshan Grover playing significant roles, the first installment, Hera Pheri, was directed by Priyadarshan and written by Neeraj Vora which was released in 2000. The movie is a remake of Ramji Rao Speaking, a 1989 Malayalam film that took musical cues from the 1971 television movie See The Man Run. Raju (Kumar) and Shyam (Shetty), who are tenants of landlord Baburao, are the focus of the narrative. The trio, who are in dire need of money, receive a ransom call through a cross-connection and decide to use it to their own advantage. Six years later, in 2006, Vora wrote and directed the second installment of the franchise, Phir Hera Pheri, which had Shetty, Kumar, and Rawal reprising their leading roles. Bipasha Basu, Rimi Sen, Johnny Lever, and Rajpal Yadav all participated in this sequel. The 1998 British black comedy crime movie Lock, Stock and Two Smoking Barrels served as inspiration for this.
Heri Pheri is still in the hearts of every bollywood fanatic and Akshay's absence from the movie is disheartening to see
Hera Pheri is now considered a cult classic since it still has humor and appeal after 20 years. One of the few Bollywood comedies that centered its narrative on the urban poor. The movie was directed in the richest metropolis in India, and not a village. Additionally, it was able to provide social commentary on a number of themes, including unemployment, emigration from rural areas, poverty, and even drunkenness, using jokes and comedy. Hera Pheri revolutionized a lot of things, especially for Bollywood. Up until that point, Akshay Kumar was viewed more as an action star than a comedy actor. This was among the first few movies where audiences got to see his comedic talent, and the industry has been using it liberally ever since. Kumar went on to become one of the best and most well-known performers, famed for both his wit and charm and his action prowess. Contrary to movie heroes of the past, who invariably had a comedic sidekick, this even led to more heroes having a humorous side to them. With Kartik Aaryan on board, it will be interesting to see if Hera Pheri 3 can live up to the hype and expectations.