The mouthwatering dessert recipe is loaded with Chocolate and cream. It is simply good in taste, simple to make, and the perfect dessert for Christmas Eve's dinner.
Christmas is just around the corner and preparation for this festival has already started everywhere. Markets are all decked up, and people who celebrate Christmas are all busy with decorations, buying gifts, and sending dinner invitations to their loved ones. The person who hosts a dinner at their place knows the pressure to make delicious food, drinks, and dessert, and we think choosing a good dessert for the dinner is very stressful yet most important. So, if you still couldn't decide what to make in a dessert for Christmas Eve dinner, then here comes your savior "The Mexican Hot Chocolate Trifle."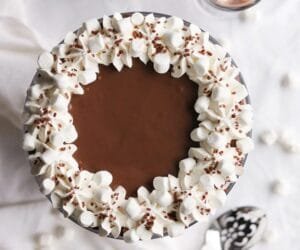 The Mexican Hot Chocolate Trifle is good in taste, and simple to make
Whether you want something fresh & fruity or something more decadent, it can satisfy anyone's sweet tooth. Not to mention, Trifles are amazing in taste and the flavor of combinations is pretty much endless. They're also a great way to get into the holiday spirit, especially if you're making them with friends and family. And nothing better than a Mexican Hot Chocolate trifle this winter season to warm your soul, enhance your enthusiasm in the budget, and become Santa for your loved ones.
Trifles are amazing in taste and the flavor of combinations is pretty much endless
So, this Christmas let's learn the recipe for Mexican hot chocolate trifle and make this festival sweeter.
Ingredients:
Cake
Readymade chocolate cake- 1 box
Fudge Sauce
Semi-sweet chocolate chips: ¼
Tablespoons of unsalted butter: 4
Sweetened condensed milk: 14oz
Hot chocolate filling
Heavy cream: 2 cups
cream cheese: 8 ounces
Powdered sugar: 2 cups
Hot chocolate mix dry powder: 7 Tablespoon
Marshmallow Fluff
Egg whites: 3
Granulated sugar: 3/4 cup
Cream of tartar: ¼ teaspoon
A teaspoon of vanilla extract: ¼
For Assembly:
Freshly whipped cream and chocolate sprinkles and miniature marshmallows.
Method:
Step 1- Prepare a cake batter according to the directions on the box. Pour the batter into the pan, and smooth out it. Bake it for 25 to 30 minutes. once the cake is fully baked, remove the pan and cool it completely.
Step 2- Combine all of the ingredients (semi-sweet chocolate chips, unsalted butter, and condensed milk) in a saucepan over medium heat and stir until the mixture is smooth and completely melted. Turn off the gas and then allow it to cool.
Step 3- Take a heavy cream in a bowl and beat it until stiff peaks form. Transfer the whipped cream to another bowl. Then beat the powdered sugar, cream cheese, and hot chocolate mix together until creamy and light. Add half of the whipped cream and beat until just combined.
Step 4- Add sugar and egg whites to a large heatproof bowl and set it over a saucepan of barely simmering water. Heat the mixture and stir constantly for about 3-5 minutes. Remove the bowl from the saucepan and then add the tartar cream and beat the mixture until stiff glossy peaks form about 6-8 minutes. and at the end add an extract of vanilla.
To Assemble the trifle:
First, cut the cake into bite-sized cubes. Place half of the cake cubes into the bottom of a trifle dish or bowl. Spoon half of the chocolate filling on top and spread evenly. Then half of the fudge sauce evenly over the filling. Spread the marshmallow fluff on top of the sauce. Then arrange the rest of the cake cubes on top of the marshmallow fluff, followed by the rest hot chocolate filling. Drizzle the rest of the sauce (fudge) and sprinkle chocolate on top and small-sized marshmallows. Put the dish into the refrigerator until it is ready to serve.