Let's celebrate this festival of colours with your loved ones by visiting some of the great places and have fun with them on Holi.
The much-awaited and enthusiastic festival 'Holi' is just around the corner. Holi is not just a festival of colours, but it is also a festival of love, happiness and togetherness. On this festival, colours do just not paint our skin but our hearts as well. It is the most widely celebrated festival, where people of all castes, gender, age, and whatnot come together in harmony to celebrate Holi. This bizarre traditional festival is all about eating gujiyas & mathris, grooving to the music beat, and having bhaang and a splash of gulaals. 
Every corner of India observes this historic festival of colours during springtime. This year Holi is observed on 8 March. The celebrations begin from 7 march (Holika Dahan) and ended on 8 March (Dhulendi). Many places celebrate this festival for one week. So, If you're planning to celebrate Holi somewhere else except in your city but confuse about where to go. Then, we're here to help you. We have curated a list of places in India where you can go to celebrate a fun-filled Holi with your family and friends.
Mathura, U.P.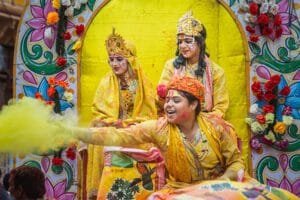 Mathura is a well-known place in Braj. This is the birthplace of Lord Shri Krishna and holds evidence of his miracles. During the Holi festival, this place becomes a haven for pilgrims. The people of Mathura lavishly celebrate this festival. Here, you can see people playing with purple gulaal at the Dwarkadheesh Temple then colourful Holi starts from Vishram Ghat to Holi Gate. and you can also witness Matki-phod and Ras-Leelas events. People chanted bhajans, distributed sweets to each other and danced madly.
Vrindavan, U.P.
How is this possible If we talked about Holi and don't mention Vrindavan (a part of Braj)? This is the place where Lord Shri Krishna grew up and where the names of Radhey-Krishna are on everyone's lips. Vrindavan is a perfect fusion of history, beauty and religion. This place is famous for Phoolon ki Holi (flower splashes), which is mainly celebrated by widows a day before Holi. Every year thousands of pilgrims globally come to Vrindavan to celebrate this festival. The main Holi (Gulaal Holi) celebrations take place in Banke Bihari Temple. 
Jaipur, Rajasthan
Jaipur is also known as the name of Pink city but during Holi, the entire city transformed into a rainbow. In Jaipur, Holi involves fun-filled activities, such as folk dance and songs. All the streets look colourful and chaotic. There is a tradition of celebrating Holi with Elephants on Holi eve. In this tradition, elephants are decorated with colours from head to toe and parades are held.
Hampi, Karnataka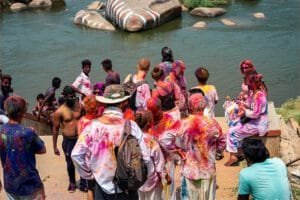 Hampi is one of the best places in south India to celebrate Holi. This place is full of history and peace. Hampi is famous for its temple's design, there are temples at every footstep and each has unique architecture and stories. Holi celebrations start from Holika Dahan and ended on Holi. people sing songs and dance and splash colour on each other. The environment becomes delightful and vibrant. After enjoying the colour Holi, people dip in the Tungabhadra river. They believe after playing Holi diving into this river not just washes the colour from their bodies but also their sins. 
Shimla, Himachal Pradesh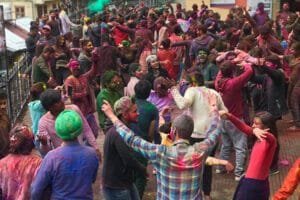 If you're looking to escape from cities hustle and bustle then Shimla can be your escape place. Snow-capped mountains, peace and a chilly environment would be your fun spot. People gather on the streets and splash colours on each other. There are several places where Holi parties are held. Where you can sing, dance, and enjoy this festival of colours with your friends while enjoying the beauty of that place.
So folks! What are you waiting for? Just pack your bags and go out to explore these places and make this festival of colours more memorable with your loved ones.