This festive season, surprise your loved ones by making easy-to-make sweets at home.
In India, no festival is ever complete without the sweetness of Indian sweets that are made purely with love and happiness. Celebration in India starts with the touch of sweets. So, with the festive season of Diwali approaching, it is time to light up your homes not only with diyas but also with some recipes for traditional Indian desserts to serve that craving of your sweet tooth.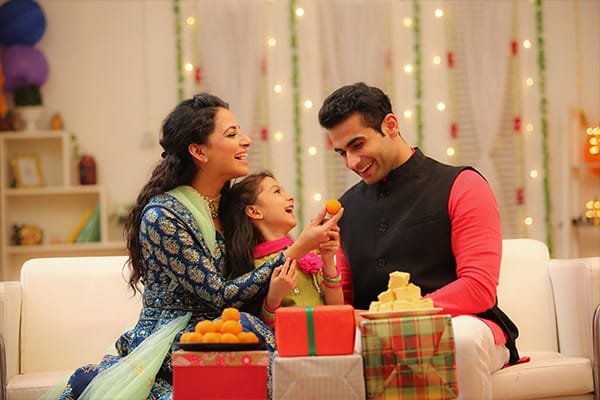 A luxury timepiece is a must-have for every man.
No fancy ingredients, no longing presentation, these recipes are super simple for you to make with love for your loved ones.
Rava Kheer or Rava Kesari
Ingredients:
2 tbsp ghee/clarified butter
2 tbsp cashews
2 tbsp raisins (optional)
¾ cup Rava/sooji / semolina
2 cups milk (if you're making Kheer)/ 2 cups hot water
¼ cup sugar
1 pinch of saffron (soaked in 2 tbsp milk)
¼ tsp cardamom powder / elaichi powder (optional)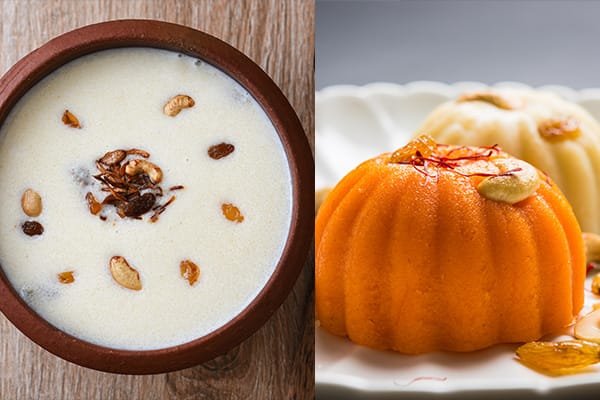 Same ingredients, two different recipes
Preparation:
Firstly, in a heavy bottom pan/kadhai, heat 2 tbsp ghee.
Add the dry fruits and fry them until golden brown. Once done, transfer them to a plate.
Now, add the rava/sooji to the pan and roast on low flame until it turns aromatic. (Do not brown it)
If you are making kheer, add the milk to the rava. If you are making Rava Kesari, add water (The rest of the process remains the same). Keep stirring the rava to make sure there are no lumps. Cook the Rava for 3 minutes.
Check the consistency and add the dry fruits. Rava Kheer is ready, you can serve it hot or cold.
For Rava Kesari, add cardamom powder and saffron milk and cook until the mixture leaves the pan.
Garnish with your choice of dry fruits and serve hot.
Ingredients:
1cup Besan/Gram flour
1cup Sugar
1cup Unsweetened Khoya
1/4cup Melted ghee
1/2tsp Cardamom powder (optional)
One can never say no to besan laddu
Preparation:
Heat the ghee in a heavy bottom pan. Add besan flour to the ghee and saute until aromatic.
Remove the flour and sieve it.
To the same pan, add khoya, and sugar and cook until the sugar dissolves completely.
Mix everything together and simmer until the besan-khoya mixture leaves the pan.
Remove the pan and let the mixture cool.
Start making round balls of the mixture and serve the laddus to friends and family.
Ingredients:
2 cups boiled and peeled almonds
¾ cup sugar
¾ cup milk  
Cardamom powder
1 pinch saffron
2 tbsp ghee
Nuts of your choice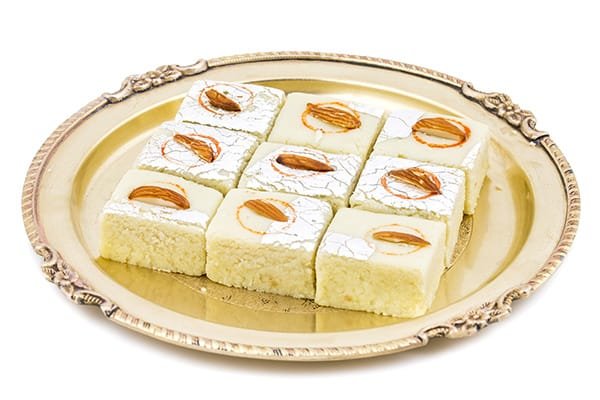 Preparation:
After boiling and peeling the almonds, dry roast them to make them moist-free.
Add almonds, milk, and some water to the blending jar and make a coarse paste that is neither too fine nor too grainy.
Heat a non-stick pan. Add sugar and enough water for the sugar to dissolve. Also add cardamom powder.
Once the sugar is completely dissolved, bring it to a boil and add the almond powder.
Turn off the gas and mix the powder until there are no lumps and light the gas on again.
Cook it while stirring on medium flame.
Add ghee and cook until the mixture leaves the sides and turns thick like soft dough. Once done, remove the pan from heat.
Once the mixture is cool, kneed it nicely with greased hands, and roll it between parchment paper until you get desired thickness.
Sprinkle the nuts of your choice, cut them in your favourite shape, and enjoy.