Make this Diwali a delightful treat for your guests and yourself with these sweets, which can easily replace Soanpapdi. Check Out
Diwali is around the corner, and one thing we started thinking about was which sweets we should buy for this year because, with the festival of light, Diwali is also known for the variety of sweets we eat during this festive season. Diwali Sweets is one of the sweetest confusions in Diwali.
While some choose based on the availability of time, some choose safe, easy, and instant varieties; some choose to challenge the tough traditional ones; some choose family favourites; and some end up with Soanpapdi. But why Soanpapdi every year? Let's find out some sweets with which you can give a delightful treat to your guests and your family.
Barfi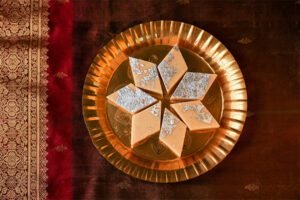 Barfis are favourites among the vast repertoire of Indian sweets. Cut into various neat shapes, available in different colours, shapes, and textures—Barfis make the sweet indulgence a memorable affair. When the conversation about barfis arises, Kaju Katli, or Kaju Barfi, is the first name that comes to mind.
But why should we get stuck only between Kaju Katli and Kaju Barfi when we explore other options in the family of Barfi?
Uniquely celebrate this Diwali with delightful barfis, such as 'Almonds Ki Barfi', 'Besan Ki Barfi', 'Chocolate Ki Barfi', 'Moong Dal Ki Barfi', 'Gulkand Ki Barfi', and many others from which you can get a unique taste like your unique family.
Gujiya
In this list of sweets, how can we keep Gujiya (Indian dumpling), which gives you both the taste of sweets and a little saltiness at the same time?
It gives you a sweet taste from the inside and a little salty taste from the outside, with some essence of crispiness. This half-moon shaped like a dumpling is the option for those who come from Bihar, Gujarat, Rajasthan, and Uttar Pradesh.
You have to make and serve your loved ones these crispy deep-fried sweet treats, which are a crisp combination of the crispy outer layer and a delectable filling of mawa and dry fruits. Moreover, you can also give a twist to the traditional gujiya with chocolate, suji, khoa, or cinnamon fillings. Surely, your guests will drool over this variety of gujiyas.
Kalakand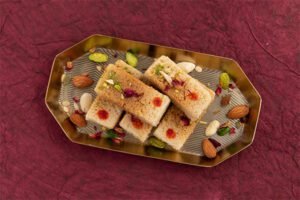 Kalakand, or milk cake, is delicious, smooth, soft, and rich in taste. It is the best attention-grabber of any festivity, and your Diwali celebration is incomplete if these delightful sweets are absent from the menu of sweets.
Kaalakand is moist, juicy, tastes delicious, and has a delicate grainy texture, which is the hallmark of this dessert. These traditional Indian sweets for Diwali taste irresistible with minimum drama, so treat your guests to these palatable sweets and mesmerise every soul.
Rasmalai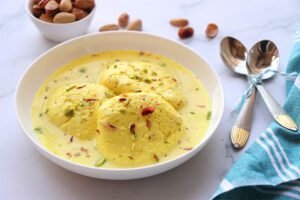 Rasmalai is one of the popular desserts in the Indian Subcontinent and is not only loved by Indians but also in Bangladesh and Pakistan. Originally originating from the Bengal region, now you can find it in everyone's dessert bowl, whether it is a festival or a normal day.
It is one of the simplest and richest yet hard to resist desserts, so make this Diwali more creamy and royal with melt in mouth, so soft, so creamy Rabri Rasmalai, which is a delightful way to celebrate festivities and create sweet bonds.
Shahi Tukda
Why not make this Diwali a royal Diwali? With the light of the festival, crackers, and worship of Goddess Laxmi, royalty can also make a place in this festive season. And for dessert, Shahi Tukda is the best option to add royalty to this Diwali party.
This Shahi toast, straight from Hyderabad's culinary paradise, is the easiest thing to make at home and is the perfect way to cap off the Diwali supper with sweetness.
Other desserts you can add to your menu this Diwali are:
Rabdi Kheer
Rasgulla
Jalebi
Motichoor Laddoo
Gulaab Jamun
Mysore Pak