The season of snuggling in your favorite cozy blanket and having delicious food is here. Speaking of gobbling on some comfort food, here we are with some exquisite food suggestions that will help you keep warm on a cold winter day.
The drop in temperature and the chilly winds on the face is the indication that winters are finally here. The season of swapping all our light weighted and easy-breezy clothes with warm and comforting ones. Not just that, the same ritual is followed with our meals too. It's that time of the year when we fall in love with soups, stews, and pot meals.
So, to begin with, we are here with some classic winter comfort food suggestions that will keep you warm this winter season.
Chicken Noodle Soup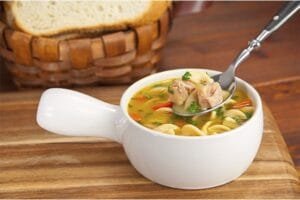 Chicken + Noodle = Comfort
On a cold, chilly evening, there is nothing better than a bowl of hot noodle soup, right? With some amazing wholesome flavors according to one's preference, chinks of soft and tender chicken and tasty noodles are the perfect comfort food this winter season to keep yourself warm. The availability of a vast variety of noodles in the market has clearly opened ways for experimenting with new and delicious flavors of noodle soup.
Rasam Rice
Rasam rice is one of the popular staple dishes in South India.
Considered one of the most favorite comforting meals in India, especially in the south Indian region, Rasam Rice is a staple food dish for south Indians. Not only this, it has been the ultimate combination for them on several festivals as well. A quick and consoling dish is the best option when you want to have something warm, easy to make, light on your stomach, and yet full of flavors. The tanginess of the rasam, when absorbed by the long grains of rice, becomes a wholesome meal that is full of nutrition.
Rajma Rice
Rajma Rice is not just a dish, it's a feeling.
All the Punjabis reading the name of this dish must have got a smile on their faces. Well, it wouldn't be unfair to say that Rajma Rice is one dish that unites the whole of India being everyone's favorite comfort food. Especially for North Indians, there is nothing better than a bowl of piping hot Rajma Chawal that can make them drool.
Your Choice Of Stew
You can choose any meat or even veggies for your stew.
On those lazy days when you are craving something which is light, flavorful, tasty, light, and easy to make, a stew is one thing that comes in handy. You can go for chicken, mutton, or any other meat of your choice for making a stew. A good stew will not only fill your empty stomach after a long day but will also make you warm with the goodness of all the ingredients that go into the recipe. Because of the dish's versatility, you can prepare either a hearty mutton stew or a straightforward veggie stew. Winter evenings, on the other hand, call for a hearty mutton stew that is not only nourishing but also incredibly flavorful.
Soups
Soups are always comforting.
This good bowl of soup is excellent when you're searching for some comfort food. It is reassuring, hearty, and guilt-free in every way. there are so many varieties you can opt from. The flavor of a soup created with the appropriate components is surely not lacking, and you'll adore the little garnish of your preference for some extra crunch and flavor.