Since you and your partner are both bundled up under your warm winter blankets, winter sex is sort of the supreme paradox and may even be the perfect time to have sex.
Due to the harsh weather, there is a good probability that this time of year will impair your relationship with your partner. But the gloomy, gloomy winter days create a mood that only sex can entirely change. It quickly uplifts your spirit and makes you feel like summer. One justification for choosing winter sex is that you might also feel motivated during the sluggish winter months. Positive endorphins and oxytocin are released during sexual activity, which can increase bonding in relationships. According to research, having sex produces antibodies that lower your risk of getting a cold as well as increases warmth between you two due to the friction of your bodies. This raises your degree of optimism and lessens any indications of depression or worry. So winter can also be an ideal time to have sex with your partner and we'll discuss some sex positions which might be perfect for this weather.
Even on its finest days, Cowgirl is exhausting. It can be a terrific substitute for aerobic exercise in the winter as well. Consider this alternate approach to make it simpler (and warmer): Lie down against your spouse with your elbows either side of their face instead of sitting upright. You can choose the tempo and devote as much time as you like on your clitoris. Compared to bouncing, grinding is significantly superior. Wrap the blanket around you two like a tent before lying flat. During all that ferocious (but not tiresome and unpleasant) passion, this will keep you cozy. Wrap the blanket over the shoulders like Wonder Woman's cape if you start to feel too warm.
Even though doggy style is nice, it isn't the best position for staying warm when it's chilly outside. It's not exactly the best position for blanket support to be on all fours. Try the hot doggie instead, a modified position that gives you all the warmth and skin-to-skin contact you want without sacrificing the eroticism of doggy style. Lay flat rather than getting down onto your hands and knees. Before laying over you for sex, have your lover lay the blanket over the two of you.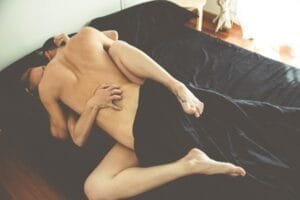 Although the lotus position is incredibly private, it is ideal for cold winter nights where you want to be warm with your lover. To perform lotus, have your spouse stand and allow you to sit face-to-face on his or her lap. Pull the blanket and wrap it around you like a cape before you sit. You can completely encircle both of you and your companion once you've assumed the posture. You'll be cozy right from the start and additionally, this position allows for some very passionate deep kissing. As the name suggests, wrapped means you'll be able to have fun with no breeze coming at you.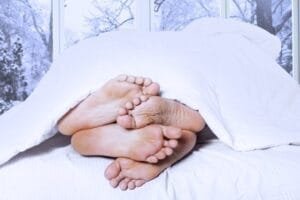 A missionary is a move that is simple to pull off while covered, yet it is generally underappreciated. Pull the covers up to your partner's shoulders and have them sit on top of you. If the blanket should slip, you can even tuck it into the bed with your hands. You'll be swaddled in a blanket like two pigs. Position yourself with a few pillows under you for lift for added clitoral stimulation. You can then grind your clitoris into your partner's pubic bone in this manner. Additionally, using pillows makes your winter sexual encounter feel even cozier.
Anyone who wants to stay toasty during these chilly months will love the Winter Bear. Pose like a toddler with your butt up in the air. Grab a blanket, and have your partner cover it around both of you. Have your lover approach you from behind, like a bear, and wrap their body around you. You'll benefit from both deep penetration and your partner's skin's warmth. You can stretch your hip flexors as well. A lot of pleasure is guaranteed in this position, which resembles spooning and doggie in some ways.
Here are a few additional suggestions for having sex in the cold that can only benefit you. You can continue to wear your socks while engaging in sexual activity because having chilly toes reduces the likelihood of experiencing an orgasm, and wearing socks warms up your toes. You can stay very warm by incorporating blankets into your sex routine. Additionally, aim for close-knit sex positions that involve lots of embracing. The temperature will rise, giving you a sense of summer as well.