Ever wondered what dark desires your lady might be harbouring? Well, Here we have got some of those desires and fantasies for you to completely satisfy your lady. Read on!
We all fantasize about a lot of things: vacations, great jobs, relocating to another country, etc. But there is another area where most people hold fantasies about: the bedroom! You may have fantasized about kissing a person you're not supposed to or fooling around in a place that you really should not – that is why sexual fantasies are just that; fantasies. People harbour sexual fantasies for the same reason behind their other fantasies: usually, it's a form of escape, and other times it's just a what-if situation. No matter the reason or the fantasy, it is perfectly healthy to try new things in bed every once in a while, and it is a guaranteed way to spice up your sex life. But your lady might sometimes have trouble articulating her fantasies or letting you know about them, especially if they involve another man. But just remember, just because she imagined herself enjoying with her teacher, doesn't mean she is actively looking to cheat!
Like everything else when it comes to sexual activities, consent and communication are key. And don't forget, these fantasies are actually pretty common, most just prefer to keep them secret, as, after all, fantasies are usually kept secret. So, open up that bottle of wine and engage in some pillow talk with your lady to get to know her fantasies. Fulfil them and watch your sex life become even more amazing.
1. Books Can Be An Aphrodisiac Too
There is a magic in the air in libraries. You can witness it yourself!
There's no doubt that silence during sex can make things better by amplifying every sensation. It throws focus on each move your partner makes. It doesn't come as a surprise that some women secretly wish to mess about with their partners in libraries. It can be a very hot sexual fantasy for some. If your lady also wants to mess around in a library, we can give you some tips to make it amazing for both of you. You could start off by creating some heavy tension between both of you whilst you're sitting next to each other by flirting, or making constant eye-contact, and then one of you could get up to pick out a book. This could lead to a hide-andseek game as you dart between the bookshelves until you finally spot each other. Walk towards each other slowly, from the opposite ends of the aisles until you meet in the middle. At this point, you are free to go to town on each other!
2. Strap It On, She's Going In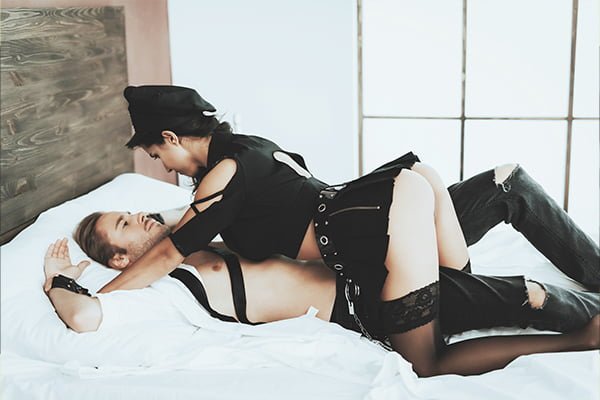 Power is an aphrodisiac and strap-ons can be a great addition to your sexcapades!
By far the most common and the most popular fantasy amongst women is assuming the role of the man for the night, sometimes quite literally! It is a form of power play and dear men, there is something really erotic about watching your lady take control and give you pleasure. This involves the woman dressing up like a man, straight down to the penis – yes, we're talking about a strap-on! Women claim it is absolutely incredible to feel the empowerment usually felt by the aggressor and there is something extremely vulnerable about seeing their man in such a vulnerable position and being responsible for his pleasure. This knowledge of being in the position usually assumed by men is a really powerful aphrodisiac and is surely going to make your sex hotter and better. So, men, leave the fear behind and let your lady be the man for the night!
3. She's The Daddy Here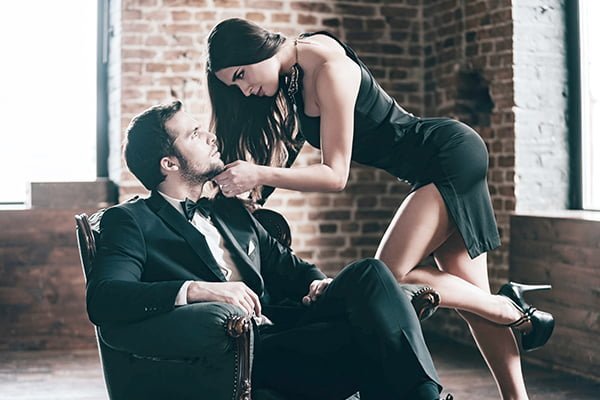 Giving up power and control can be extremely sexy and might result in some truly amazing sex. 
It's not just men who love to be in a dominating position. If there is one thing that a woman might be dying to do, it's to dominate her man like never before. The potential here is astounding and your lady probably has quite a few ideas of her own here. She might want to spank you, or even order you around to perform certain sexual acts. She might even enjoy making you beg for what you want or have you suck on her stiletto heel or any other phallic object. Don't be afraid and let her take the reins for the night. After all, men deserve to let go and enjoy their sexual escapades too, don't they?
4. She And Her
Almost every woman fantasizes about having some fun with a woman atleast once.  
Pretty much every woman wants to share her body with another woman once, no matter her sexual orientation. No, you don't need to be jealous or feel left out, mostly these women just want their men to watch them go at it. The idea of touching another soft, hairless body is what they find erotic and it does sound pretty inviting. Female on female sex focuses on oral and clitoral stimulation more than penetration, and since that is how most women orgasm, it is no wonder many are so curious about it. Your lady might just be wanting to be pleasured in a way that women understand best!