For all those who wanted to say a NO to their partner at a certain point in the relationship, but didn't because you didn't want to hurt them… well, you might want to reconsider.
Dating and relationships can be the most wonderful experience in one's life. From the moment you start having butterflies in your tummy while replying to someone special to sharing your deepest secrets with them, all of this is as exciting as we have seen in our favourite romantic movies. But then comes the phase when you have to take things from one stage to the another and trust me, that can get worrying to a whole new level.
All it takes to make a relationship work is 'effort' from both sides. But in some relationships, one partner tries to put in every effort even against their will to make the other one happy and keep the relationship happy and going. For that, we keep going with the flow and feel guilty about saying a 'NO'.
Don't be afraid, just speak what you feel.
Listening to your partner is always important in a relationship, but it is equally important to put your thoughts forward in front of your partner. It is okay to oppose the thoughts or opinions of the love of your life. Well, we are not just talking about sex here, we are including all the possible situations that a relationship might face and to both the partners we would like to say, it is totally okay to say NO. Although you should respect your partner's opinions or desires and give them an explanation for your disagreement. Take it from someone who has been there, done that, it is not healthy to always say a yes to your partner.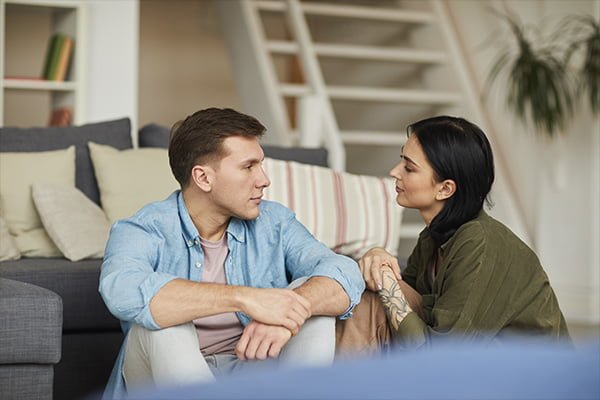 Saying 'No' is not a big deal. all you have to do is talk.
If you think that saying No might create a rift between you and your partner, then you should re-think it. Saying no is not at all a bad thing for your relationship besides, it will be a helpful way of nurturing the bond that you and your partner share and will encourage them to express their opinions freely as well. It is often seen in relationships that the partners demand 'space' after a point of time because both of them have created their lives around each other. Respecting the difference of opinion in a relationship will also create goodwill. It will allow both the partners to focus on self-care, as well as create a boundary, so neither partner would feel that they are being taken for granted.
Talking about the difference of opinion will encourage your partner's choices as well.
The saying 'access of anything is harmful' is the perfect way to understand the importance of boundaries in a relationship. Be it love or empathy. Everyone deserves to have an individual opinion even if it differs from yours, and that's when communication and comprehension enter as a crucial part of any relationship. Always have discussions when both of you are calm and at any certain point you feel the conversation is escalating, it is better to take some time off and try to improve the way you talk to your partner.
Communication is the ultimate key to a happy relationship.
Being in love is the most wonderful feeling and it feels like walking on a road of roses but, it is important to maintain the spark of any relationship. At the beginning of the relationship, we only focus on the good parts but accepting the flaws of your partner is important too, because no one is perfect.