With your co-workers, how will you ring in the New Year? Here is your how-to for celebrating 2023 with your mates.
Without wasting any time, let's get right into some fun office party ideas.
Plan a themed/outfit-inspired party.
Want to dress up your co-workers for the New Year's Eve celebrations? Why not make your party's theme dress-up-related? Visit the 20s to view the coolest enormous suits and sequin sparkly dresses worn by everyone. Even though it may sound very cliche, you can choose a special theme for the New Year's party, such as requiring everyone to wear shorts or pajamas with a suit. You just need to be creative with the idea because theme parties will never go out of style.
A good party starts with good food.
Arrange some good food to keep the mood of the party going.
There is no party without some lip-smacking food. Be it snacks or mocktails, be it pot recipes or full-fledged meals, food is an essential part to get people in a good mood. Make up your mind about how you want to treat your colleagues (or staff if you are the boss) and then you can ensure that nobody starves and they enjoy the party with some great food. You can order a safe option in terms of cuisine that is liked by everyone.
Make a toast!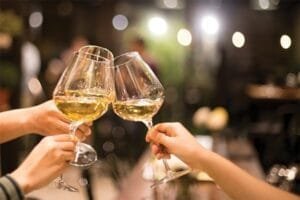 Celebrate the brilliant things that took place in the past year.
Make it a point to give them hearty cheers no matter what you're toasting—a successful year behind you, the company's future, the start of the new year, or simply being surrounded by such a fantastic staff. Grab a glass of sparkling wine, champagne, a cocktail, or some fizzy fruit juice to celebrate all the excellent things that have already occurred and are yet to come. A few encouraging and appreciative words can go a long way and improve their New Year's Eve.
A happy memory Countdown to the New Year.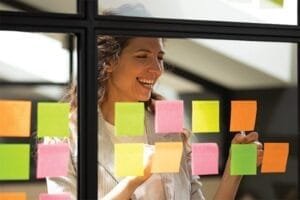 Create a 'happy memory' wall at your workplace.
Invite everyone to share their best memories of the past year with everyone. You can make it even more fun by telling them to write notes of their highlight moments and stick them on a memory wall. If your office doesn't have a memory wall, this is the sign to make memories and make them last forever on that wall.
Office party BINGO
Have some fun with this super-fun game.
One of the most basic office celebration activities is bingo. All you need for the game are some entertaining Bingo cards, and everyone is familiar with the rules. This office party bingo card is provided for your convenience so that you can use it at your upcoming workplace event.
Invite people to participate while gathering by giving them cards to play with. To win a prize, a player must mark five squares in a row first. Since numerous people may strike Bingo at once, it is a smart idea to have a few prizes ready.
Simply make the squares random so that no one wins simultaneously. You can play and add thoughts of your own as well.
Recognize your colleague
This game will tell you how much your work-mates know you.
You can create fun chits using riddles or random descriptions about all the colleagues/employees along with the answer, and put them in a bowl. Ask each of your team members to announce what's written in the chit and the others will have to guess who that person on the chit is. You can include the achievements of that specific employee from the past year.