Are you planning to watch Kuttey this weekend? Read our review of this Arjun Kapoor starrer movie.
In 2009 movie Kaminey came which is helmed by Vishal Bhardwaj offered us a bunch of crooks in a plot so entertaining. Vishal Bhardwaj's idea of setting a story in land politically and shaping every character is best. He has been in this show business for decades.
In 2023, Vishal Bhardwaj's son Aasman Bhardwaj's directorial debut Kuttey movie is released today. Kuttey is 2023's first much-anticipated film and the debutant director Aasman Bhardwaj tried to take his father's legacy ahead with the movie Kuttey but it was not up to mark.
The Bhardwaj Jr and his father Vishal Bhardwaj were credited with additional screenplay and dialogue, collaboration with Gulzar Sahab and also a Jaw-dropping ensemble – Konkona Sen Sharma, Tabu, Radhika Madan, Naseeruddin Shah, Kumud Mishra, Shardul Bhardwaj, and Arjun Kapoor.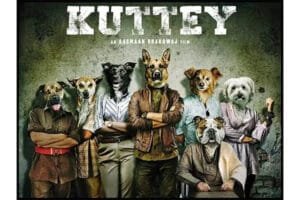 Kuttey is 2023's first much-anticipated film
The story of Kuttey revolves around the extremely self-centred characters, whom all want what they don't have – illicit money, freedom, and a place to stretch themselves fully. The movie has a bunch of corrupt cops, drug dealers and even Naxalites. 
Here's the quick meet & greet of characters, Konkona Sen Sharma plays the role of Laxmi a Naxalite leader, Arjun Kapoor, Tabu and Kumud Mishra play the role of Gopal, Pammi and Paaji all of them are cops, Naseeruddin Shah plays a role of Narayan Khobre a gangster, Radhika Madan and Shardul Bhardwaj play the role of young and hopeful, Lovely and Danny.
While the movie struggles to get you invested in the first half. This chaotic movie picks up the pace and clarity in the second half. Makers made this movie like a Ludo game where every section has pawns who work together to beat the pawns of other sections. At one point you will get confused about where this story will lead, but as slowly story moves forward you will get your answers, what was the story aiming for. The dialogues penned down by Vishal Bhardwaj stand out and some one-liners will crack you up.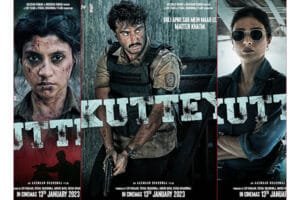 The dialogues penned down by Vishal Bhardwaj stand out and some one-liners will crack you up
Actors did brilliantly their job. First, talk about Tabu, one of the finest actors in Bollywood. She did a splendid job as a badass boss lady, and also brought some much-needed comic one-liners. Konkona Sen Sharma also did a very good job with her character but did not have much screen time, same as Konkona, Naseeruddin Shah, Radhika Madan, and Shardul Bhardwaj did justice with their roles but did not have much screen time. And also as an actor, Radhika's growth is truly remarkable. Arjun Kapoor as Gopal tries to give his best, his acting in Kuttey will give you Ishaqzaade vibes but he can do some more variation with his expressions. The makers use more cuss words in movie scenes, which is not seem necessary at every place.
Another highlight of the movie is its music and background score composed by Vishal Bhardwaj. Where some scenes struggle to hold your attention, it is the BGM (Background Music) which helps it to hold the ground. Kuttey movie music has the potential to grow in public. The most liked album by the audience is "Tere Saath", which is written by Gulzar Sahab and sung by Vishal Bhardwaj, Nivi and Kiran. 
Overall movie is entertaining, and has the best music but doesn't optimise its full potential.