Escape to other worlds without stepping foot out of your house. Take a look at some of the best VR headsets out there and get one ASAP!
If you've been living under a rock till now, a VR headset is a heads-up display that lets the user interact with simulated environments whilst experiencing a first-person view. VR headsets work by replacing your natural environment with a virtual environment which can range from a movie, a game, or even a pre-recorded 360-degree virtual environment that lets the user behave as if in the physical world. The purpose of VR headsets is to provide the viewer with an experience so realistic, that the user forgets they are actually wearing a headset. If you're still not sure about the purpose VR headsets serve, here are a few things you can do with a VR headset:
1. Gaming: You can play next-generation VR games and these include just about every genre imaginable – sports, first-person shooters, battle games, survival games, or even puzzles! Don't worry, Multiplayer is also an option!
2. Explore The World: Wish to explore the world, but cannot leave the house for some reason? Put on a VR headset and visit exotic locations with a 360-degree view, you can also click virtual photos using a camera so you're not missing out on anything!
3. Live Events: Virtual Reality enables you to watch live events and shows even while lounging on your bed. It'll feel like you're there and the best part? No one will block your view!
4. Work Remotely: Virtual reality is not limited to fun and games. You can even use it to work remotely or to follow a hybrid learning model for your children. Virtual reality offers avatars, and an actual environment to move around in, making it better than video conferencing by a mile.
The ideal VR headset for you depends on your preferences about what you enjoy doing in the virtual world, and on your needs as well as your budget. Now that you're all caught up on how amazing VR headsets are, let's take a look at some VR headsets you can purchase and enjoy.
1. HTC VIVE PRO 2
The quality of this headset is incredibly top-notch.
Pretty much the best VR headset money can buy, the HTC Vive Pro 2 is a big kids' toy. Although you'd need to purchase the extra required accessories separately, the headset's 4896 x 2448 resolution makes it an easy decision. It comes replete with pinpoint motion tracking, Steam VR integrations, a 120° field of view, and a refresh rate of up to 120Hz. The resolution is pretty much top of the market at the moment, so you will be hard-pressed to find something better than this. The quality is incredibly top-notch, although you'd need to do a bit of tinkering to get the hang of it and need a little time for your eyes to find the correct settings for the eyes. Keep in mind, that since you're going to be tethered to a PC, you could easily trip, so be mindful of your surroundings when using it. Your games will look as amazing as they possibly can and you're definitely going to regret not purchasing this, so don't wait, go ahead and get the best experience of your life.
2. VALVE INDEX
The Valve Index has added sensors for each individual finger via a touch-sensitive panel.
Daring to go where no other VR headset has ever gone before, the Valve Index has added sensors for each individual finger via a touch-sensitive panel. Another notable feature is the 120Hz refresh rate covering up the slightly low resolution as it enables games to slide across the screen without any flickering. Although you should note, that it is a little difficult to find in stock and is only available via Steam. The Valve Index is for the ones fully immersed in the PC gaming space and who already have a PC humming away in the corner just ready to be tested. Having the whole of Steam behind it, you are going to enjoy every moment spent in this virtual world. Offering a wide field of view, excellent controller tracking, and a resolution of 2880 x 1600, you're going to be hard-pressed to come up with a reason to not buy this one.
3. HP REVERB G2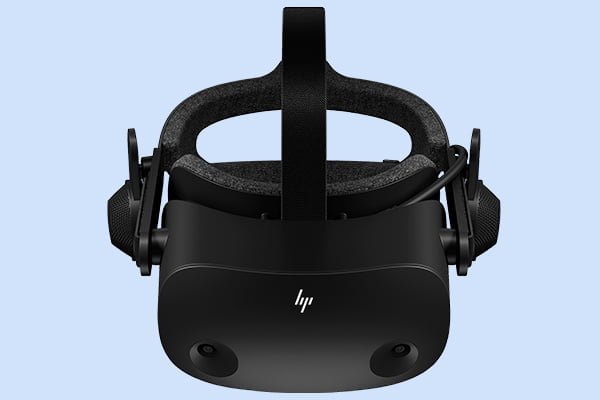 This one comes with a display flip-up that lets you see your surroundings so you don't lose awareness.
There is no doubt in our minds that HP has a hit on its hands with the Reverb G2, although many are still sleeping on all the benefits it has to offer. The Reverb G2 places great emphasis on resolution but also comes with other, quality features such as a display flip-up that lets you see your surroundings so you don't lose awareness. Although a fact to be noted here is that it asks a lot from your PC, we're talking about aiming higher than the minimum recommended specs. If you don't want to especially kit out your home to get a VR headset, this is the perfect choice for you. Since this is a Windows headset, you just need to plug it into your pc and you're all set. Boasting an LCD display with a 4320 x 2160 resolution, the Reverb G2 has a 90Hz refresh rate.