Smart Gadgets = Smart Home! To achieve this smart home, all you need to do, is change your old gadgets to smart ones, and voila! Read on to know the gadgets we're currently loving.
The future is smart, but what about you? AI is all set to take over the world starting one home at a time, are you prepared? If you cannot figure out what we're talking about, well, we are talking about smart gadgets here. And if you're skeptical, we have news for you: there exists a smart device for every single room of your house! Surprised? Well, you really shouldn't be. Your current devices will not be available in the future since the smart home trend has been gathering some serious popularity and for good reason! Integrate smart gadgets in your home and sit back and relax as they do the bulk of the work for you without any hassle.
If you are still not clear on what exactly is considered a smart home, let us explain. Smart homes feature smart home systems which are connected to your mobiles or tablets so you can control the gadgets in your home easily no matter where you are. Smart home systems are designed to save you time and money as well as enhance security and safety. You can remotely automate your daily tasks with just your internet connection. This includes closing and opening garage doors, dimming lights in any part of your home, and adjusting the interior temperature to your liking so you never have to come back to a very cold or very hot home – it'll always be the perfect temperature!
Getting a smart home system has a lot more benefits as well; you get to enjoy a myriad of daily benefits and improve your quality of life as well as safety. You don't need to worry about damage as most companies offer some kind of insurance on your devices. Ease and interconnectivity are the top benefits offered by a smart home system and allow you to conduct remote monitoring and check-ins which can help reduce stress and prevent you from having to rush back home to switch off your geyser when you were halfway to the office. The increased safety and real-time surveillance are just the cherries on top of the cake if you ask us! So, without any more delays, we present to you the best smart home gadgets that will make your home smarter and more efficient.
1. August Wi-Fi Smart Lock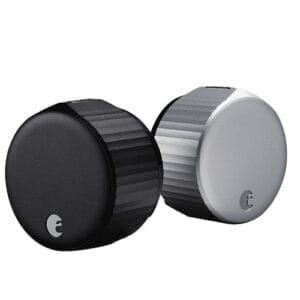 August Wi-Fi Smart Lock
If you're looking to keep that bolt and make your doors smarter, August's W–Fi Smart Lock is the right choice for you. With its sleek design and impeccable features, it has been ruling over the internet for a long time now. Known for its smart locks, this updated and latest version by the company is a must-have.
Speaking of the device, this compact size tech device is smart enough to work with Google Assistant, Apple HomeKit, and Amazon Alexa. Installing this smart device can help you improve your house security as with this, you can remotely lock or unlock the door, check door status, grant virtual guest keys, and see who's coming and going. If you fear taking a trip back mid-way just to check if the doors are locked, this tech device is your heaven, with DoorSense technology, a sensor that tells you whether your door is securely closed and locked; it lets you live a worry-free life.
The best part is its easy installation, which will just take 10 minutes and a screwdriver. With built-in Wi-Fi, it uses BluetoothTM Low Energy technology encryption. Another feature we love is the added level of security to your deadbolt by requiring users to verify their identity with a second form, either an email or phone number.
2. Dyson Purifier Cool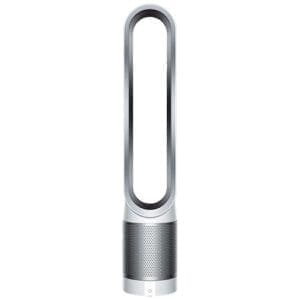 Dyson Purifier Cool
Rising air pollution is a serious issue, but the tech world has made sure to bring you a solution; air purifiers. The company leading with its high-end technology devices, Dyson has a great range of air purifiers. But what made it into this list is the Dyson Purifier Cool. Launched first in 2019, even though they are on the premium side, they still deliver quick and effective air purification.
Dyson Pure Cool Link™ Tower is for large spaces, which makes sure to remove glass, pollutants, and allergens. As for its features, it comes with a 360° Glass HEPA filter that captures ultrafine particles from all angles, including pollen, bacteria, and pet dander. The entire Purifier series has app support, with the Dyson Link app (available for iOS and Android) letting you control the devices and also view data on your smartphone no matter where you are, as long as they are connected to your home Wi-Fi.
The app is the most beautiful and helps you also set schedules, tweak settings, check the life of the filter, and update the devices' firmware. The Purifier Cool has a standard 6A plug, is narrower, and weighs less as compared to the others. Speaking of its look, elegant and fancy are the two words that come to our mind. The performance is a 10, without a doubt!
3. Ecobee, Smart Thermostats Premium
Ecobee Smart Thermostat Premium
A high-tech device, with a high-tech design, is what you need to make your home smarter than it already is. With Ecobee's Thermostat, you solve all three issues: comfort, home health, and security needs. The Ecobee Smart Thermostat Premium can monitor the temperature and the air quality.
The minimalist designs and tech-user-friendly controls are what drive us more towards this thermostat. The Smart Thermostat Premium has a built-in speaker and microphones that let you use them to engage with virtual assistants and play music or podcasts. Not just this, the device's ability to inform you when it detects smoke and severe temperature drops is another feature we enjoy.
A little icon that offers you a general view of your air quality is located just above the temperature; tap on it to obtain a more in-depth view of both the CO2 and VOC levels. The most recent version of this square with rounded edges features a zinc body rather than a plastic one and a front touchscreen that is substantially larger. The enhanced thermostat uses plastic; only the Premium thermostat has this finish.
4. Arlo Video Doorbell
Arlo Video Doorbell
To know who's standing outside before they even knock, you need something powerful and Arlo's essential Video Doorbell holds the power to do the job just right. With tons of great features and easy-to-use technology, and an impressive 180-degree viewing angle, you'll be able to see pretty much everything in front of your door.
It has a 1536 x 1536 resolution, which might not be super high, but is adequate and super responsive for both the video and audio quality. It has a two-way talk functionality which makes the process smoother and accessing the same is also easy. Arlo took protected at all times seriously, and incorporated LED sensors that allowed the owners to keep a look clearly at night as well. The device is also smart enough to differentiate a person's movement, from that of pets, vehicles, and more.
It would take about 10 minutes to Install the Video Doorbell. Once the setup is finished the user-friendly Arlo app will guide you further for the rest of the process. The one drawback we came to notice was how it isn't compatible with Google Assistant or Apple HomeKit, but works well with Alexa. But this 5 inches tall and 1.7 inches wide sleek design is a righteous choice to protect your house in style!