The Cartier Love Bracelet is an iconic jewelry piece, but not without its flaws. Let's take a look at this iconic jewelry piece and see if your wrist needs it or not.
A brand that has established its expertise in the sphere of jewelry, Cartier knows a thing or two about creating jewelry. And the LOVE bracelet that was created in 1969 in New York has managed to become a very eminent piece of jewelry and can be found in almost every woman's accessory cabinet. Since this is such a loved jewelry item, we are pretty sure you might be confused about why you're seeing it in this section. Well, you must have heard of the saying that all that glitters is not gold and it applies here as well. So, let's dive in and see whether you actually should buy it or not.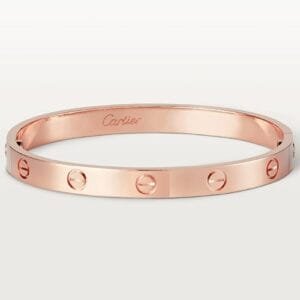 Cartier Love Bracelet
The LOVE bracelet comes in many options, we have selected the rose gold one. Now the design here is that it is designed with two functional screws placed on either side of the bracelet, which means that you're going to need a bit of help in opening and closing it – thus making it a little bit of a nuisance. This is also why it is not something you can wear for just a day and remove by night and is designed for long-term wear. But if you don't like to wear your bracelets 24/7, maybe steer clear of it. You're going to receive a special screwdriver to remove the screws with, so don't worry about that.
Now one important point to keep in mind, this does add a bit of weight to your wrist, so if you're not used to wearing jewelry on your wrist, it'll take you a bit of time to get used to it. The bracelet is definitely of fine quality, we'll give it that. But you're going to see a lot of wear on the bottom part of it and if you scratch it, a bit of the gold layer is going to come off from that area. And some old, vintage pieces of the bracelet have the old system in which the screws were very flimsy, so if you're after one of the vintage ones, be careful as the screws loosen almost immediately. And you're also going to trigger sensors so make sure you carry your screwdriver along to avoid any hassles.
Cartier Love Bracelet
The bracelet is elegant and will look beautiful on your wrist, just make sure not to over-tighten it. There will be some build-up around the screws if you wear it continuously, so make sure to clean it regularly. But this is an evergreen piece, so if you love minimalist jewelry you can go ahead and get it.