With her picture-perfect physique and charming smile, Kriti Sanon left us mesmerised in this photo shoot. Her lustrous eyes were evident though the water drops tried hard to cover them. Play some rain songs and saddi Dilli girl Kriti Sanon will go crazy!!
Hi Kriti, how was the shoot?
The shoot was quite different. I've seen in Bollywood that seductive rain dance where the actress can never look that sensuous and seductive in any other attire, unless she wets herself in a single color saree – either in a rain, under a waterfall, in sea, or at some river bank. I've never experienced such thing – wearing white clothes and getting wet in the rain. I'm glad that with this shoot, we tried to create a the me which was sexy – with all the hair sticking on the skin. It was real fun!
Monsoon is the most romantic of all seasons, don't you think? What, according to you, is the best way to celebrate monsoon?
I love rains. I have the fondest memories of getting wet in the first rain. Getting wet in the first rain is actually not supposed to be good, but I remember as kids, in rainy days we really used to get so thrilled – playing in the rain with my friends was sooooo fun. We used to appreciate nature's beauty to the fullest. We used to walk in the rain, dance in the rain (that wasn't embarrassing when we were kids), we were overwhelmed with joy, and used to get into a complete filmy-rainy mode. I just love rainy weather – having mouth watering Pakoras and Chai at home is real bliss.
What are your favourite rainy day songs?
Bhaage Re Mann Kahi from Chameli and Tumse Hi Din Hota Hai from Jab We Met.
What do you miss the most about your hometown Delhi?
Delhi is mainly well designed with broad roads and a very good density of road network. I remember when I came to Mumbai with my dad for the first time; I asked him "Where are the main roads"? The street life, the bazaars and roadside markets infuse colour and life into this throbbing city (Delhi). Variety of food options available is incredible and amazing. Actually I'm not able to find the Delhi kind of Butter Chicken in Mumbai. No wonder I love Delhi from the bottom of my heart.
Ever been kissed on a rainy day? How about walking under the umbrella with your partner?
No I haven't. Actually if I plan to go out with my partner on a rainy day, I'd rather not take the umbrella. I will just go out, take off my chappals and walk (winks).
You did your schooling from Delhi Public School, and I'm sure you must be very popular there. What is the naughtiest moment in your school days that you can remember?
I was a very studious kid, and not really the naughty and wicked one. I was one of those first benchers who were really into studies. But yeah, I used to dance a lot; I used to participate in many activities. And the only reason why I was popular was because
of my height (hehe).
Actually if I plan to go out with my partner on a rainy day, I'd rather not take the umbrella.
Sure, there are some perks to being tall, but do any of your male co-stars get envious of your height?
Envious? No! So far whoever I have worked with has not got intimidated by my height.
This year will mark your debut at IIFA (New York). How excited you are?
I'm very excited to travel to New York for the first time for IIFA and I will be performing there, so yeah I'm really looking forward to it.
Tell me about the most interesting place you've ever travelled to?
I would say Budapest since I lived there for two and a half months – shooting for Raabta. Both downtown Budapest and the outskirts have plenty of dance halls and discos. Budapest will dazzle you with its wide variety of clubs, and bars. Many stay open until late at night. If you have energy for dancing and clubbing until dawn, then Budapest is for you.
What's your idea of a perfect date?
There's nothing better than a romantic date on a beach and having amazing food. The sun-kissed land of beaches and seafood – Goa is one of my favourite holiday destinations.
What does a guy should do to make an excellent impression on you?
Ummm.. I think he should be honest and the conversation should be honest. Bring your real self to me and I would be interested. Don't be cocky and act cool. A genuine guy shouldn't try to be someone else.
What do you think is the one thing all men should do when dating?
You should smell like an adult who showers daily, knows how to swipe on deodorant, and apply a fragrance. Basically smell is very important, but it doesn't have to be cologne. As long as you wear deodorant and show you make an effort to stay fresh, that's
what counts.
We all have our very own ways of relaxing and de-stressing. What is yours?
I've days when I want to pamper myself when I'm feeling low, bored and stressed. I engage myself in relaxing and rejuvenating activities to keep myself full of energy and enthusiasm. I go to the spa, I get all type of treatment done – body massage, hair spa, I sit for hours getting my manicure and pedicure done. But then there are days, when I don't feel like doing anything, which includes skipping a shower as well (laughs). Lying down in my bed all day watching movies and munching whatever junk food I want to, is actually my way of de-stressing.
There's nothing better than a romantic date on a beach and having amazing food.
You will soon turn a year older and wiser. Any special plans for your birthday?
No special plans. My upcoming movie Bareilly Ki Barfi is actually releasing on 18th August, so I'm just hoping I don't have any promotional event on my birthday. I will more likely be at home with family and friends.
Would you like to talk about your character in this movie?
My character in this movie is very tomboyish. It was very fresh for me to play a character from Uttar Pradesh. It's a very quirky and a different kind of film. She is a girl living in Bareilly but doing things on her own terms. She is someone who is quite bratty and who questions the basic norms.
What kind of gifts do you enjoy receiving?
I really enjoy receiving gifts because I'm always moved when someone gives me a gift without any occasion. I think gifts given
without any occasion are the best. I think it has lot of sentiments and emotions attached to it. For me it's the effort and the emotions that matters the most than the materialistic things.
If you had a genie with you today that'd grant all your wishes, how do you think your life would look different the next day?
I don't think much can be done in one day, but still I would ask for one super power that I can be anywhere I want to within a click. I think that would be great since there is so much traffic especially because of rain – hence I can easily skip all the traffic. I want to meet my parents at my Delhi house and come back with a click. If I'm not wrong, you have a sweet tooth.
What is your favourite sweet dish?
Anything that has to do with chocolates, will work for me. I love Gulab Jamun, Ras Malai, Caramel Custard and Cheese Cake (yummy).
We have heard of diehard fans of superstars, do you wanna share your craziest fan story?
Recently when I went to Indore for the promotion of Raabta, I met this fan who had tattooed my name on his wrist – that was overwhelming and beyond what words can explain! I felt so special! I don't think I deserve it at all. It's the selfless love that makes me wanna work harder. But then I told him that I'm feeling bad for you because your girlfriend can be very upset (laughs).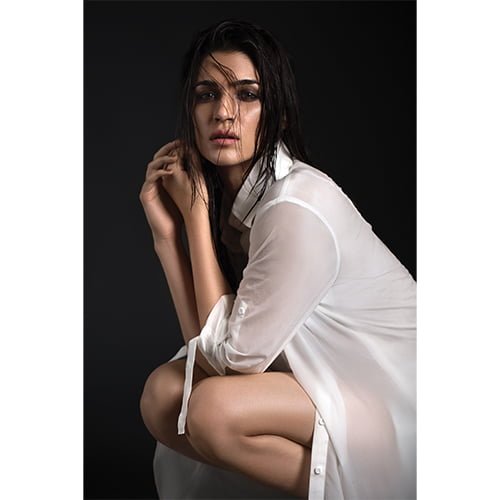 She is someone who is quite bratty and who questions the basic norms.
What is one habit of yours that no one knows about?
I'm very indecisive, so I take my own time. I might stand in front of my wardrobe and think what to wear, feeling that I don't have anything even though my wardrobe is full of clothes (hehe). And also I'm someone who cannot get up with one alarm; I hit the snooze button at least three times. And then there are chances that I may put off all the three alarms and still keep sleeping. I just love sleeping when I don't have work projects.
Is there anything you want to change about yourself?
Yes! I'm very bad at time management, I'm someone who will keep loitering around the end moment and suddenly realise that I'm very late and I would then run around – take my whole house on my head.
What skill you would like to become a master at?
I would love to learn different forms of dancing. Be it belly dancing, contemporary or any other form. I have learnt a lot of new things from the time I became an actor. It's exciting to learn new things and crafts, and with every film of mine, I have picked up something that I didn't know before. When shooting for Raabta, I got to learn a variety of things including swimming and horseriding. I could only practice for a month, which is nowhere close to mastering the art. I could hardly manage it while shooting (laughs). But trust me; it's a great feeling to bond with your horse. Now, I understand why people are so intensely possessive about their horses.
If you could turn into an animal, what animal would you choose? Why?
I love horses; I've actually started loving them after shooting for Raabta. I was not an animal lover but now I love them because they are truly some of the most majestic creatures on earth. The gallop is quite possibly the most incredible of a horse's four basic gaits.
Since you're from a non-filmi background, do you anytime wish you were a star kid?
Not at all! I'm proud of my journey. In any case, in Bollywood your surname matters only till your first, second or third film at most. Beyond that, you are on your own. Whatever I have achieved, I've done on my own. I believe it is my talent that has brought me forward. I also believe a lot in destiny and I think there are certain things that are meant to happen and you find your path to what you really deserve. I feel nice that I've come here on my own, of course with the help of the people who had confidence in me.
What is your relationship status right now – Are you dating anyone?
No currently I'm single (laughs).
What are your future plans?
Well, I am in talks for a few projects. A good script and a strong role is what I would want as an actor.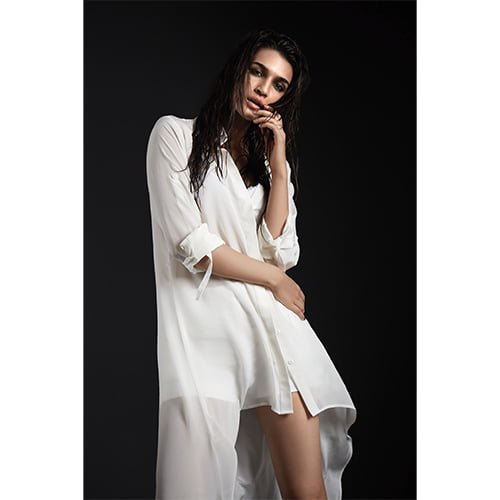 And also I'm someone who cannot get up with one alarm; I hit the snooze button at least three times.
QUICK BITES: WHAT'S ON HER MIND?
What do you think is your sexiest physical feature? What makes you feel sexy?
My waistline which is longer and curvy.
If you could only eat one food the rest of your life, what would it be?
Rajma Chawal.
What's your biggest fantasy?
I wanna travel the world – travel to new places. I want to do skydiving (actually I'm very fattu) but I really want to try. I would love to do scuba diving (with an instructor, of course).
What's the one item in your wardrobe you like the most/find the sexiest?
Lingerie.
Give me the names of 2 objects or things you love most?
My car and cell phone.
Are you afraid of ghosts?
I don't believe in them but then, I hate watching horror films.
What is the most expensive thing you have bought for yourself?
BMW 3-Series that I bought right after Heropanti.
Have you ever driven drunk?
No I haven't. Drinking and driving is the worst thing to do.
What's the one dish you wish to learn to cook to perfection?
Actually two: Butter Chicken and Mutton Curry.
What would you name your autobiography?
Still figuring it out (laughs)!
What makes you nervous?
The first day of any of my film, I feel very nervous and anxious.
What makes you feel loved?
If someone can cook for me that would be an amazing thing.
Your first celebrity crush?
Hrithik Roshan.
What turns you on?
Romantic gestures and good smell. Sometimes, all you need are sweet romantic gestures every now and then to let your partner know there's a lot of love floating in the air.
Do you have any phobias?
I'm scared of insects and reptiles.
What is your favourite thing to wear to bed?
Shorts and spaghetti.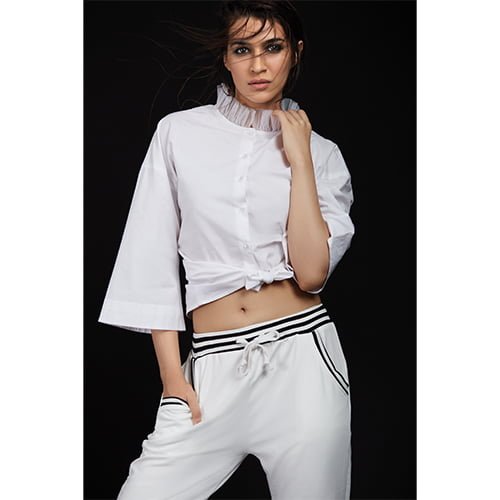 A good script and a strong role is what I would want as an actor.
QUICK REVEAL TOTAL INSECURITY
One word that pops in your mind
MONSOON?:Pakoras
SEX?: Physical need
YOUR MOOD?: Happy
FRIENDS?: School and College
CAR?: BMW
BIKINI?: Sexy body
JUST A SECOND
Pich up one and give reason
Wine or Beer
Wine because I hate beer, I don't like the taste of beer.
Snow or Sand
Sand because I am someone who can't handle cold too well and I am not at all fond of winters.
Flats or Stilettos
Flats because they are more comfortable and I think I don't need stilettos as I am tall.
Jalebi or Rasgulla
Moong daal ka halwa (any day).
Delhi or Mumbai
It's tricky. I love few things in Delhi and few in Mumbai. But if I could pick up the Bollywood industry and place it in Delhi, then I would choose Delhi.