It's the World Cup Finals week and football is just the talk of the world, as four nations are set to battle it out for a chance in the final this Sunday.
In the 2022 FIFA World Cup semifinal matches, four nations—France, Morocco, Croatia, and Argentina, will square off. At the beginning of the competition, no one could have ever imagined that these four nations would be there, but now they are as the competition becomes more intense and daring. The theory that defenses win tournaments and attackers win games has been proven correct by Morocco. Although they have allowed the fewest goals to be scored during this competition, they will be playing one of the renowned foreign teams in the world in France. All of France's critics who believed they would fall victim to the World Cup curse have been silenced. Croatia, which finished second in the previous edition, has proven that their journey to the final in 2018 was also no fluke and has begun to perform more consistently on the international stage. When comparing the Croatian team from 2018, the current group may actually be more productive and reliable. Argentina, who has been looking strong in nearly all areas of the field, is indeed the final team to advance to the semifinals. Given that this is Messi's final World Cup, the entire team must give everything they've got to win the trophy for South America. Let's now examine each squad in more detail and provide a preview of the forthcoming semifinal matches.
Semi Final 1 – Croatia vs Argentina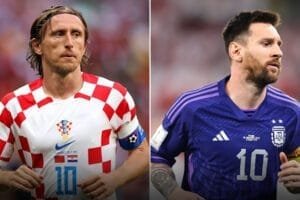 Both the sides are gunning for glory and will play for an opportunity to play the final on Sunday
Argentina got to the FIFA World Cup 2022 semi-finals after a challenging match against the Netherlands in the quarterfinals. The match was dramatic, ended 2-2 at the last minute, and was ultimately won by Messi's team on penalties. The La Albicelestes team has been remarkably unified, and it seems as though they are competing to witness Messi claim the world cup before he exits the stage. With his 10 goals at the World Cup, Lionel Messi tied Gabriel Batistuta for the most goals from an Argentine in the tournament's 20-year history. He uses his excellent control to assist his teammates when he is not on the scoresheet himself.
Messi would be looking to surpass Batistuta with another goal to add yet another WC record to his name
The 2018 runners-up, Croatia defeated Brazil in a nail-biting quarterfinal, managing to equalize following Neymar's goal in extra time before winning the game dramatically on penalties. Even if they are not usually the most enjoyable team to watch, Croatia simply cannot be ignored. For something like a golden generation that most had already written off and that possessed quality all around and the kind of togetherness many teams would envy, it might potentially be two successive final appearances. With outstanding performances from Marcelo Brozovic, Luka Modric, and Mateo Kovacic, Croatia's midfield utilized possession defense against Brazil.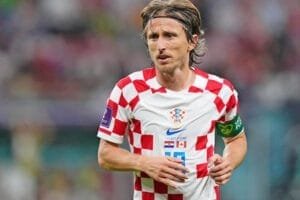 Croatia would be hoping for another Modric Masterclass to take the nation to yet another World Cup Final
Argentina and Croatia already have played each other five times, with each team taking two victories, and one match ending in a scoreless tie Croatia won 3-0 in 2018 whereas Argentina won 1-0 in their first World Cup matchup in 1998. It will be a tight midfield battle with Croatia's main men handling the ball well in midfield and having to keep Messi out of the equation. Messi is unlikely to be targeted by a specific man-marker from Croatia, who will instead look to capitalize on their solid defense and one of the greatest midfielders in the competition. Although Mateo Kovacic, who put in a solid defensive effort against Brazil, is likely to be expected for a similar performance, Marcelo Brozovic, who plays the deepest defensive position in the Croat midfield trio, is likely to have the most work to do in neutralizing Messi. With the ball, Croatia has its own diminutive senior magician in 37-year-old Luka Modric. His ability to set the pace, hold onto the ball, and lead his team into dangerous areas is essential to Croatia's aspirations of making it to back-to-back World Cup finals. It will be a tight tussle and it might be decided on pens on who goes through to the final on Sunday.
Semi Final 2 : France vs Morocco 
France want to add another WC Title to their record whilst Morocco are playing for the pride of not only their nation but for the whole of Africa
Whatever happens on Wednesday, the current crop of Moroccans have already solidified their position in national and continental history as the first ever African country to advance to the World Cup semifinals. Walid Regragui's stand-ins performed admirably to hold off A Selecao, and a Youssef En-Nesyri header was all that it took for them to make African history. Being without Nayef Aguerd and Noussair Mazraoui while facing a Portugal side that had hit Switzerland for six was not what doctor ordered for Walid Regragui. Morocco would be deserving champions after defeating Belgium, Spain, and Portugal to the hilt. The Atlas Lions reached the semifinal having impressively kept the opposition's scorers quiet throughout the whole competition.
Morocco will play their heart out in order to take the win against France and become the first African nation to qualify for the World Cup final
Didier Deschamps referred to France as the "fortunate" beneficiaries of Harry Kane's missing penalty as they kept England from winning the match in a dramatic quarterfinal. The victory for France was secured by Aurelien Tchouameni's rocket and Olivier Giroud's goal either side of a precise Kane penalty, though Bleus faithful were both relieved and shocked when the England skipper blasted a second penalty kick over the bar. A spot in the semi-final was entirely merited for a Bleus team whose hopes of winning back-to-back championships are still alive. France also had to withstand a late Marcus Rashford free kick that nestled onto the top of the net, and official Wilton Sampaio found himself at the heart of criticism.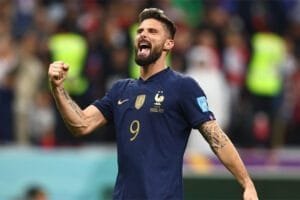 Oliver Giroud is making sure that Karim Benzema's injury does not affect the team and is scoring goals on a regular basis now
Although Morocco's outstanding defensive fortitude remained unaffected by its injury issues against Portugal, further health issues in the backline will undoubtedly bring a stop to their streak of clean sheets and most likely their inspiring World Cup journey. A second straight final should be on the table for Les Bleus given that Regragui's injured troops could very well try to scramble themselves back for what may be a lifetime experience, and a France team that has only required Mbappe to appear in the matchday squad to win World Cup games will no doubt take advantage.
One of the teams who came to Qatar as a strong contender will face one of the competition's mostly unheralded outsiders in each semifinal, which generally follows the same pattern. The one and only thing that took Deschamps' positive attitude away was the inclusion of that framework. He said, "Any of the four teams can accomplish it." It is difficult to disagree considering everything that has occurred over the past three weeks to take the World Cup to this stage. Morocco and Croatia might face off in an all-underdog final, while France and Argentina could square off in a heavyweight match. The two teams who will compete in the world's greatest game, which is played once every four years, are still to be determined.