Tum jante nhi ki apne purane doston ke sath baith ke wahi purane kisse dohrana kya hota hai! If these dialogues got you, then these celebrities friendship will too. Some filtered friendships which I bet you did not know about!
Bollywood dialogues can melt any Bollywood soul. Though it has been taught that movies are unfiltered versions of real life, they are not reliable and logical to believe. The Bollywood celebrity's life has a huge controversy which is not the same as in the movie. Their chemistry in the movie and real-life relationship becomes two diverse things.
Though Bollywood movies are not the same as real life, some of these friendships have stayed "filtered" and "real". These friendship bonds will even shock you. So, these are some of the celebrities; real-life friendships, which sticked till now! Check this out now!!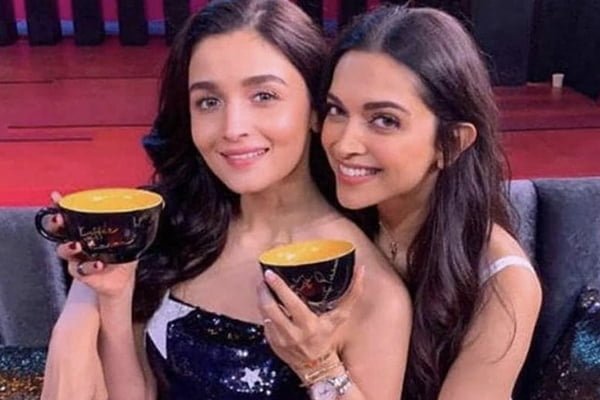 Deepika Padukone and Alia Bhatt shares a friendship bond.
This friendship is the most shocking one ever! Alia Bhatt is currently dating Ranbir Kapoor who was an ex-boyfriend of Deepika Padukone. Ranbir and Deepika's relationship got exposed in controversy space and, it was quite a heart-breaking breakup for Deepika Padukone. 
But shockingly we saw Alia Bhatt and Deepika Padukone in Koffee with Karan, in 2018. Even Karan Johar made uncomfortable questions, but Deepika explained "it's not awkward for us". She even revealed that they both went out for a hangout and waited for their favourite song to get played, but at that exact moment we were dying to pee. They eventually in hurry went to the men's room together and both were laughing while telling the event. Not only that, Deepika and Alia Bhatt are not best friends but do acknowledge to be friends.
Pooh the Kareena Kapoor Gang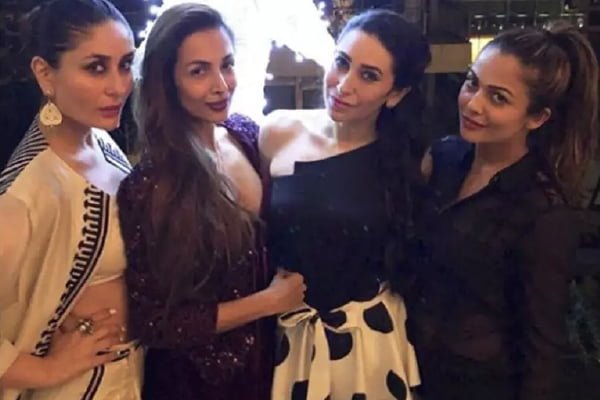 Bet you don't know about these real-life friendships in Bollywood.
Kabhi Khushi Kabhi Gham actress Kareen Kapoor has a whole women squad, also known as the "Arora" squad. This squad includes Amrita, Malika, Karishma and Kareena, they have been friends for the longest period. They are spotted for hangouts, parties, and even after covid together.
When Karan Johar's house party was rumoured as covid-hotspot, Kareena and Amrita both were infected with covid. After the recovery immediately these best friends had a meetup. Over the years these friendships stuck and were highlighted in the Bollywood industry.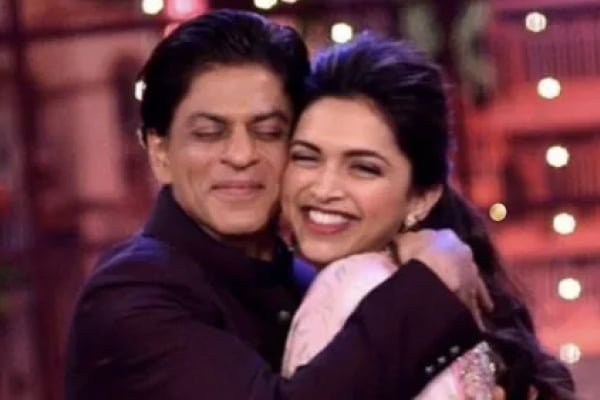 Chennai Express couple Deepika Padukone and Shah Rukh Khan shares a bond.
Om Shanti Om "Jodi" are they really friends? Yes, they are! Though Deepika's first movie step begins with Shah Rukh Khan and their chemistry on-screen is observed to be amazing. Their movies such as Om Shanti Om, Chennai Express and Happy New year look like fun characters in the movie. On off-screen Deepika Padukone once admitted in an interview, we share something which is known to us, and it's quite special. He personally messaged and congratulated me about the foundation, he has always been encouraging and supportive. During the times of controversial statements affecting their friendships, Deepika stood to clarify it.
Sonam Kapoor & Swara Bhaskar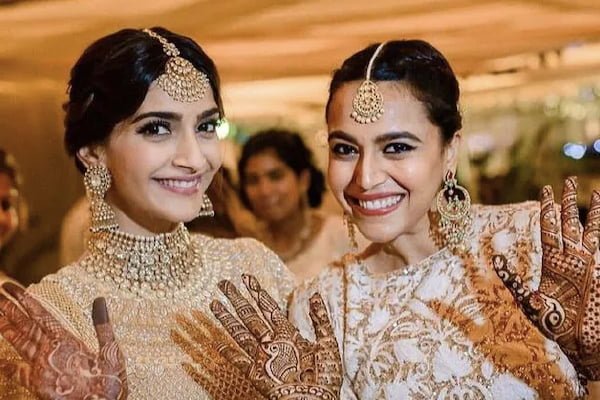 Sonam Kapoor calls Swara Bhaskar friendship as "Godsend" gift!
Veera Di Wedding actress Sonam and Swara Bhaskar, known to be a great actress and great friends. This friendship started years back, their love towards each other being quite vocal and real. Once Sonam Kapoor cried for Swara Bhaskar; Can you believe that? 
She immediately made a post featuring her friend and mentioned with excitement that obviously I was the first one to see this movie. I have cried at how magnificent and empowering the women character Swara has played. Sonam even expressed that she is a sister, and she acknowledges her friendship as a "Godsend" present.
Ranveer Singh & Arjun Kapoor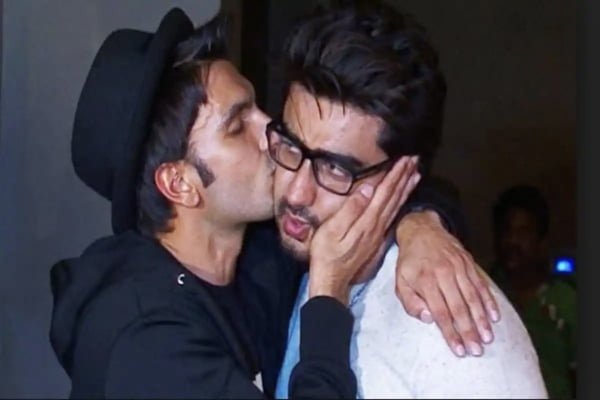 Gunday co-actors Arjun Kapoor and Raveer Singh shares on-screen  bromance.
Bollywood movie "Gunday" actors were seen together on screen and no doubt these two fun personalities shared a bond. Ranveer Singh and Arjun Kapoor's collaboration is adored by the fans as well. Their bromance is so extreme that Ranveer Singh gave a kiss on Arjun's cheeks, and they both laughed. From 2016 to 2022 their bond still sparks up, when they are seen together.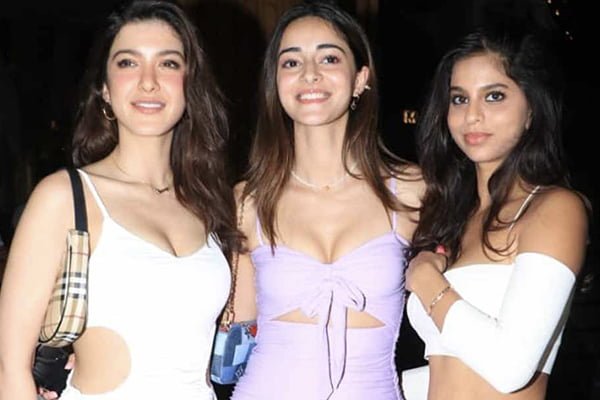 Starkid Trio friendship, known about them now!
These Genz actress, Shanaya Kapoor , Suhana Khan , and Ananya Pandey are known to be childhood besties. One of the members from this group posted their childhood picture; Ananya Pandey, Suhana Khan, and Shanaya Kapoor were holding guns they were at Shanaya's house. These are the chuddy-buddy friends who are friends till this date.
When Ananya Pandey made her debut in student of the year, people and media were trolling Suhana's appearance for her dark complexion. Ananya Pandey responded in the interview that these trolls become quite toxic but she is grateful for the friendship which help her and her friends get through it. These soul sisters are finally making their way to debut soon.