If You Feel That Your Phone Isn't Keeping Up With Your Needs In Various Terms, We Got You Covered With Everything You Need! Dive Right In, As We Have Got Into The Nitty-Gritty Deets Of Each New Model That Should Be On Your List, If You're Thinking Of Buying One!
1. MOTOROLA MOTO RAZR 40 ULTRA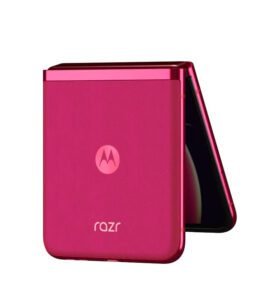 Motorola Razr 40 Ultra mobile phone comes with a 144 Hz refresh rate, 6.90-inch touchscreen primary display offering a resolution of 1080×2640 pixels (FHD+), and has the display sports Gorilla Glass for protection. It also features a 3.60-inch touchscreen as its second display, with a resolution of 1056×1066 pixels. Motorola Motor Razr 40 Ultra comes with 8GB of RAM. and is powered by a 3800mAh battery and supports wireless charging.
As far as the cameras are concerned, the Motorola Razr 40 Ultra on the rear packs a dual camera setup featuring a 12-megapixel primary camera, and a 13-megapixel camera. It has a single front camera setup for selfies, featuring a 32-megapixel sensor. It is based on Android 13 and packs 256GB of inbuilt storage. Under the hood, the Razr 40 Ultra is equipped with up to 12GB of RAM and 512GB of internal storage. As for the performance usage, the handset relies on a Snapdragon 8 Plus Gen 1 processor which can handle all the graphic intensive tasks with ease.
The device comes with a triple-camera setup at the back. The smartphone supports for about 4K video recording and has an OIS support. Accompanying the 50MP sensor, there is also a 50MP ultra-wide sensor and a 12MP camera.
The smartphone features a 60MP camera on the frontside for selfies and video-calling purpose. Whereas, the sensors on the phone include accelerometer, ambient light sensor, compass/ magnetometer, gyroscope, proximity sensor, face unlock and fingerprint sensor.
2. ONEPLUS 11 5G MARBLE ODYSSEY EDITION
The distinctive feature of the limited-edition variant is that no other OnePlus 11 5G Marble Odyssey will ever look the same as yours. The rear of the phone is made out of a rare microcrystalline rock material that resembles marble – a raw "visual texture" of rocks formed by crystals that are too small to be seen even with the naked eye. The creation of this masterpiece is indeed a story of exquisite craftsmanship. Every part of its making process, from material used to (chemical) treatment processing is a "first" for the smartphone industry.
This high-performance model comes with an industry-first Hasselblad camera system in a smartphone that promises to give you extraordinary photographs with a 50-megapixel camera, a massive 1/1.56" sensor size and a large ƒ/1.8 aperture. This is a massive upgrade on the first Hasselblad camera that was introduced in the OnePlus 9.
The OnePlus 11 5G Marble Odyssey is also known to deliver the highest levels of productivity and multitasking, thanks to a Snapdragon® 8 Gen 2 Mobile Platform, which will offer faster CPU (35 % improvement) and GPU (25 % improvement) speeds as you switch between different apps, stream and download content. It also comes with improved power efficiency – this amazing smartphone lives up to the OnePlus legacy so that you can count on your device for all kinds of productivity-related tasks.
It is also one of the best smartphones in the market today for gaming as it comes with a 16 GB RAM and an advanced RAM management system for a better performance at the game at hand.
3. INFINIX NOTE 30 PRO
The NOTE 30 Pro is both a phone and a charger, and can be used to charge other devices via wired or wireless reverse charge in times of crisis. Extremely 68W All-Round FastCharge can charge a large 5000mAh (typ) battery to 80% in 30 min. Not only that, the battery cycle times are up to 1000 times, 25% higher than the traditional value in the industry, which is good and durable.
Thus, the Infinix Note 30 Pro boasts an array of impressive features that make it a compelling smartphone option. Its 6.78-inch AMOLED display offers vibrant visuals and a screen resolution of 1080 x 2400 pixels, providing a crisp and immersive viewing experience. With a pixel density of 391 ppi, the details on the screen are sharp and clear.
Running on Android v13, the Note 30 Pro delivers a user-friendly interface with access to the latest features and updates. It is integrated with a loudspeaker (dual speakers) and a 3.5mm jack. The smartphone features Bluetooth, GPS, and Type-C 2.0, USB On-The-Go. The sensors include side-mounted fingerprint, compass,accelerometer, gyro, proximity. It supports Dual SIM and IP53.
4. OPPO FIND N2 FLIP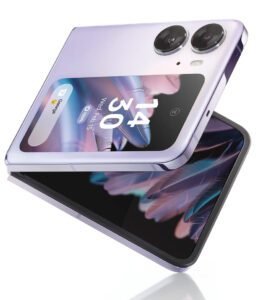 Like other foldables, the Oppo Find N2 Flip has the "wow" factor that you feel when bending the front panel into its closed position. While it won't attract attention in its open position as it looks like any other Android phone at the first glance, the clamshell design means the top half of the handset folds down over the bottom half in one motion–instantly making it more pocketable. The process is consistently smooth. It closes with a satisfying pop, and the case sits fully flush when closed. That's right: there's no gap to be seen.
Launching the camera when in the closed position lets you take pictures with the main 50MP lens, and it's nice for getting access to notifications rather than having to always open the handset. Both screens have excellent resolution, and the 120Hz refresh rate on the main display delivers an extremely smooth experience. It's the best example of a useful foldable layout. As the main lens is pointed head-on, you can shoot using the 50MP lens instead of the lower-resolution front-facing lens.
The security biometrics are also quick and reliable. The fingerprint scanner inside the power button works without issue, and the face recognition performs well even in darker conditions. You can also choose to set an unlock pattern, or use a more traditional number password, too. With the Find N2 Flip, Oppo has made a really good flagship smartphone that just happens to also fold in two.