The first male tennis player to win 20 grand slam titles, Roger Federer, has declared his intention to stop competing after the Laver Cup in 2022
When one of the greatest tennis players announced that he would be retiring next week, the sporting world came to a halt yesterday evening. Anyone with even a passing knowledge of tennis is aware of how well-known Roger Federer is. He is among the best in the game and has a long list of accomplishments. He owns several records, some of which one can only fathom breaking. Federer posted a message on his Twitter account announcing his intentions. When he won the Wimbledon championship in 2003, Federer captured his maiden grand slam. Since then, he has won six Australian Opens, one French Open, eight Wimbledons, and five US Opens.  He's been dealing with a knee problem for a very long time. The 20-time Grand Slam champion, aged 41, has been out since losing in the Wimbledon quarterfinals in 2021 before requiring more knee surgery. Serena Williams' retirement and Federer's announcement are events that took place too quickly.The fans Serena retired having won the second-most grand slam titles in women's tennis (23). 
Roger Federer was known as the King of Grass for his excellent performances at Wimbeldon over the years
Pete Sampras,who had won 13 grand slam titles, was asked a straightforward question in his news conference just after he left the 2000 Wimbledon final. "Can you imagine of somebody beating the record?" As Sampras amassed a position in the game that seemed impregnable at the time, many others asked the same question. It now seems absurd. He was overthrown by that individual on Centre Court precisely one year later. The idea of a youthful upstart grabbing the reins from an established veteran is sometimes more fiction than fact in sports, but in Federer's case, it was a pivotal event in the history of tennis. At the age of 19, in the Wimbledon fourth round, he defeated his idol, Sampras, to signal his ascension to the pinnacle of the sport. That was the beginning of the dominance of Federer in his beloved sport.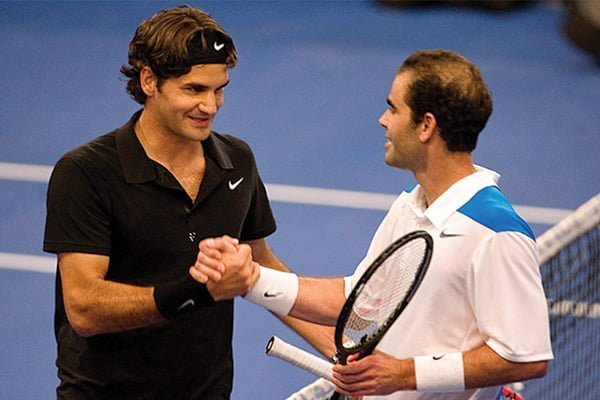 Since the start of his career, Roger had the professionalism that one idealises in an athlete
Federer won his first championship at Wimbledon two years later, heralding a new era for men's tennis. It's still unheard of how he mercilessly tore through the field while playing the game at a higher level than anybody before. He had no opponent, despite the best efforts of the unfortunate Andy Roddick, Lleyton Hewitt, and many others. In some respects, it is even more astounding since, unlike most of the greats, at one point, he had no real competition. Simply put, he was that talented. He won 11 Grand Slams between 2004 and 2007 alone, racking up wins and titles at a startling rate.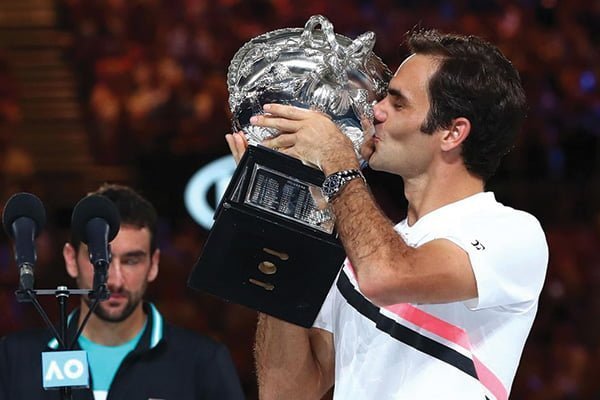 Federer was unstoppable during that era and he was wracking up titles for fun
Federer was, of course, a human. On the court, he occasionally became irritable, frequently when Juan Martin del Potro was on the other side. He was not immune to insults, especially during some tense bouts with Djokovic. But his professionalism, sportsmanship, and ability to maintain composure under pressure all contributed to the success of his career. Because of his endurance and his effective playing style, Federer was able to avoid the catastrophic ailments that plagued his adversary for a significant portion of their respective careers. But in this last stretch, his significant problems all appeared at once, which gave him a hard ending.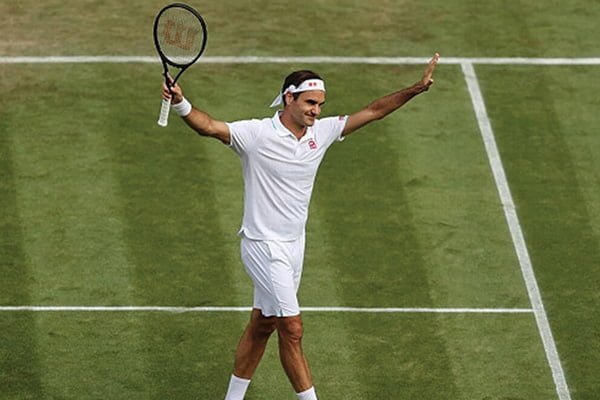 Fans would be surely tuning into watch the great play at a competitive level one last time and give him the respect he deserves 
The Swiss will make another appearance on the professional tour later this month in the Ryder Cup-style Laver Cup, a competition he helped to establish. Since he hasn't played in over a year, it's unclear what level he will be able to perform at. He is among the top athletes and is unquestionably one of sports' biggest celebrities. On a list of the wealthiest athletes in the world, he is listed next to Tom Brady, LeBron James, Cristiano Ronaldo, Lionel Messi.  Federer has received support from fans wherever he has gone, but nowhere more so than this year at Wimbledon, when he received the most boisterous ovation amid a cast of luminaries as part of Centre Court's centenary festivities. Every grand slam will miss the presence and the aura of this legend and fans hoped that they could see him play another grand slam and witness the great at big stage one last time. But as they say, all the stories don't always have a fairytale ending.