Adipurush Trailer 2 will release in a Grand Pre-Release Event on June 6, which will be a never-before-seen experience for the audience in Tirupathi
Adipurush, an epic mythological drama starring actor Prabhas as Lord Rama, Kriti Sanon as Mata Sita, Sunny Singh as Laxman, Saif Ali Khan as Raavan, and Devdatta Nage as Lord Hanuman, is set for a theatrical release worldwide on June 16, 2023. The movie is directed by Tanahji: The Unsung Warrior fame Om Raut.
Adipurush's Makers have scheduled a massive pre-release celebration for today beginning at 6 PM in Tirupathi's Sri Venkateshwara University Stadium, with Chinna Jeeyar Swamy serving as the event's chief guest.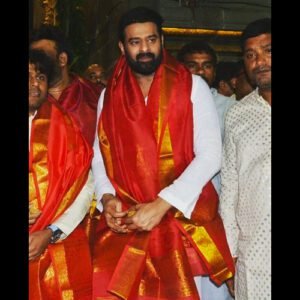 Prabhas at Tirumala Temple ahead of the Grand Pre-Release Event.
As per the latest report, there will be a 50 feet holographic image of Prabhas which will present at the Event. Along with this, to make the event more interesting, there will be more than 100 dancers and 100 singers who will perform on the stage during the event. A huge set is being erected at the stadium, and the entire event is being taken care of by Director Prasanth Verma. It is expected the attendees will be more than 1 lakh people, according to the organizers which will definitely be a never before seen experience for all the people present at the event.
It is expected that this event is going to be a high-profile event where the makers will release its second trailer along with the other star cast of the film. Kriti Sanon is expected to be present at the event.
Ahead of the event, #AdipurushPreRealeaseEvent is already trending on Twitter with several tweets and retweets. Fans of darling Prabhas can't keep calm and have been sharing their excitement on several Social Media Platforms and gearing up to see their Idol at the Event.
Cut-Out of Prabhas as Lord Rama at the location of the Event.
Prabhas is also excited about the event, as he flew to Tirupathi on Monday and seek a blessing from Shri Venketashwara Swamy. He attended the rituals (Suprabadha Seva) of the temple at 2:30 AM, the early morning, of which several pictures and videos are circulating on Social Media and getting praise from netizens.
Recently, there is a statement released by the team Adipurush that one seat in every theatre will be left unsold during the Screening and dedicated to Lord Hanuman to celebrate the beliefs of the people.
Only 10 days left for the release of most anticipated film of 2023.
Other big news circulating around different portals related to Adipurush is that the film which is made with a budget of 500 crores, has already recovered 432 crores from Digital Rights, Satellite rights, and from theatrical rights (especially in the South). As per the reports, the makers sold the theatrical rights to People Media Factory at 185 crores, and Satellite and Digital Rights in all languages at 242 crores.
After many delays and changes, Only 10 days left in the release of Adipurush which is scheduled to release on 16 June 2023 in Telugu and Hindi, along with its dubbed versions in Kannada, Malayalam, Tamil, and other multiple Indian and International languages. The film will release in both 3D and Imax versions.