Cameras Make Artists Look Broader And Dreams Bigger Now This Will Continue For Centuries To Come. We Have Something Interesting To Catch Your Eyes, Read Ahead To Find What It Is!
We thank our dear readers for playing such an inherent part in our journey of 15 years and hope to see you with us for a long time. Since 15 also represents curiosity and exploration, we are presenting the 5 best digital cameras since they play such an important role when one goes exploring. And as a special gift, we have added one exorbitantly expensive camera that would be an absolute joy for whoever has the luck to use it. 
The camera does not prove to be in the object itself, but rather in what it creates. Photography has formed new means of education and history, along with a new lifestyle with its impeccable features and characteristics. When the concept of photography was created, it was apparent that this would forever change the world. The single most important attachable part of any camera is its lens. This is what captures light from external scenes and directs it into the camera's sensor where it interacts with all the internal camera parts. Now dig in and have a look at the 6 amazing cameras we have hunted down for you this time. 
Go Pro Hero 11 Black
GoPro 11 black has upgraded hardware and software, and the new, almost square sensor is supremely versatile. It captures great-looking video in all dimly lit and dark scenes, it has some fun new modes like light painting. The Hero 11 Black is a pleasing addition to their line. It also has an 8:7 aspect ratio and is a standout highlight for content creators. One can Black capture 5.3K resolution video at 60 fps, 4K resolution video at 120 fps, or 2.7K resolution at 240 fps. You can also grab 27MP stills from a 5.3K video, its footage can be cropped to create new 4K portrait, landscape, and square clips from a single video. GoPro's offering in a meaningful way can be particularly appealing to folks who use multiple social platforms, nothing else can do what the 11 Black can.
Weight: 4.5 oz / 127 g
Waterproof: 33.0′ / 10.0 m
5K video: up to 60fps
4K video: up to 120fps
2.7K video: up to 240fps
Stills resolution: 27MP
Battery life: 2-3hrs estimate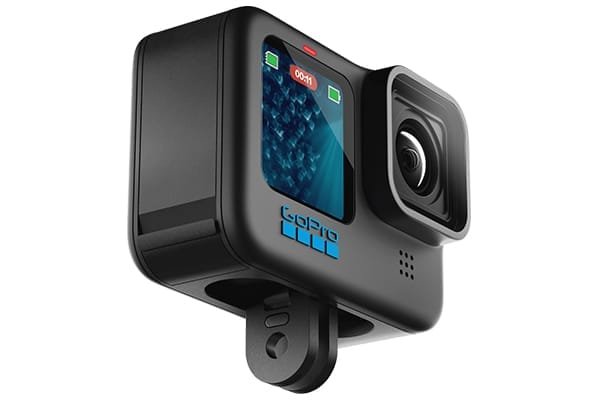 2. Olympus System OM – 1
OM-1 is the world's only IP53 weather-sealed camera, and the world's first Cross Quad Pixel AF camera, it is also packed with bleeding-edge computational photography tech, and image stabilization that blows everything else out of the water. The ISO performance promises parity with full-frame sensors. This is only a 20.4MP sensor – which can deliver 120fps shooting, 80MP pixel-shift stills and 4K 60p ProRes Raw video. You won't be able to find this much firepower in any other camera, even one twice the size. Isn't it amazing? The OM SYSTEM OM-1 is powered by the newest digital technologies and captures split-second moments of any type of subject.
Type: Mirrorless
Sensor: MFT stacked
Megapixels: 20.4MP
Screen: 3-inch vari-angle touchscreen, 1.62m dots
Viewfinder: Electronic, 5.76m dots, 120fps
Continuous shooting speed: 120fps (no AF/AE), 50fps (full AF/AE)
Max video resolution: 4K
3. Panasonic Lumix S5 
The Panasonic S5 is a 24MP full-frame mirrorless camera built around the sensor but has a smaller and more affordable body. In fact, despite having a full-frame sensor, the S5 is smaller in every dimension. Aiming to appeal to both photographers and videographers, as it includes updates to Panasonic's DFD autofocus system, and captures new creative photo modes, and video. This is Panasonic's most compact full-frame camera up to date. The compact has tough body, is dust and splash-resistant to equip you with the confidence to get the shot, even in physically demanding conditions. The Lumix S5 also offers great capture in a 24MP sensor, all over the scene that's broadly a match for its peers.
Type: Mirrorless
Weight: 714g
Sensor: 24.2MP Full-frame CMOS sensor
Resolution: 96 MP High-resolution mode
Material of construction: Magnesium Alloy
Magnification: approx. 0.74x
Connection Type: HDMI, Microphone, Remote Control, USB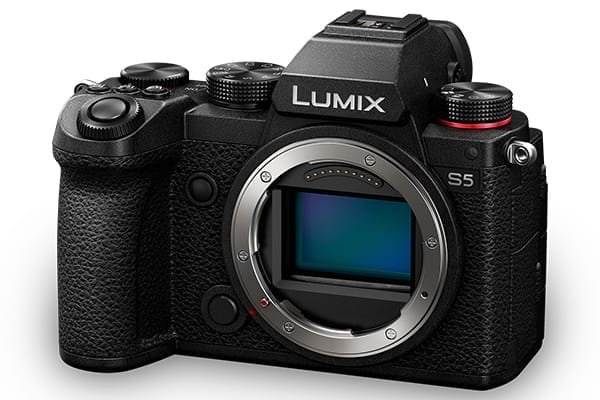 4. Sony A7 IV 
Sony has a very valuable agenda concerning the environment. As with their products, from development to production, packaging, and logistics. They use high-performance recycled and recyclable plastic for camera body components, alongside more recyclable packaging. The production sites also leverage renewable, large-scale solar generation to reduce production energy impacts. Now let's come to the product, the Sony A7 IV is the fourth generation of the company's core having a full-frame mirrorless camera model. It's the most advanced yet, bringing many of the improvements Sony has made in terms of autofocus and interface design. It has a new 33MP BSI-CMOS sensor which represents a move away from the 24MP chip and its immediate rivals – Panasonic and Nikon. 
Resolution: 33MP
Connection: USB, Microphone
Type: Mirrorless
Optical Sensor Type: Exmor R CMOS 
Viewfinder Type: Electronic – OLED
Weight: 658g
Warranty: 1 year
5. Hasselblad 907X Anniversary Edition
With our previous month 15th Anniversary, we are presenting our 5th best digital camera as the Hasselblad's 80th-anniversary edition camera. The company produced it in 2021 to celebrate its 80 years of precision camera making. In 1941 the specific body was chosen by this brand for the anniversary kit due to its similarity in design to the legendary Hasselblad SWC camera. It has an impressively compact and lightweight design, with the smallest medium format camera body. The use of the 907X also enables greater access to wide-angle lens options while using XCD lenses and has a spectacular image quality. The 50MP CMOS sensor, the Hasselblad Natural Color Solution is designed to deliver images with the most natural color without any variety. 
Material: Aluminium
Resolution: 2,400,000 Dot
Connection Type: USB 
Sensor resolution: Effective: 50 Megapixel (8272 x 6200)
Weight: 865g
Image Capture Ratio: 4:3
Maximum Magnification: 0.1x
907X Anniversary Edition By Hasselblad
6. Leica 0 Series no. 105 – Most Expensive
Guess what? The most expensive camera in the world sold for approximately ?123 Crore at an auction. The 35 mm Leica 0 series no. 105 was invented by Oscar Barnack. This 99-year model is exclusively rare and was presented with the original leather lens cap, a later aluminium cap engraved with Barnack's name on top of the viewfinder. It is used for photography research and was one of the most important cameras in photography research before the sale. Many of the world's profound photographers have used the Leica, with names such as Henri Cartier-Bresson, Aleksander Rodchenko, Ilse Bing, Lee Miller, Robert Doisneau, Arthur Rothstein, Helmut Newton, Diane Arbus and Georgia O'Keeffe, and particularly at auction, is Man Ray. Undoubtedly, this vintage camera will be remembered for years.