After IPL 2022 ended, Virat Kohli and Anushka Sharma went to Maldives for a short vacation from where he tested positive for Covid 19
After the 2022 IPL season came to an end, former captain Virat Kohli and his wife Anushka Sharma took a small vacation to Maldives. This was a much needed break for Virat, since he had been on regular tours with team India and then he played the IPL as well. Throughout these tours, he was in a bio-bubble and sometimes it gets mentally frustrating as well being inside a bio-bubble for a long time. The couple took their flight to Maldives for their vacation from the Mumbai airport and were sharing pictures regularly on their social media handles.
Virat Kohli enjoying his small vacation by the beach with Anushka Sharma
Once the couple returned to India after vacation, pictures of the couple entering the Kokilaben hospital were captured but no reason was revealed at that point of time. Today, news broke out that Virat Kohli had tested positive for Covid-19 after returning from their vacation. These pictures of them getting out of the hospital went viral on 13th June 2022. Virat and other Indian team members left for England on 16th June 2022. A source from Times of India stated that Virat Kohli tested positive for Covid-19 after returning to India and he is fully recovered now. Virat Kohli wasn't the only one from the squad who had tested positive for Covid-19. Indian spinner, Ravichandran Ashwin has also tested positive for Covid-19 and is still recovering from it. He didn't board the plane for England and if he recovers fast, he might be able to travel to England for that solitary test. 
On their return from vacation, the couple visited Kokilaben hospital on 13 June, 2022
India is set to play England in the final test of the series starting 1st July 2022. This match had to be postponed due to a number of cases in the Indian camp last September and this tour hasn't started well for them since India has already confirmed two cases in the squad that was announced. Luckily, Virat Kohli recovered well and on-time to make it to England with the squad, whilst, Ravichandran Ashwin is still on the road to recovery. There has been no news regarding the duration for which Kohli had tested positive and these are the questions only he can answer. Arun Dhumal, the treasurer of the Board of Control for Cricket in India (BCCI), has urged the players to exercise all due caution since the organisation doesn't want a repeat of the last incident, which led to the cancellation of the fifth and final Test of the series.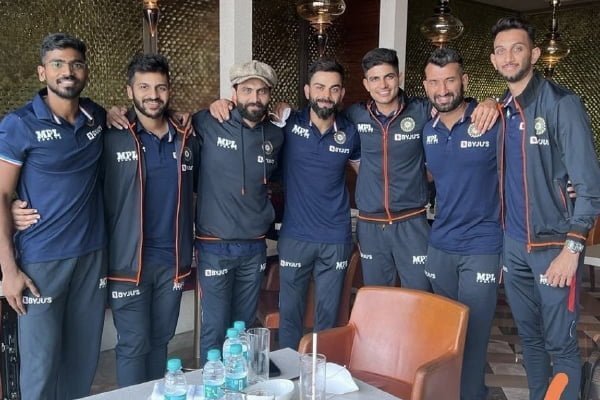 The Indian team left for the United Kingdom via Mumbai on June 16, 2022
IPL 2022 was the first season after a long time where we didn't see Virat Kohli as a captain and it was pretty evident that he was enjoying the relieved duties as captain. He was concentrating more on his batting and how he can improve as a player so that the team can do well through his contributions. Virat Kohli, is a household name, not only in India but across the world, for what he has achieved in this game. He has been having a rough time by his standards and hasn't scored a century since November 2019. This is a thing that has been troubling him for a long time and has impacted his form of late also. But he still is one of the world's best batsmen and we all know that he has that ability in him to bounce back from failure and Team India would be hoping that Virat brings out his A game against England in the fifth and final test starting July 1st.