During an event, Actress Shefali Shah opens up about her role as mother opposite Akshay Kumar in 2005's Waqt: A Race against Time.
Shefali Shah has demonstrated versatility in her acting career, seamlessly transitioning from big screens to short films and then again to the big screen. From Ajeeb Daastaans, Darlings, Jalsa, Dil Dhadakne Do, Delhi Crime, and Doctor G, she has showcased her exceptional talent. She was also nominated as the Best Actress for Delhi Crime in the 2023 International Emmy Awards, and she candidly discussed the existing hierarchy on the film sets.
In between her busy schedule, Shah attended an event on Monday organized by Indian Express Adda Live, where she recalls the time when she had to play the mother of the actor (Akshay Kumar), from whom she was 5 years younger in age.
The subject of Shefali Shah portraying Akshay Kumar's mother even though she is five years younger was brought up during a discussion. Vir Das and Jim Sarbh, who were present for the conversation, chuckled about this subject.
Shefali teased them by calling them "mean" and said she had a reason for playing that part, which she would later give them both an explanation for. She quickly said, "I promise I will never play Akshay Kumar's mother ever in my life."
Regarding the dynamics of power on movie sets, the actress said, "Honestly I will tell you, I have had the pleasure of working with incredible people and I am not saying it because it is politically correct. I mean it. I had most likely collaborated with one very offensive director or actor. Aside from that, I have collaborated with directors who view actors as more than just performers."
The host also brought up the fact that Shefali played the wife of Amitabh Bachchan, who is 31 years her senior, back in 2005. In the 2022 film Darlings, starring Alia Bhatt, fast-forward to the scene where she becomes the focus of a 23-year-old boy's desire. It's amazing to see how her roles have changed since then.
He then asked her if, in her years of working with these big-name performers, she had ever noticed who set the tone and who the whole show was centred around on the sets. Shah was also questioned about whether this dynamic has changed with the rise of OTT platforms.
On the work front, Shefali Shah recently unveiled her upcoming film's "Three of Us" trailer on her Instagram. Shailaja, played by Shefali, is shown in the trailer battling a dementia diagnosis. She goes back to her hometown with her spouse in tow to relive her childhood.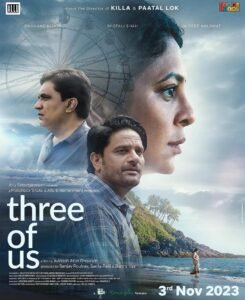 There, played by Jaideep Ahlawat, she runs across her childhood crush. Notably, the film is set in the picturesque Konkan region of Maharashtra and made waves last year at the International Film Festival of India (IFFI) when it was chosen as one of the 25 films for the Indian Panorama 2022.