Say what you will about Scotland, but the country produces some of the best whiskies every year. And we bring to you the best of the best. Read on and quench your thirst.
Whisky, as a drink, has a cult following to its name. One of the more highly regulated spirits, there are a myriad of laws and regulations governing whisky and its production. However, the one common thread running through all whiskies is that all are made from grain, similarly distilled, and aged in wooden barrels/casks. Whisky comes in many different types – malt, corn, grain, blended, single pot still, and rye whisky, but that's a detailed conversation for another day!
Whisky is certainly more about the journey than the destination. And you should be aware of some of the top brands out there. Scotland is the biggest whisky producer in the world, despite other countries having their own long-standing whisky-making traditions. The location of where it is produced makes a big difference to the taste, smell, and look of the whisky. Even within Scotland, the difference in distilleries causes phenomenal changes in the taste. So today we're undertaking the important task of familiarizing you with some of the best Scottish whiskies out there. Just pour one and relax your night away.
1. LAGAVULIN, 26-YEAR-OLD, 2021 SPECIAL RELEASE, ISLAY SINGLE MALT SCOTCH WHISKY
The Islay Single Malt Scotch Whisky is a rare and treasured scotch with smouldering intensity and alluring spice.
Although Lagavulin's 'entry-level' single malt bottle is aged for 16 years, there is also a Distiller's Edition on offer, along with other occasional rare and exclusive drops. For you, we bring the Lagavulin 2021 special release. A 26-year-old malt, it is the oldest expression from Diageo's 2021 Special Release. The mighty distillery seems to have a winner on its hands, if we may say so ourselves. Matured in first-fill Pedro Ximenez/Oloroso seasoned casks, it boasts a flavour profile with powerful peaty notes and an intense sherried boldness.
In the first sniff, the nose detects some really great dried fruit, pungent smoke, cured meats, and just a touch of varnish. There are also plenty of tiny notes which makes it get better in the glass. As for the palate, it starts with a sweet smoothness that paves the way to a smoke-wreathed intensity courtesy of the salt and pepper. Some mint brine and pipe tobacco can also be tasted. It has a long, warm finish, with hints of coffee, ginger, and herbal tea. It is best enjoyed neat or with a touch of water.
2. THE MACALLAN, SHERRY OAK, 25 YEARS OLD, 2021 RELEASE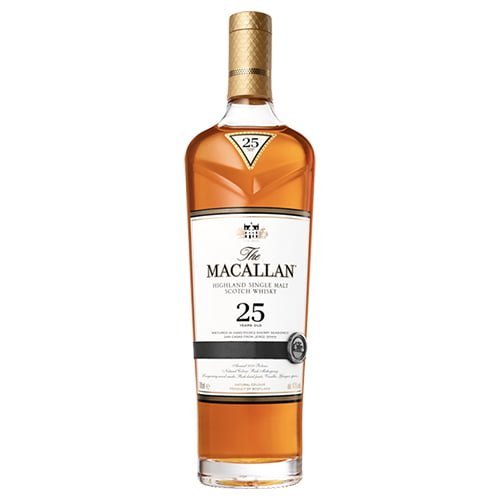 The Macallan produces some of the world's most expensive whiskies. In 2015, it sold a six-litre crystal decanter of its Lalique "M" single-malt scotch for $6,31,850.
Easily the most sought-after brand, Macallan is responsible for churning out some of the most collectible whiskies on the market. This 25-year-old Sherry Oak is one of the most globally sought-after whiskies from Macallan. The 2021 release was the fourth following Macallan's rebranding of the core range in 2018. Matured exclusively in hand-picked Oloroso sherry casks, this is a distinguished and timeless classic that you need to get your hands on.
Boasting of rich and complex flavours, this deep, mahogany-hued whisky spent 25 years maturing, and its flavour profile makes crystal clear. It has taken on the rich, fruity, and intense character of the sherry that it rested within. Intense flavours of Vanilla, dried fruits, and ginger spice with a long finish strongly come through, making for a truly irresistible spirit.
3. GLENMORANGIE SIGNET
Impressive packaging and a rich flavour profile characterise this delicious no-age-statement dram from Glenmorangie.
Glenmorangie is a household name for a reason – you certainly cannot go wrong with a Glenmorangie! The Signet – first released in 2008 – became the first single malt whiskey that used high roast chocolate malt barley with a blend of its rarest whiskies matured in bespoke casks. For one entire week, the distillery ceases all other activity to produce the chocolate malt barley for the Signet.
The nose detects warm coffee, ginger, and cinnamon first. This is followed by dark chocolate and tiramisu. A pleasant aroma wafts focusing on sweet notes. As to the taste, your mouth gets an explosion of mocha and dark chocolate with a touch of apricot and exotic spices, finishing with notes of creamy cappuccino, amaretto, and bitter-sweet orange. A whiskey that dares to explore new horizons, truly whisky as you have never tasted before.
4. THE BALVENIE, TWENTY-FIVE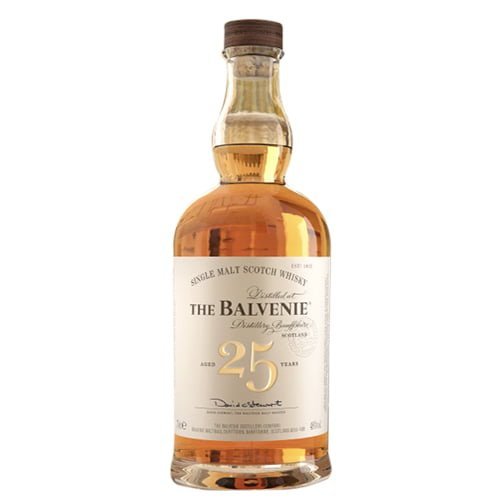 The Balvenie stays true to its Five Rare Crafts, and makes whisky the way it always has.
Balvenie has been producing top-notch whiskies since 1962 and has made quite a name for itself over time. The reputation it has managed to build up serves it well as this whisky sets itself apart from the others. The Balvenie Twenty-Five is a great offering from Balvenie's distilleries. Its character is exceptional and hints at Balvenie's most sought-after flavours of bold vanilla oak, crystallised ginger, and sweet runny honey.
It is smooth and honeyed on the nose featuring mellow oaky tones and just a hint of candied orange peel. The opening vanilla oak flavours slowly dissipate into layers of toasted marshmallows, fresh fruit terrine and cinnamon-infused apple tart. It finishes with an exceptionally long-lasting sweetness. An intricate and balanced expression of flavours, it exemplifies the art and skill of Single Malt TUN marriages that are not to be missed.