This month, we're shining the spotlight on electric bikes as they are an eco-friendly way of enjoying your bike rides. Read on and select your ride.
Are you imagining yourself cruising down the highway, the wind rustling through your hair, bystanders envious of your sweet ride; that does not leave any choking fumes in its wake! Well, let us be the first to tell you, that you can very easily turn this into reality! All you need to do is trade in your old bikes for a better, eco-friendlier, electric version! The electric vehicle industry has grown by leaps and bounds. The developmental pace of batteries and electric bikes and motors has picked up considerably in the past few years. Electric bikes are well on their way to becoming mass-market alternatives. Eco-friendly transports are now even better than their non-eco-friendly counterparts. So, it didn't come as a surprise to us that e-motorcycles too have upped their game. Think low-noise, no fume, and smooth sailing journeys, what more does one need?  And let's not forget, the planet will be extremely grateful to you for making this switch! Electric mini bikes and cars are now available for kids as well, so you can now get your kids on the same wavelength as you.If you're still confused about the best electric motorcycle to purchase, no need, just read on and select what you like the most.
1. TREVOR MOTORCYCLES, DTRe STELLA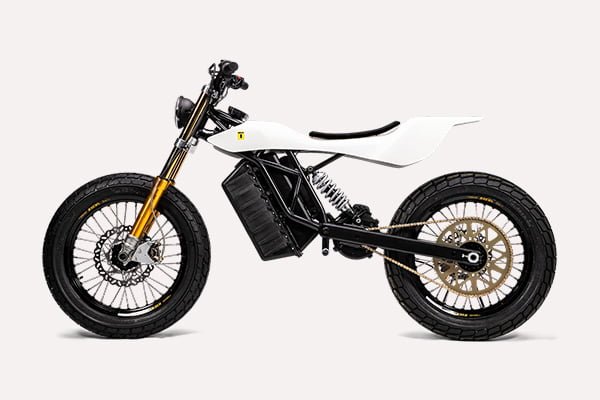 Price: approx. Rs. 11,25,220
Hand-built in Belgium with zero emission, and zero pollution, the Trevor DTRe is Trevor Motorcycles' first premium electric model. Using only the best in high-end performance parts, the DTRe Stella boasts a reach of up to 100 km and a charging time of 60 minutes with a 3kW charger. Although it comes in a CDQS White body as the standard, you can add a custom body while purchasing from the website. Just head to their parts section before you checkout. The DTRe is a sustainable machine that is equipped with a DC3 Motor and a powerful C-battery which gives an instant reaction to the throttle. The dirt tracker comes complete with a few choice components like Lightweight 19" wheels, Öhlins suspension, Beringer brakes, and Domino bars, etc. – truly some of the finest aftermarket parts available.
2. TACTICA T-RACE M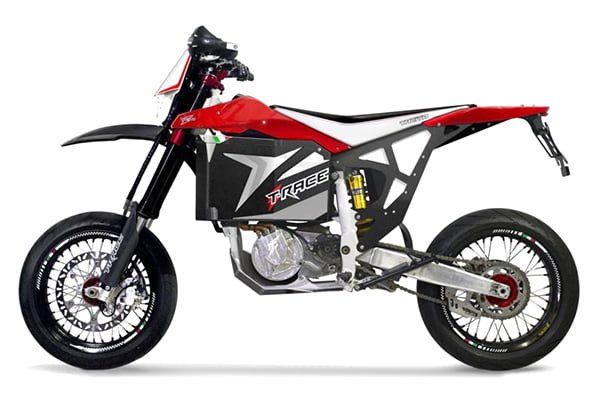 Price: approx. Rs. 13,36,460
The ideal companion for your daily commute as well as to express your wild side, the Tacita T-Race M is agile and fast and is the perfect bike for contemporary road bikers. It is made by a boutique Italian firm and is an ultra-high performance electric dirtbike that features a factory supermoto configuration with 17" wheels that come shod in sticky sweet rubber and tighter suspension. It is also sold with optional carbon fiber and Kevlar bodywork and produced with the choice of three motors. Perhaps the biggest selling point of the bike is that it comes equipped with a manual five-speed gearbox that is operated via a hydraulic clutch with a Brembo master cylinder. The bike weighs 370LBS and boasts a top speed of 105MPH and a range of 70 miles. It also has a new chassis that has been optimized in terms of stiffness through the placement of new reinforcements and is extremely easy to manoeuvre in every situation, making it the perfect choice for anyone.
3. ENERGICA EGO + RS
Price: approx. Rs. 19,65,590
Energica's latest offering is an RS-spec of its EGO superbike -an already potent and razor-sharp model. The tweaks made to the Vehicle Control Unit bestowed the Italian made EV with even more impressive specs; a modified drive train that allows improved acceleration from 0-60 mph of more than two-tenths of a second as well as additional velocity increases. The Energica EGO+ / RS seems to be working overtime to give petrol bikes a run for their money. It also comes with a mammoth battery that supports an otherworldly range of 261 miles and owing thanks to the new EMCE motor, it has increased by 10%. For the riders with a need for speed, we have good news for you – the motorbike boasts a maximum speed of 150 mph which means it really ticks every single box which makes it the best electric motorbike available in the market currently.
4. VERGE TS
Price approx. Rs. 20,83,190
Offering the ultimate electric experience on two wheels, the Verge TS allows you to take full control and streamline down the roads without any worries. The TS has 4 electronic riding modes and 2 riding positions that bestow you with the flexibility to ride your TS exactly the way you want. An onboard 8-inch, touch screen infotainment system makes it easy for you to stay informed even on the road. The totally unique integrated motor allows you to leave behind the stress for maintenance and only carry the wish to relax with you. Weighing 249kg, the TS has a wheelbase of 1540mm and has a top speed of 180km/h that can go from 0 to 100 in just 4 seconds! It boasts a range of 300km in the city and 200km on highways. The peak power is 80kw and the max torque it can reach is 1000nm. If that is not all, it comes in 5 gorgeous colours as well, so you can now ride your bike in style.
5. LIGHTNING LS-218
Price: approx. Rs. 30,18,460
The Lightning LS-218 has the achievement of a record-setting land-speed record of 218mph and represents peak two-wheeled EV performance. The bike's cutting-edge and wildly potent powertrain is matched with some truly impressive pieces of running gear, providing it with cornering and stopping abilities that are absolutely on-par with its speed and acceleration. The seat height is 32 inches and the charge time is 30 mins on a DC fast charger and 120 minutes on a level 2 charger. Possessing a 100mi average range at highway speed, the LS-218 boasts 200 horsepower and has 168ft. lbs torque. It also comes in 5 colour options that give the bike a chic look you will definitely appreciate.
6. CURTIS THE 1
Price: approx. Rs. 64,67,640
A rolling work of art that boasts innovative design and is going to ensure you come into notice of every single lady around you. The 1 features a highly advanced aircraft-inspired Tripe Load Path monocoque frame utilizing a cantilevered bulletshaped "Power Pak" battery setup as the structural backbone of its framework. The 1 also has equally thick carbon fiber wheels, aluminium and carbon fiber girder-style front-end and a proprietary powertrain expected to eventually be able to achieve up to 217hp and 272ft-lbs of torque. Weighing about 425LBS, the EV boasts a range of 280 miles and comes with a tool kit for seat changes and rake, trail and ergonomic adjustments as well as one solo and one tandem seat. Handcrafted from machined-billet aluminium, titanium and carbon fiber, the 1 is pretty much the coolest motorbike all around.