We've already established that September is the month for weddings. Since we've decided on Kenya as the perfect honeymoon destination for the month, let's now look at some options for staying there. The country is rife with wildlife, luxury stays, beaches, and adventure and that's what makes it so alluring to all. Your honeymoon is supposed to be memorable for life. These stays are guaranteed to make sure you remember the trip for life. To that end, here we have some options for you to consider when looking for someplace to stay while there.
1. The Phoenix Luxury Penthouse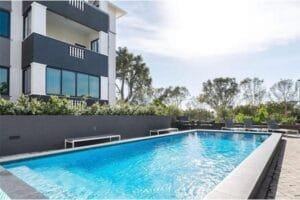 The Phoenix Luxury Penthouse
Luxury and serenity go hand in hand when it comes to this luxury penthouse in Nairobi. An extremely gorgeous property, The Phoenix luxury penthouse offers breathtaking garden views and if you wish to work in the serene environment, well, you can make use of the free WiFi! You also get room service as well as a private parking space and you will get a continental or buffet breakfast too. A bicycle and car rental service is also available should you require it.
The apartment consists of 5 bedrooms and 5 bathrooms, a dining area, a kitchen that is fully equipped for all your needs, and a patio with pool views. The Nairobi National Museum is only 5 km away from the property. You will have the whole apartment to yourself, so privacy is completely guaranteed – which is a must, after all, it's your honeymoon! We can definitely foresee a luxurious stay should you book this, so go ahead, and book this place for your stay.
2. Villa Rosa Kempinski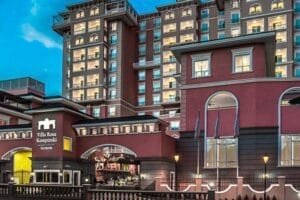 Villa Rosa Kempinski
A property highly rated by guests, the Villa Rosa Kempinski is just a 10 minute drive away from Nairobi's CBD. Free parking is available and the rooms are elegant, luxurious, and extremely spacious. The hotel is just 21 kms away from the Jomo Kenyatta International Airport. In case you're worried, the hotel has a great reputation amongst couples. receiving rave reviews from those who come to stay. The rooms offer amazing city views and it features a variety of restaurants as well that feature local as well as international cuisine. You can also relax at their spa and the wellness center.
The Villa Rosa Kempinski is a great option for couples and is a gorgeous place to stay. The outdoor swimming pool is beautiful and if you wish to squeeze in a workout, you can head to the fitness area. And in case the weather does not allow you to head out, you can still enjoy courtesy of the video games they have on offer. You will definitely enjoy a serene and luxurious stay here, that is for sure.