A place perfect for ticking off almost every item on your bucket list, this time, the flight is taking off to Nicaragua. Come board it quickly if you don't want to miss out!
A country filled with countless bucket list-worthy adventures; Nicaragua is a great destination to visit this month. The country boasts tropical forests, virgin beaches, lofty volcanic cliffs, and a cosy, comfortable weather with minimal rainfall. With all this and optimum temperature, this country makes for a great vacation spot. Nicaragua is absolutely beautiful and if you're looking for a wild and welcoming adventure, Nicaragua should occupy the number one place on your bucket list.
Nicaragua is also one of the most interesting countries you could visit in Central America. As for tourism, Nicaragua has an abundance of places to see and things to do. From volcano boarding down Cerro Negro in the north, to island hopping at the Corn Islands in the Caribbean east there is plenty to do here. It is also a relatively unknown destination, so you're not likely to encounter much footfall. If this sounds exciting enough, read on and we'll tell you everything you can do in Nicaragua.
LEON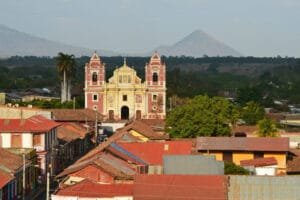 Leon
One of the first places you'll probably encounter in Nicaragua is Leon. Leon is a youthful and liberal hub of some of the greatest artists and revolutionaries in Central America. It also carries several reminders of Nicaragua's violent and turbulent past that is still continuing up to the present day. Do a free walking tour here and you'll learn about this relentless cycle of peace and war and everything else that characterises this city. The guides are extremely knowledgeable and passionate about the city and its history, so you're guaranteed a great experience. You'll be taken around the famous cathedral, street art murals, memorial parks for Nicaragua's most loved poets and revolutionaries, and you'll even be pointed out the best places to eat and drink during your stay in the city. Leon is one of Nicaragua's largest cities. So, it does get a bad rep due to that. But it is also one of the most interesting and fun places to visit in Nicaragua. The city has a sheer number of things to do, one of which is the famous Cerro Negro Volcano boarding. The inner beauty and charm of this city are amazing. You can also visit the largest Cathedral in Central America – Cathedral-Basilica. Whatever you decide, Leon is a pretty fun place to visit.
ISLA DE OMETEPE
Isla de Ometepe
One of the most unique places to visit in Nicaragua, Isla de Ometepe is made up of two volcanoes. It sits within Nicaragua's largest lake – Lake Nicaragua. But if you're worried about the volcanoes erupting, only one of these volcanoes is active. Concepcion is the largest and only active volcano here and it last erupted back in 2010. The recent eruptions have been small. Ometepe is also home to a small local populace that has called it home for thousands of years. They live in small villages around the island. It is also a very popular place to stay since it is very convenient. But there are also other, better places to stay in Ometepe like Balgue, which is very ideally located in the island's middle. Visit the San Ramon Waterfall. At 45 metres high, and surrounded by a beautiful, tropical jungle, it is a beautiful place to visit. You could also hike the Concepcion Volcano and it is safe because it is done through a guided tour only. Ojo de Agua – a natural spring considered to have healing powers is a beautiful place to relax and escape Ometepe's heat. The easiest way to see the island is by renting a motorbike or scooter and since the traffic is limited, it is a relatively safe way to sightsee around the island. We recommend staying 3-4 days in the island to be able to truly appreciate the island's beauty.
SAN JUAN DEL SUR
San Juan Del Sur
Nicaragua's most popular and well-known beach town, San Juan del Sur is easily the best place to visit in Nicaragua. The people here have a laid-back lifestyle and the small cafes, beautiful beaches, and fun atmosphere make it a great place. It is a popular surf location in Nicaragua and the Playa Hermosa and Playa Maderas are the most popular beaches here. It is also one of the most expensive locations in Nicaragua since it sees a large number of international visitors. The plenty of restaurants, bars, and shops make it a great holiday destination in Nicaragua. Here you can learn to surf since the town provides a great learning opportunity. There is also a Sunday Funday 'pool crawl' that is Central America's biggest party. It also only happens on Sundays, so make sure you're there! The sunsets in this town are out of this world and the town offers plenty of places to watch them. So, make sure you witness it at least once.