Here are five destinations that are perfect for your first-time solo travel experience in Europe.
Going on a solo trip is always an unforgettable experience and one must do it in their lifetime. When you take that much-awaited trip, you feel different emotions all at once such as fear of travelling alone, nervousness, and excitement will all be worthwhile. It gives you a sense of self-assurance and independence that you never felt before. However, choosing a perfect destination for an international solo trip is crucial. 
Some destinations are suited for solitary travellers, some look for fun, some want to deeply understand the city's history but the most important is to relieve every moment, of the place, and taste different kinds of food, connect with people and their culture during your trip and made thousands of new memories.
If you're planning to travel to Europe but confuse to choose the city. We are here to help you to plan your solo getaway and enjoy some time by yourself.
Let's have a look at some ideal destinations for your solo trip to Europe:
Santorini, Greece
This stunning Island of Santorini looks like an artist's palette which is tinted with every shade of colour. This paradise in Greece is the part of Cyclades Islands in the Aegean Sea. Its chalk-white buildings with blue colour domes, crystal clear water, and beaches will take your breath away. This place is famous for its beaches, hikes, sunsets, and cliff-top wineries. It's one of the most scenic islands in the world.
Seville, Spain
If someone wants to see historic churches, beautiful monuments, flamenco dancing and so on. Then, this Southern Spanish capital Seville is the perfect place for you to visit. This is one of the bustling cities of Spain, especially for its cuisine, music, and the way people enjoy this city is worth exploring. But, there are some places which are perfect escape points for backpackers escape point such as Parque Maria Luisa. 
Tuscany, Italy
This beautiful northern region of Italy is famous for its great food, architecture and history. Tuscany is a perfect escape point for Italian Renaissance lovers. This city is made up of distinguished countryside cities and feels like a step back in time. Here you see Medival-period castles, take a bike tour to visit vineyards and sample some best wineries in the world and the best sheep milk cheese.
Amsterdam, Netherlands
Amsterdam is the capital city of the Netherlands with beautiful canals, bridges, and magnificent architecture that will give you full-blown fairytale vibes. This city has a whole different vibe from any other European city, it has everything spectacular museums, great nightlife, lip-smacking street food and artistic heritage. A solo trip to Amsterdam you will never forget.
Bruges, Belgium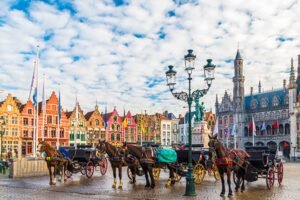 This city of Belgium is also called the "Venice of the North". It's one of the most romantic and beautiful cities in Europe. The city gives you the vibe of the Medival era with winding canal-side strolls, traditional beers and unhurried market hauls. This city's architecture will make you fall in love with it.
So, don't wait or it'll be too late. Just pack your bags and go for a solo trip to Europe.