As the couple announced they are about to start a family, co-stars and friends send congratulations their way.
Congratulations are on the way for Gauahar Khan and Zaid Darbar as the couple will soon welcome a little angel into their lives. The couple took to Instagram to announce that they are expecting their first child and we are gushing over the way they chose to break the good news with their fans, family, and friends. Gauahar and Zaid shared the good news on Instagram just a few days before the third wedding anniversary of the couple, which they will be celebrating on December 25 this year.
Gauahar and Zaid will celebrate their 3rd marriage anniversary in a couple of days.
Sharing the most adorable animated video reel, the couple announced the good news. The video read, "One became two when Z met G. And now the adventure continues as we soon become three. In Sha Allah seeking all your prayers and blessings in this beautiful journey." Giving a grateful caption to the same video, Gauahar wrote, "Bismillah hir Rahmaan nir Raheem. Need all your love and prayers. Ma Sha Allah!"
During the COVID-19 lockdown, Gauahar Khan and Zaid Darbar reportedly first spoke to one another at a grocery store. During the lockdown, the two celebrities went on drives and dates. The two had been dating for some time before getting hitched in December 2020.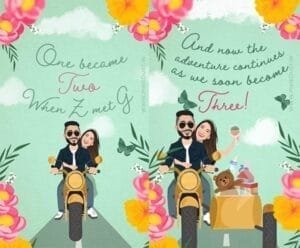 The couple announced their pregnancy in the most adorable way by sharing an animated video.
In an interview with a prestige publication in the month of September, Gauahar expressed her desire to become a mother and her hope that it would happen soon. She also mentioned that things will take place when they are meant to be while discussing that she and Zaid have not really talked about it too. Well, looks like Gauahar's manifestation has come true as she is now ready to enter the phase of being a mother.
Right after the video was posted by the actor, the comment section was flooded with blessings and congratulations from fans, friends, co-actors, and family. Bollywood actors and celebrities like Kriti Kharbanda, Dia Mirza, Ananya Pandey, Kishwer Merchant, Sophie Chaudhary, Mahi Vij, and many others congratulated the couple for entering parenthood.
Right after their post, the comment section was flooded with best of wishes from friends and fans.
The 2009 movie Rocket Singh: Salesman of the Year starring Ranbir Singh and Gauahar, was the actor's debut film in Bollywood and she has clearly been unstoppable after it. Gauahar, who had earlier won one of the most controversial seasons, season 7 of Bigg Boss in 2013, had recently appeared in three web series this year: Shiksha Mandal, Salt City, and Bestseller. On the other hand, Zaid Darbar is a dancer and choreographer by profession, Ismail Darbar, a musician who later entered politics, is the father of Zaid.