Kourtney Kardashian and Travis Barker tie their knot at L'Olivetta Villa, this couple chose an Italian wedding theme, Check out the fashion iconic Kardashian's outfit here.
The Fashion parade has begun, when the Kardashian got spotted at an Italian Wedding. On Monday, Kourtney Kardashian and Travis Barker got married at Villa, Kardashian close friends and family members got spotted with their Italian iconic outfits. 
Kourtney Kardashian and Travis Barker's wedding took place in the evening and the couple exchanged wedding vows in a beautiful location at Italy, the whole place was decorated with red roses and the guests such as kendall's boyfriend Devin Booker, Albama Barker (daughter of Barker), Megan Fox and Machine Gun Kelly got spotted at the wedding. This Italian wedding theme brought out some head-turning fashion outfits, have a look at these.
1. Kourtney Kardashian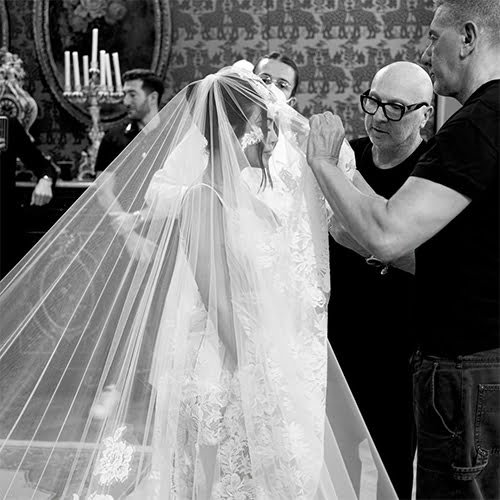 Kourtney Archival Italian wedding dress.
I do, the bride Kourtney Kardashian, took her wedding dress theme to another level, she wore a satin and lace corset white mini dress. This little dress is inspired by 1960s lingerie. Kourtney Wedding dress stole the eyes with her cathedral length veil which was promoting Virgin Mary. Kourtney Kardashian dress is inspired by archival Italian Lingerie, which perfectly fit the theme.
2. Kim Kardashian
Kim Kardashian goth wedding outfit.
Kim Kardashian who is known to be a fashion icon made her way to the wedding entrance with a high-neck gown with a black lacy sheer top, this dress is known as Black lace Dolce and Gabban turtle neck black gown. She even covered the details with lacy gloves and a statement piece around her neck, a huge green stone and cross. Kim Kardashian's entire outfit exposed a Gothic fashion at the Italian wedding.
3. Khloe Kardashian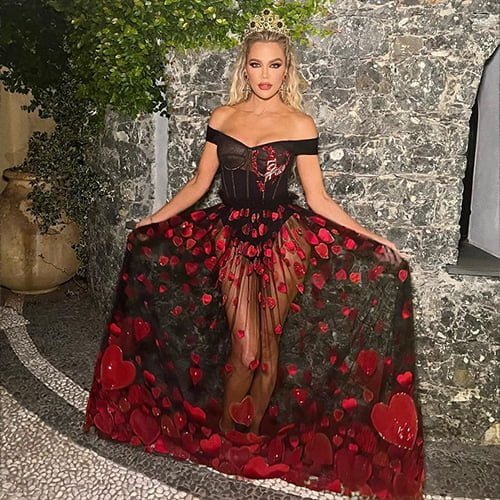 Khloe Kardashian head-turning outfit at Kourtney wedding.
Kourtney's sister, Khloe Kardashian took over the theme perfectly. Khloe wore an off-shoulder black gown, the pattern of the clothing is black lace gown and around her waist she accessorized with a golden waist jewellery. Khloe highlighted part of her outfit as a golden sunburst crown for the Kourtney wedding ceremony.
Khloe won the hearts! Her firm and bold outfit gave a perfect 'Queen of Hearts' look, this dress is designed by Dolce & Gabbana. She wore a Dolce & Gabbana gown exposed with bold colors as black and red. This dress was sequin embroidery and she completed her entire outfit with a classic crown.
4. Kylie Jenner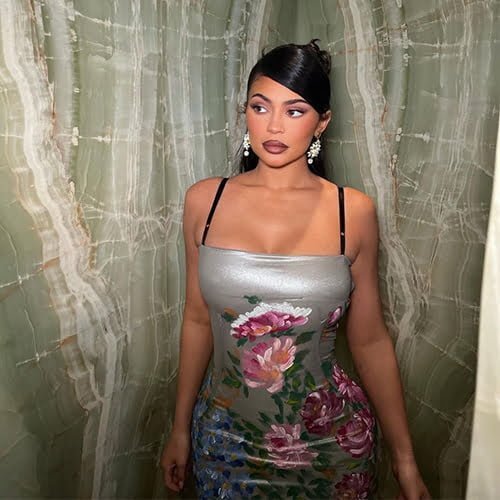 Kylie Jenner, Dolce and Gabbana outfit.
Kardashian's sister 'Kylie Jenner' was spotted with strapless silver gown, this is also Dolce and Gabbana style which stole the moment with her curvy gown, highlighting hand painted floral pattern, she gave a polished eye makeup and added white floral earning. Her baby was spotted with her Kylie, but Travis Scott was not present at the wedding. 
5. Kendall Jenner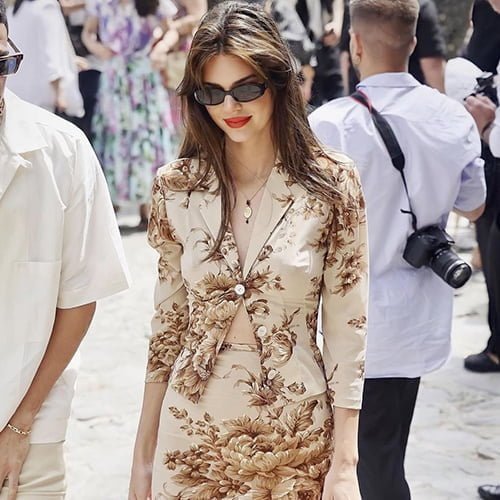 Kendall Jenner vintage dress designed by Dolce and Gabbana.
Kendall Jenner style evolution has evolved and changed frequently but at the Italian wedding of her sister Kourtney Kardashian, she went along with a classic blush Dolce and Gabbana gown, somehow both sisters wore the same fashion outfit except, Kendall had a high-neck gown with floral and butterfly print. This vintage dress is Dolce and Gabbana spring in 1997.
6. Kris Jenner
Bride Mom, Kris Jenner wore Alta Moda Cafta gown.
Mom of Kardashian, Kris Jenner wore a glowing Alta Moda caftan style gown and her entire outfit highlighted feather Dolce and Gabbana. The entire Kardashian sister and mom's fashion outfit for the Italian wedding made Dolce and Gabbana style the highlight of the wedding night.