A new year is about to ring and it's time to party with friends & family. If you're looking for an alcohol-free drink to add to your party menu, read on to know how the classic alcohol-free drink can fit into your party menu.
A New Year is in sight, and everyone started making plans with their loved ones to "How they will have fun on New Year's Eve, where will they go, what to drink, etc. Speaking about the occasion, New Year's Eve (NYE) is the most iconic drinking holiday. It brings a particular level of class and sophistication to drinks.
Throwing a New Year's Eve party requires golden balloons, glittery decorations, tasty bites, a great playlist to dance up until midnight, and the best drinks, which are worth staying up for. The drink is a must thing at a party you will need one to raise a New Year's toast when the clock strikes Twelve or you will shout out at the top of your lungs when the ball drops.
When we think about New Year's Eve party, the first thing that comes to our mind is Champagne – but there is nothing wrong to try something new and less boozy, there are also many people who don't drink or want an alcohol-free drink. Here, we tell you about a perfect drink for those who want to stand up on their feet after the mind-blowing New Year's Eve party or any other party and want to have fun as well. Not every drink is meant to be boozy and it's not necessary to get high for partying all night. "Negroni Sbagliato" is an Italian classic alcohol-free drink, which is perfect drink for any occassion.
Negroni Sbagliato is a low-ABV drink that becomes a crowd-pleaser.
After the endorsement of this cocktail from the "House of Dragon's Emma D'Arcy," who plays the role of Rahaenyra, everyone started talking about this drink. The variation of this Italian classic Negroni Sbagliato means "Negroni mistake" because it was accidentally made by an Italian bartender. While making of traditional Negroni, the bartender grabbed the sparkling wine bottle instead of gin However, this low-ABV drink becomes a crowd-pleaser. The bubbly punch of Negroni Sbagliato or you can say Negroni mistake is the perfect drink for your next party, which keeps your party going until midnight.
Let's check out Negroni Sbagliato recipe:
Ingredients
A traditional Negroni is made up of an equal mixture of Campari, sweet vermouth, and gin. This drink can be either built over ice or served up in a stem glass. In the same way, Negroni Sbagliato consists of just three ingredients:
Bitter liqueur; sweet vermouth – 1 ½ ounce
Campari – 1 ½ ounce
Sparkling wine or Prosecco – 1 ½ ounce
Directions
A Negroni Sbagliato can either be served on the rocks or served up in a champagne flute.
Served on the rocks – Filled up an old-fashioned glass with ice. Then add sweet vermouth and Campari to the glass and stir. Top with sparkling wine or prosecco and stir it again. At last, garnish it with an orange slice.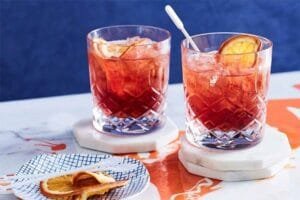 A Negroni Sbagliato can either be served on the rocks or served up in a champagne flute.
Served up – Fill a mixing glass with ice and add sweet vermouth and Campari in that glass and stir to combine & chill. Strain it into a Champagne flute. Top it with sparkling wine or Prosecco and stir again.