The slight autumn chill in Portugal makes October the best time to visit the country. Mild weather and a lack of tourists make for the perfect combination for vacations, so check out our suggestion for the month.
As autumn dawns upon Portugal, the weather becomes extremely pleasant, making sightseeing comfortable and fun. You can enjoy outdoor activities as well as have the best time ever since October in Portugal is characterized by a lack of crowds. The pleasant winter months are the perfect time to visit this country, especially if you wish to get some breath-taking views from the Torre Mountain. Go on heritage walks, savour some delightful Portuguese food, go out and explore hidden caves and beaches, but best of all, you can go out and enjoy the Lisbon nightlife. Even though there is a slight chill in the air during this month, the views remain breath-taking and the food becomes comforting. The advent of autumn means Portugal gains some glorious colour owing to its bountiful harvest. Take in the beautiful fall foliage or go hiking in the gorgeous countryside, both are equally enjoyable. If you come prepared with some warm clothing for nights and some rain boots and umbrellas, you'll be all set to have some serious fun. Portugal is an ideal place if you're looking to go on vacation with family and friends. So, without further ado, let's dive in and see the incredible things this beautiful country has to offer.
Places to Visit
Lisbon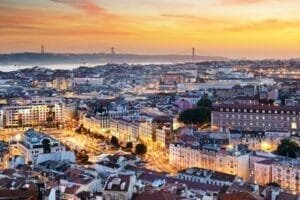 Lisbon
If you're out on a solo trip, or even with friends, Lisbon might be the best choice for you. The best and most renowned for its nightlife, Lisbon offers some great spots for partying and having fun. And that's not all, the travellers looking to satisfy their sweet tooth will find more than enough dessert spots. Lisbon is a postcard-perfect panorama of cobbled alleyways, gorgeous white-domed cathedrals as well as grand civic squares, it offers a captivating scene that has been well-crafted over centuries. The capital city of the country, it is full of galleries that you can browse and packed with castles that you can set out to explore. But, by night, the city's party people take over, creating the chillest scene you could imagine – think old-school drinking dens, jazz clubs, and all-night clubs, all bursting into life the moment the sun goes down.
Sintra

Sintra
Now we have the perfect place for the ones looking for a fantastical escape. Less than an hour away from the country's capital, Sintra makes you feel as if you've entered another world entirely. And if you're looking for a place to go for a day trip, away from the hustle and bustle of the city, this is hands-down the best choice you could make. The place feels like it just came out of a fairy tale. The historic hillside township has countless stone-walled taverns and in true fairy-tale style, is lorded over by an actual, multicoloured palace. The storybook setting of the place is formed by the forested hillsides and characterised by imposing castles, mystical gardens, strange mansions, and the best, centuries-old monasteries hidden amongst the foliage of trees. And the fog that sweeps in at night is almost like the chef's kiss – adding another layer of mystery to the whole setting. Spend cool and chill evenings by the fire on one of Sintra's countless B&Bs and feel as if you're actually in a fairy tale.
Setúbal Peninsula
Setúbal Peninsula
To the South of Lisbon, the Setúbal Peninsula has long enjoyed the status of being a weekend playground for the Lisbon residents. A ferry ride is followed by a short bus or bicycle ride and you find yourself at the Costa da Caparica – a beachfront that will seem endless and only gets wilder, but less and less crowded the further South you end up. And if it is a surf lesson you're fishing for, or some downtime on the sands, this is the ideal place. For the foodies, having a meal overlooking the lapping waves and the idyllic setting makes for some really peaceful and tranquil time. And if you're a solitary creature looking for some quiet, you can head down to the Parque Natural da Arrábida located at the Southern end of the peninsula. Full of cliffs covered with a thick vegetation, the place if gorgeous and has many picturesque coves and beaches that offer fine sand, azure waters, and for the history buffs, ruins of an ancient site dating back to the Roman times.

The Minho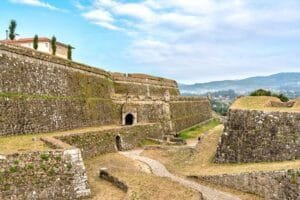 The Minho
All of Portugal holds a special fondness for the Minho. Wondering what the Minho is? It is a verdant region of vineyard-covered valleys little changed by time. It is not just vineyard-covered valleys that you'll find here though, it also has countless mountainous wilds, isolated beaches, and picturesque river towns. Braga serves as the gateway to the region and is a city that has Roman ruins, a fabled, medieval cathedral and tranquil flower-trimmed plazas that have many outdoor cafes and restaurants that you can enjoy eating at. If you head a little further north, you will end up at the Parque Nacional da Peneda-Gerês, that is a vast rugged wilderness consisting of dramatic peaks, beautiful meandering streams and stone villas that seem frozen-in-time.