Ind Vs Aus 2023: Indian Cricket Head Coach Rahul Dravid cleared all the doubt regarding Suryakumar Yadav's Spot in the Indian team in a press conference on Thursday
The first of three games in Team India's final bilateral series before the ODI World Cup will be played at home on Friday, September 22 against Australia. Given that their skipper Rohit Sharma and star player Virat Kohli are resting for the first two games, India will likely look to see how strong its depth is before the crucial World Cup.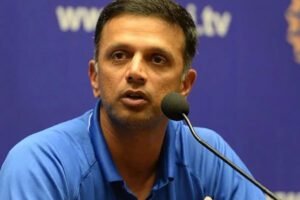 Rahul Dravid, the team's head coach, almost guaranteed on Thursday that Suryakumar Yadav, one of the 15 players selected for the prestigious international competition, will play against Australia in the opening game in Mohali.
Despite Suryakumar Yadav's lacklustre performance in this format, India's head coach Rahul Dravid justified his decision to include him in the team. The highest-ranked batsman in T20Is from Mumbai is only 24.40 after 27 ODIs, but Dravid reiterated that the team management had entire faith in him.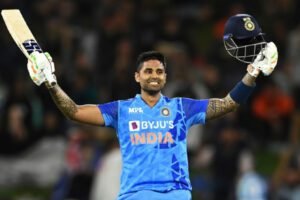 This year, Suryakumar had been having difficulty playing the format; his last ODI performance against Australia was forgettable; in that match, in March, he recorded three consecutive ducks. The India star had the support of the team management despite his numerous failures, and he will be looking to make it count in the Australia series, which is seen as a dress rehearsal for the World Cup because the squad is slated to play the Aussies in its tournament opener as well.
When asked if Suryakumar's spot in the World Cup squad was in doubt because of his persistently bad performance, Dravid replied that the squad had already been chosen and that the star batter would have the support of the team's management.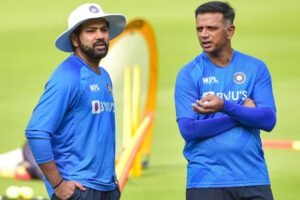 "He shouldn't be concerned about the 27th of September, in my opinion. Surya is a member of the World Cup team that we have chosen. We made the choice to do it, and we supported him wholeheartedly. We support him since we have observed that he possesses a particular characteristic and talent. Yes, we are currently witnessing that in T20 cricket, but we are aware of the kind of impact a guy like him, batting at 6, can have," said the India Head Coach Dravid.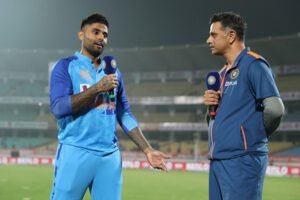 "He is able to alter how the game is played. We stand firmly behind him. It is crystal clear that we support him wholeheartedly. We are aware that ideally, he will be able to change it. He will surely receive at least the first couple of these three games so that he may progress and continue playing one-day cricket. However, we already decided what to choose." He added.
Suryakumar Yadav (Suryakumar Ashok Yadav) was born and raised in Chembur (Mumbai). He represents International Cricket in both formats (ODI & T20). Till date, he played 26 ODIs and 53 T20Is.