In 2022 IIFA award, Manish Paul asked a question and Salman Khan got emotional, have a peek at this viral moment.
IIFA awards, one of the known and popular Bollywood award shows that has over centuries highlighted and appreciated young actors and legendary actors who made history. Celebrities who have entertained, performed and what not! After the IIFA award show, this one highlighting moment is kept on going viral. Have a sneak-peek at what made Salman Khan tear up in this award show?
   Suniel Shetty friendship unpacks some old memories
Salman Khan opens up about Sunil Shetty friendship.
During his early period in the Bollywood film industry, he met Suniel Shetty. Though at his initial days, Suniel Shetty took him to a mall, his eyes went up on the shirt price and he realized it was all so expensive that he cannot afford anything. Hera Pheri actor, Suniel Shetty spotted Salman Khan checking wallets but hesitated. Salman khan gets emotional while expressing that his Anna (Suniel Shetty) brought him a new shirt and gave him a wallet which he was desiring to have. Salman Khan, while expressing got so emotional that Suniel Shetty's son Aahan Shetty walk towards him to offer a hug. This was the most emotional part of the IIFA 2022 award show.
·

       

Salman Khan stopped getting movie offers
Salman Khan was no longer getting movies.
Salman Khan's movie Maine Pyar Kiya, released in 1989. The movie actress Bhagyashree Patwardhan, shares that she will no longer work as she wants to get married. Salman Khan during the award show expressed that she took all the credits, he was without a movie for 6 months.
He finally reveals the man behind his career, Ramesh Taurani (Salman Khan's Father) and his presence as 'devta Saman aadmi'. While sharing this important journey, his entire face went red and he got emotional. He further reveals that during his tuff period with no work, his dad's check of 5 lakh gave him the support to enter in the industry again. Through this money, he was part of Patthar Ke Phool, which was released in 1991.
·

       

Boney Kapoor revived his career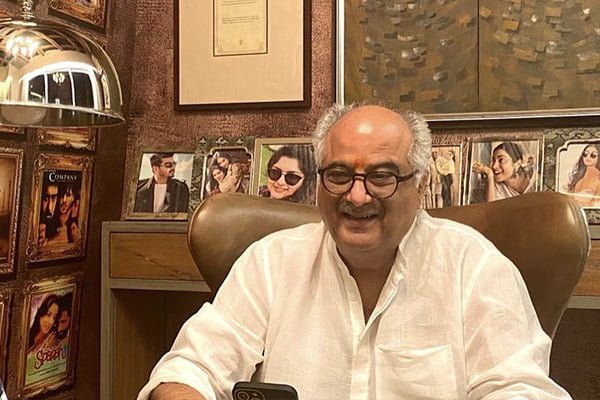 Boney Kapoor played important role in Salman Khan's career journey.
In IIFA 2022, Dabangg actor expressed that during his difficult journey, he is genuinely grateful for Boney Kapoor. He revived his career in the Bollywood industry with his movie Wanted. Later, he was offered a movie "No Entry" released in 2005. The movie included Anil Kapoor, Salman Khan, Fareed Khan and Bipasha Basu. Boney Kapoor played a vital role in Salman Khan's career in the industry.
Salman Khan shared his emotional journey at the IIFA 2022, this journey touched the fans hearts. Salman Khan who built his career in the Bollywood industry for decades, he was part of legendary movies such as Baaghi, Suryavanshi, Wanted, Dabangg which was so loved by the audience that this movie has  3 parts of it.
Salman Khan was even part of the biggest entertaining show "Big Boss" and this Indian TV show which is worldwide popular,have a total of 15 seasons. In IIFA 2022 was not the only time he cried and tears up, but he was emotional in the Big Boss show as well.