Mika Singh's Swayamvar: Mika Di Vohti has come to an end and Akanksha Puri has made her place in the singer's heart.
Mika Di Vohti, the reality tv show and swayamvar for famous Bollywood and Punjabi singer Mika Singh, has come to an end, and finally, the 'Rani Tu main raja' singer has found his life partner in Akanksha Puri. Looks like the lady who made a blockbuster wild card entry in the show with an introduction that 'I will be the king's one and only queen' has actually been able to sand by her words.
After a long journey of 2 months, Mika Di Vohti, which was a swayamvar show telecasting on Star Bharat has finally come to an end and Mika has found his wife in Akanksha Puri. The top three girls who were able to make their way into the pop star's heart were – Akanksha Puri, Prantika Das and Neet Mahal. While 20 girls entered the Swayamvar in the beginning, Mika was fond of these three girls the most, and when Mika chose Akanksha as his life partner, the other two matches must have been heartbroken.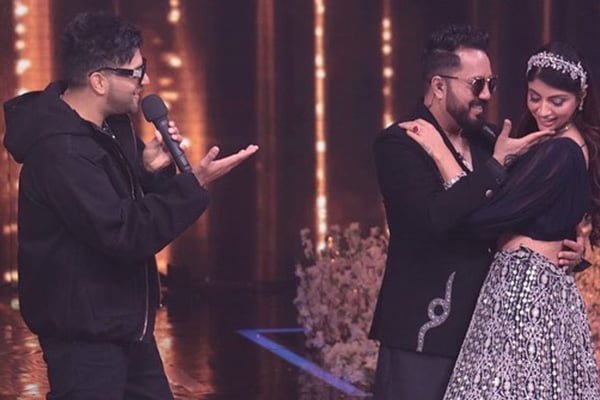 In the finale episode of the swayamvar, Mika chose Akanksha as her life partner.
Earlier at the launch of the show, reportedly, the singer confessed that he had rejected more than 100 marriage proposals that his family brought to him. Elaborating the same, Mika said that he never said a yes to any of the proposals because he finds the concept of Indian matchmaking quite disgusting. He said that when a girl comes with a tray in her hands and you tell her that you don't approve of her, it doesn't look nice at all, due to which, he used to run away even before things get to this stage. 'Before rejecting a girl, I rejected myself at that point' he said.
But then came a point when the famous singer decided to give it a plunge and said yes to the swayamvar. Although Mika and Akanksha did not tie the knot on the stage of Mika Di Vohti, the singer put the wedding garland on Akanksha to signify his decision. When it comes to the wedding, Mika shared that he wants to spend some time with Akanksha without cameras so they can know each other a lot better before they tie the knot. The singer has also met Akanksha's family before starting this new chapter of their lives.
Akanksha Puri and Mika Singh have been friends for a very long time. 
For the unversed, let us share another detail with you about Akanksha Puri. Many of you might not be aware but reportedly, she approached the channel and the team to make an entry in the show. Let us tell you why. Mika and Akanksha have been close friends for 13-14 years now and Akanksha confessed that looking at Mika with other women made her realize that she did not want to lose her special friend.
Also, Akanksha had made headlines earlier for dating Bigg Boss 13 contestant Paras Habrara, who broke up with Akanksha on the show since he fell in love with his current girlfriend and then co-contestant, Mahira Sharma.
Now that Mika and Akanksha have chosen each other for life, let's see when we get to hear the wedding bells.