Want Some Dynamic, Hot Ideas for A Spicy Sex Life? Ease Yourself and Explore The Dirty Talk With Your Partner. Read To Know It All!
There's something definitely fierce about talking dirty with your partner. Whether it's sending them a naughty text during the workday or whispering something seductive while doing the deed. But if expressing yourself through words isn't necessarily your thing, spicing up your language can seem intimidating. Get ready to turn on with your words whether you want to liven things up with your long-distance partner or build some sexy anticipation before your boo gets home from work tonight. It can help you feel "fully embodied" in your sexuality and express things you might not normally feel comfortable with. Dirty talk doesn't have to be raunchy or dirty. It can be sweet, romantic, loving, edgy, and even funny.
The key to dirty talk is the connection between you and your partner. This can apply to serious intimate connections or a casual affair, as long as the sexual connection is strong. With a little practice, you'll be on the way to feeling comfortable and confident with dirty talk in no time! Read out the following tips to help yourself!
What is it about them that drives you wild? Maybe it's the way they use a body part, the sparkle in their eye when you're in bed together, the eye contact during the sexual intercourse or something attractive they do with their voice. Not only does focusing on your turn-ons set you up for a dirty talk, but when you tell someone what turns you on, they're more likely to repeat that very thing. So why not be honest? Dirty talk shouldn't feel like a play-by-play review of what's going on, but more of a sprinkling appreciation throughout. If you want to take things to the next level, say something like, "I love the way your lips feel" or, "It turns me on when you touch me like that." As, when you communicate what you're enjoying specifically, your partner will be more likely to continue the same action. Hearing admiration is a total turn-on.
Feeling the impulse to say the perfect things? Simply use your imagination skills to take the game to a next level. Did your partner do something that drives you crazy in the best of ways? Mention that! Tell them how hot it is, and tell them you're imagining that they're doing just that. Say what you'd like them to be doing to you or you'd like to do for them. This is a great way to share sexual desires and fantasies with your partner. Play with rhythms, take pauses, tease them with a longer pause, and have them begging for your dirty conversation.
Make The Conversation Playful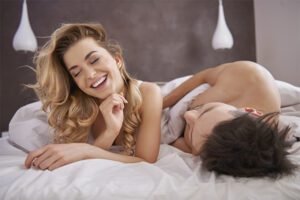 Dirty talk should be approached in a playful manner while cultivating a sense of light heartedness a non-judgemental environment while turning each other on. Afterall, playfulness gives a sense of freedom to express your desires without restraining yourself. Begin by complimenting your partner in an explicitly sexual way and then take it up a notch. Dirty talk is a common turn-on and something that's frequently explored during kink. It can be as simple as spinning elaborate fantasies while role-playing. Whatever dirty talk phrases you choose, have fun experimenting and notice what turns you and your partner on the most.
Play Dirty with Roles and Words
Role play can involve outfits and props or can simply be a departure from your usual personality. Want to play the naughty doctor? Or professor? Whatever it is, experimenting with role play can be a major turn-on. Perhaps you want to try being a little bossier than usual in bed. Pro tip: If you're playing a role that's different than how you usually are, giving that role a name can make it easier to explore. For example, if you usually go by a nickname or other shortened form of your name, using your full name might be a sexy way to represent your new, bossy self.
If you still need some dirty talk inspo, try out the following steamy lines to warm up your room temperature.
"I went to the kitchen to heat things up, but my favourite part is heating things up with you in bed."

"Roses are red, violets are blue, I'm all wet, where are you?"

"Had a dirty dream last night. I can't wait to show you later."

"I've been bad. Can you punish me?"

"I like you the way I like my organs – inside me."

"I can't stop thinking of how much I want your mouth all over me."

"I'm going to tease you until you beg me."