Gauri Khan came back to the most talked about show, Koffee With Karan, along with two new web series superstars and her friends, Maheep Kapoor and Bhavana Pandey. 
As Karan Johar reminds her, Gauri Khan previously visited the Koffee With Karan set seven years ago with her husband Shah Rukh Khan, Sussanne Khan, and Hritik Roshan. Her return to the programme reveals her as the successful and passionate interior designer entrepreneur she is and aims to shatter the perception of her as only an image with the label "Shah Rukh Khan's wife." Gauri Khan has worked hard and has established a brand for interior design which has been successful for a very long time now. But the road to success surely hasn't been easy for her as she has faced many hardships throughout her journey. Being labeled as "Shahrukh Khan's wife" isn't easy at all but she took it in spirit and in her words, did what she loved and loved what she did. 
This was only Gauri Khan's second appearance on Koffee With Karan, whilst, it was a debut for Maheep Kapoor and Bhavana Pandey
Most of the episode kept revolving around Gauri Khan and Shah Rukh Khan and how they are so lively and down to earth at the same time. This was the first time someone from the Khan family opened up about the arrest of Aryan Khan and what the family felt. Karan subtly questioned Gauri about her son Aryan's imprisonment the previous year throughout the episode. It has been such a difficult journey for Aryan, and the entire family has come out so victorious, according to Karan. Gauri is a mother, and according to Karan, they are both attached. It hasn't been easy, he continues, but Gauri has come out stronger than before. After pausing, Gauri Khan said, "Nothing can be worse than what they just went through." She can, however, remark that they are in a good place as a family as a whole. They feel loved by all of their friends, as well as by several outsiders who have sent them numerous notes and expressed a great deal of affection for them. The Narcotics Control Bureau (NCB) detained Aryan because he was a suspect in a narcotics case. Later, Aryan was acquitted of all accusations.
This was the first time any member of the Khan family opnely spoke about the arrest and what they went through
The star children Ananya Pandey (daughter of Chunky and Bhavana Pandey), Suhana Khan (daughter of ShahRukh and Gauri Khan), and Shanaya Kapoor (daughter of Sanjay and Maheep Kapoor) sat together and discussed how their mothers are with them along with other things in one of the wonderful segments in the show after a long while. It was a really interesting segment where they talked about how much they loved their moms and how they had all three been mothers to them throughout their lives, always wanting to know what they were up to.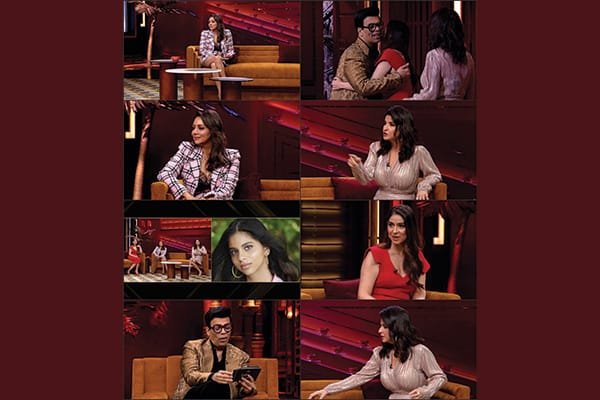 Shanaya Kapoor, Ananya Pandey and Suhana Khan have been best friends for a long time just like their mothers
The crowd absolutely adored the moment Gauri Khan contacted Shah Rukh Khan during the Slamzone round of the most recent Koffee With Karan episode. It also evoked nostalgia and gave the Khan family a lot of attention. When Gauri Khan begins to talk about how at ease she is with Shah Rukh Khan, it has to be one of the most beloved parts of the event. The audience loved this touching scene. In the end, everyone also got to hear Shahrukh's voice which was a delight and Gauri even got six points.
The kind of dialogue SRK used, he is genuinely the filmiest person in the industry 
The rapid fire was a decent one, with only a few controversial answers whilst the other answers were more or less diplomatic to avoid any sort of controversy for them and their family. Gauri Khan was the best of the lot and therefore, won the round by a considerable amount of votes from the Koffee Jury. Bhavana still gave some controversial answers which may result in some hype for Chunky and daughter Ananya. She may have hinted at the fact that her daughter might have dated two people at the same time and this might be some bollywood gossip if it is actually true. Suhana Khan's mother gave her the advice "Never date two guys at the same time," when KJo questioned Gauri Khan about it. When Johar heard this, Bhavana and Maheep were beaming and laughed out loud.
Gauri like a protective mother even advised her daughter Suhana to not ever date two boys at the same time during one of the questions in the rapid fire round
All in all, it was a decent episode. It might be on the less boring side of things, but some of the segments and talks were interesting and it was nice to see the less controversial side of Karan on more than a few occasions. The biggest delight again was the connection and relationship between Gauri and Shahrukh and how they have been together in the toughest of times and how their friends and family have been their constant support.