Christmas is a festive time and Bollywood celebrities made sure they had an excellent time with their friends and families
The holiday season is now here, and a number of Bollywood superstars have resorted to social media to share touching updates about their Festivities with friends and family. Some people rang in the final week of 2022 by traveling abroad, while others stayed at home and enjoyed the occasion with friends and family. 
Vicky Kaushal and Katrina Kaif gave fans a peek inside their family's joyous Christmas celebration. Katrina posted a photo of the family's Christmas celebration on his Instagram account. The guys in the family, including Vicky and his brother Sunny, could be seen sporting Santa hats, while Katrina, her mother-in-law Veena Kaushal, and sister Isabelle Kaif were all wearing red clothing. Vicky's dad was also spotted smiling broadly as he posed with the family. The other image shows a gorgeously adorned Christmas tree, but VicKat's image was what attracted people's attention. She captioned the images with "Merry Christmas." On his Instagram account, Vicky Kaushal similarly posted the identical image of a Christmas tree. 
This year they posted a picture of their polaroid that was staged on their Christmas tree
For their daughter Malti Marie Chopra Jonas's first Christmas, Priyanka Chopra recently took a plane to an undisclosed location. Priyanka Chopra is having fun with her daughter Malti Marie Chopra Jonas on Christmas. The actress posted a video on Instagram stories showing the gorgeous weather from her apartment while she and her daughter lazed in bed. The actress shared the video on social media with the remark, "A big Yes to morning snuggles and Christmas enchantment…," and a heart emoticon. While on vacation in New Jersey alongside their daughter Malti Marie, Priyanka and Nick Jonas.
Priyanka Chopra is certainly enjoying the festive time with her loved ones
Alia Bhatt shared charming photos with her Instagram followers from her celebrations, including midnight dinner and Kapoor's yearly lunch. But one specific picture of Alia and Ranbir Kapoor caught everyone's attention. In the right moment, Alia is hugged by Ranbir and given a cheek kiss. Ranbir looks dapper in a white shirt and blue pants, while the actress looks lovely in a red suit. Alia and Shaheen Bhatt, together with Neetu Kapoor, Sonia Razdan, and Pooja Bhatt, were included in the next snapshot she shared. The final picture shows Randhir Kapoor, Babita, Neetu, Rima Jain, Karisma, Ranbir, and Alia during the yearly Kapoor Christmas meal.
Alia Bhatt posed some cute and adorable pictures from the Annual Kapoor family Christmas lunch
Along with her daughter Aaradhya Bachchan, Bollywood actress Aishwarya Rai Bachchan enjoyed Christmas. The actor shared a photo of them by their festive Christmas tree on Instagram on Sunday. Aishwarya's father's picture was in the backdrop, while Aaradhya is seen clutching some decorations while wearing her name tag. In contrast, Preity Zinta uploaded a video that let viewers into her Christmas celebration. The video displayed a festively furnished room with a Christmas tree and numerous gifts arranged beneath it. In addition to the film, there were also images showing the star having fun with her family. A dancing Santa Claus has also been placed in the space.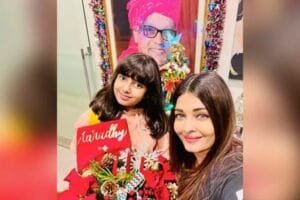 Aaradhya can be seen holding her Christmas present which was given by her mother Aishwarya
Kareena Kapoor appears to be having fun with her "best pals" despite missing the traditional Christmas family feast at Kunal Kapoor's place. The actress posted a video of her husband, Saif Ali Khan, practicing his guitar expertly on her Instagram account. Saif is dapper in the video wearing a white kurta and pajamas and accessorizing with a scarf and glasses. Jeh adds a photobomb to the video at the end. He approaches Saif, calling him "Baba," and he looks cute in a pink nightgown.
Jeh's appearance melted the hearts of the fans that saw this post
Celebrities from Bollywood would undoubtedly celebrate Christmas as it is a highly joyful time of year. Be it Holi or Diwali, the Bollywood celebs have made each event unique. Fans were therefore eager to see how our famous stars greeted Christmas this year. These top celebs were only a few, and this is how they celebrated the holidays.