After an exceptional fight with New Zealand, team India made its place in the ICC World Cup finals. Read out to know the match highlights.
All the cricket fans out there, can't keep their calm as Team India proudly paved its way into ICC (Indian Cricket Council) World Cup 2023 finals. Mumbai saw the spectacular showdown between New Zealand and India held on November 15 at Wankhede Stadium. The blue army took a breath of relief after India won by 70 runs. While India played well throughout the series however they bit struggled during New Zealand's innings.
In semifinal 1 Team India won the toss and chose to bat first. They set the score of 397 for 4 in 50 overs to chase by the opponent team. The New Zealand team tried its best to chase that score but couldn't beat the Men in Blue. They get knocked out for 327 in 48.5 overs. The stadium not only saw this exceptional victory of team India but also witnessed many new records. As opening batsmen Rohit Sharma and Shubham Gill came to the ground and gave a great start to the team. After Rohit's wicket, Virat Kohli aka King Kohli came to take the match forward. He came, fought and broke the record of legendary cricketer Sachin Tendulkar's ODI centuries. King Kohli hit his 50th ODI century and made the nation proud. After hitting the century the cricketer bowed down to his idol Sachin Tendulkar to give respect. This gesture of him melts every Indian heart.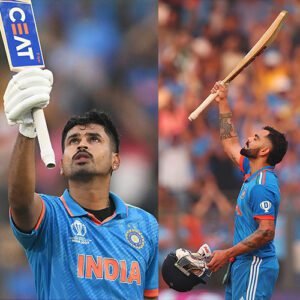 After Shubham got injured Shreyas Iyer took his place and he scored 100 for 67 balls. The cricketer made a major contribution to raising the mammoth score. At India Vs New Zealand not only Rohit's batsmen showed their incredible form but also the fielders and bowlers took our breath away with their outstanding performance. While New Zealand's batting, the bowlers including Mohammed Shami, Kuldeep Yadav, Ravindra Jadeja, and last but not least Jasprit Bumrah knocked out the entire New Zealand team. Mohammed Shami took 7 out of 10 wickets and made history by becoming the quickest bowler to complete a fifty-wicket haul. Although Ravindra Jadeja who we call a magnet for balls, had 3 main catches. Kuldeep Yadav, Jasprit Bumrah, and wicketkeeper KL Rahul also did a great job. The entire Indian team gave their best to win against New Zealand.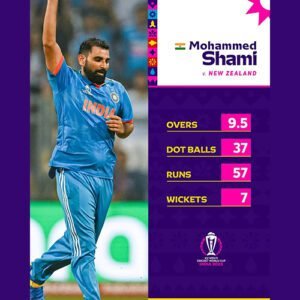 As soon as Team India won their fans started congratulating them on social media. On 16 November, the 2nd Semifinals between South Africa and Australia were held at Eden Gardens. The winning team will face the India in finals which will be on 19 November at Narendra Modi Stadium, Gujarat.