Children's Day: From Chillar Party to Masoom, look at the films that give a strong lesson to your child with lots of entertainment.
Children's Day is observed across the country on the anniversary of the birth of our first prime minister, Pandit Jawaharlal Nehru. It is said that he loves children a lot and to remember his affection and love towards children, this day is marked as 'Children's Day'.
Everyone celebrates this special day in different ways but our cinema has its way of celebrating special days. Cinema is not only a source of entertainment, but one can also learn about the surrounding environment from films. They can learn many things in this way.
And, if you are planning to show films today on Children's Day, then these movies will be the better option for you and your children.
Chillar Party (2011)
The film, which was co-directed by Nitesh Tiwari and Vikash Behl, effectively captures the essence of camaraderie between a cleaner boy and the children of a community. With a big heart, the image is hilarious and inspirational at the same time, showing greater maturity than adults.
Chillar Party was critically successful and won the National Film Award for Best Children's Film in 2011.
Taare Zameen Par (2007)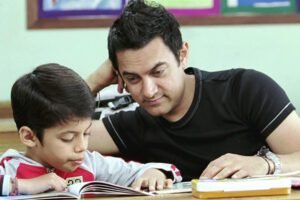 Taare Zameen Par directed by Aamir Khan tells the story of a nine-year-old Ishaan Awasthi who suffers from Dyslexia and how the character of Khan helps him to overcome his reading disorder. It features Darsheel Safary, Tisca Chopra, Girija Oak, and Vipin Sharma.
I Am Kalam (2011)
"I Am Kalam," a Smile Foundation production, is the first film produced in India by a development organisation. It follows a young child's struggle to reach his objectives and go beyond what is considered to be possible. The importance of eliminating social injustice and educating the impoverished is the story's lesson.
The film is set in Bikaner, Rajasthan, and follows Chhotu, the main character, as he encounters challenges. It is a perfect example of the struggles that the millions of these youngsters in the country experience as well as the way that society views them.
Philips and the Monkey Pen (2013)
The 2013 Malayalam film centers on Ryan, an eight-year-old who always faces difficulties in Maths every time. His life took a turn when his grandfather who is an antique collector, gave him a magical pen. The film features Sanoop Santhosh, Jaya Surya, Remya Nambeesan, Vijay Babu, and Joy Mathew and is directed by Rojin Thomas and Shanil Muhammad.
Masoom (1983)
Masoom is based on an emotional topic related to children. It talks about the problems of adopted children who come into a very different world. Sekhar Kapur directed Masoom stars, Naseerundin Shah, and Shabana Azmi in the leads with Supriya Pathak, Tanuja, Saeed Jaffery, Jugal Hansraj, Urmila Mantodkar, and Aradhana.
It was released in 1983 and was loved by every audience. It was the official adaptation of 1980s Man, Woman, and Child by Erich Segal, and the screenplay was written by Gulzar.
Special Mentions:
Stanley ka Dabba (2011)
Nil Battey Sannata (2016)
Koi Mil Gaya (2003)
Anjali (1990)
Jagga Jasoos (2017)