Hindi music has a certain quality that makes it impossible to get enough of.
Kuch toh log kahenge, logon ka kaam hai kehna
Chhoro bekar ki baton mein kahin, beet na jaye raina
The song is from the movie Amar Prem.
This one is on the list of favorites of many and for all the good reasons. A song that tells you to be a little carefree in life and not to think about what people think because that's the only thing people can do. When you start giving importance to what others think, you are wasting some of your precious life moments. So, understand what the song is teaching you.
Ruk jana nahi tu kabhi haar ke,
Kanto pe chalke milenge saaye bahar ke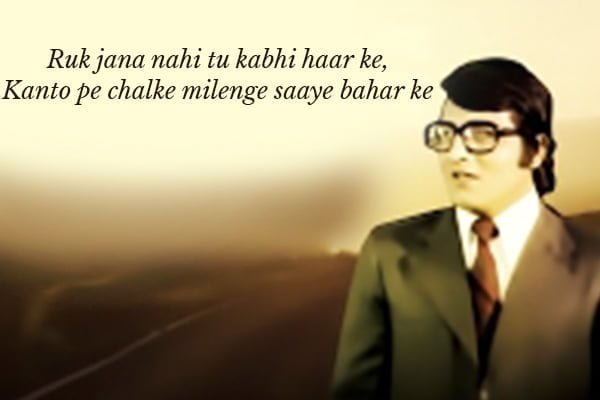 The song from the movie Imtehaan has been a motivation.
A unique classic that motivates you when you feel a little low in your life. A song that tells you to keep going no matter what the circumstances are. As the lyrics say, walking on a road full of thorns will lead you to your spring destination one day. When someone is doing the right thing, the outcome of all the efforts is just fine.
Maut aani hai ayi ek din
Jaan jani hai jayegi ek din
Aisi baton se kya ghabrana
Yaha kal kya ho kisne jana
The evergreen Rajesh Khanna made us accept the truth of life.
Zindagi ek safar hai suhana, and what could be a better life lesson than this one? This song elaborates the true essence of life with all the ups and downs. The lyrics mentioned above tell us how life is fair and practical. Death will come to you one or the other day but that doesn't mean we keep worrying about that fact and miss the moments we have right now. We don't know what tomorrow will unfold so do what you want to do in your life but make sure you are happy.
Ek din bik jaega, maati ke mol
Jag mein reh jaenge, pyare tere bol
From the movie Dharam Karam, the song taught us a great lesson.
According to the song, we all will end one day and all that will be left behind are the kind words that we've said. You must have heard that actions can sometimes be forgotten but, the words you say to someone will always stay. And this is the lesson that this song gives, to be kind and use kind words with everyone.  
Jeene Ke Liye Sochaa Hi Nahi
Dard Sambhalane Honge
Muskuraaye To Muskuraane Ke
Karz Utarne Honge
A voice that will always be alive in our hearts.
Lata Mangeskar Ji, the nightingale of the nation gave us some of the most wonderful songs, and 'Tujhse naraz nahi' is definitely one of them. The above-mentioned lyrics tell how we never think of the ways we will deal with the hardships of life and how smiling through those tough times will become so difficult for us. But that is life, my friend. It teaches you, inspires you, and makes you strong through every thick and thin of life. There are times when you have to smile in front of people while you know something is aching inside of you.
Aanewala Pal Jaanewala Hai
Ho Sake to Iss Mein Zindagi Bitaado
Pal Jo Yeh Jaanewala Hai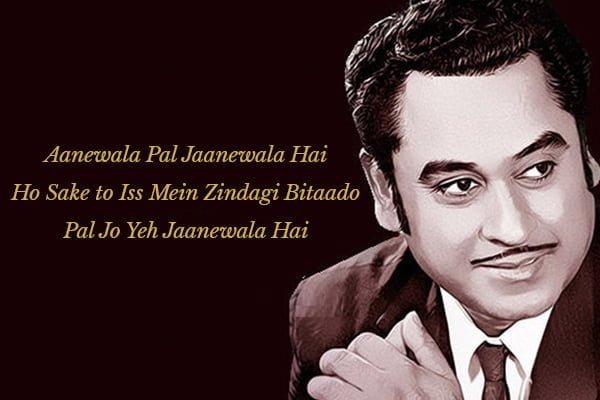 The legendary Kishore Kumar taught us how every moment should be cherished.
If you come to think of it closely, the song explores the moments in life and while we are thinking about the future, we miss the present and forget to cherish it. A moment that is right here, will be gone in some time so live your life to the fullest and cherish every moment of life.