Thinking about what to do in summer? Check out six must-try adventurous sports in India to experience an adrenaline rush like never before.
The holiday season is simply across the nook, and many people make plans to spend their summer vacation relaxing on the beach, take sunbath, reading books, or relaxing in the pool, but it does not go for everyone. Why not try some adrenaline-fueled activities this summer to beat the heat differently?
As we all know, India is home to some beautiful terrain and breathtaking landscapes, making it an ideal destination for thrill-seekers. From diving deeper into the ocean to seeing the limit of the sky, covering all the aspects of nature helps you to unwind from everyday life stress and rediscover yourself. There are crazy possibilities when it comes to adventurous activities in India. So, this summer take a break from your hectic life and enjoy this thrilling adventurous sport with your friends and family.
Here, we have curated a list of six adventurous activities you can try this summer in India:
Bungee Jumping
Bungee Jumping is one of the most popular and extreme activities in India, which everyone heard of and want to try once in their life. Rishikesh is the OG destination for this sport. It has India's highest bungee jumping. You can also try this sport in Goa as well. This adventure sport involves jumping from a great height with a rubber chord tied to the jumper's ankle and experiencing the breathtaking views of mountains. The best seasons to try this are February, March & August, and October.
Scuba Diving
If you want to experience aquatic life then scuba diving is the best way to discover marine life. And for exploring the depth of marine life and coral reefs, Goa and Andaman Island is the best spot for scuba diving. Another popular place to experience scuba diving is Lakshadeep. Expect monsoon season you can try scuba diving all year.
Parasailing
If you love flying and speed then you must try Parasailing. In India one of the popular places to try this water-sport activity is Goa. This sport involves a person harnessed with a parasail and towed behind the boat. It gives you a mindblowing aerial view of the Arabian Sea and the spectacular Goan beaches and would definitely become the highlight of your trip. The best season to try out this water sport is from October to March.
Paragliding
To experience a thrill and want to feel the adrenaline rush at its peak, try Paragliding. This sport involves free flying through the air using a parachute. With this aerial sport, you can witness the breathtaking view of the valley from soaring above and flying like a bird. Himachal Pradesh's Bir Billing is the perfect place to try out this adventure sport. Other popular destinations for Paragliding are Kamshet and Panchgani in Maharashtra and Nainital. October and mid-June are the best seasons for Paragliding.
River Rafting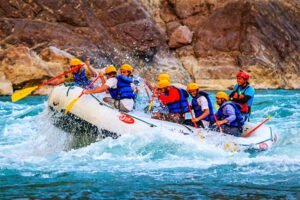 One of the most popular water-sport activities in India and one of the best ways to spend your vacation on the coast of the Ganga River. This water sport involves navigating through the tough waves of the Ganga River using a raft. This sport offers different difficulty levels from Grade I to Grade IV. Rishikesh is one of the best locations to experience this sport, other popular locations are Manali, Kolad, and Ladakh. And the best season for river rafting is from Mid-June to Mid-September.
Jet Skiing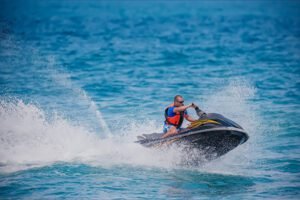 Another fun and exciting water sport which takes your adrenaline rush to another level is Jet Skiing. It involves a watercraft propelled by jet engines. Mumbai and Goa are the best places for this water sport activity in India. October to April is the best time to try this sport.