Bollywood actress Raveena Tandon and Oscar-winning music composer MM Keeravaani received Padma Shri Award on Wednesday. Read out to know more details.
Actress Raveena Tandon and music composer MM Keeravaani were awarded the Padma Shri award on Wednesday. Padma Shri Award is the 4th highest civilian award conferred by the President of India Draupadi Murmu at a ceremony at the Rashtrapati Bhavan in Delhi. Both of them received this award for their great contribution to the field of arts. Raveena Tandon completed her 30 years of journey in this showbiz and Music composer MM Keeravaani recently won an Oscar award for his song Naatu Naatu and made India proud internationally.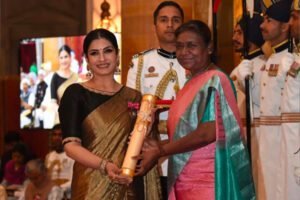 Prime Minister Narendra Modi and Home Minister Amit Shah attended the prestigious award ceremony with other awardees. Raveena Tandon's family and RRR filmmaker SS Rajamouli were also present at the gilded ceremony. The central govt announced a total of 106 awards across categories this year. The award categories included art, public affairs, social work, medicine, science & technology, trade & industry, literature & education, civil service and sports among others. This year 91 people received this prestigious award in different categories.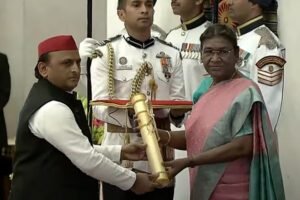 President Draupadi Murmu also honoured the Padma Vibhushan award to veteran socialist and former CM of Uttar Pradesh Late Mulayam Singh Yadav. On the behalf of his father former UP chief minister Akhilesh Singh Yadav received this honour. He was seen wearing a red cap which is a trademark of his political party. His father late Mulayam Singh Yadav was the founder of the Samajwadi Party. He was elected ten times to the UP assembly and seven times to the Lok Sabha. He died at the age of 82 on October 10, 2022.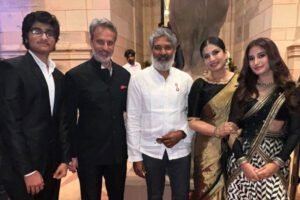 Actress Raveena Tandon expressed her gratitude with folded hands for receiving this great honor. She dedicated this award to her late father Ravi Tandon and said that"it was his dream, I did get Padma Shri but unfortunately, he was not here to see this day". Further, she added, "It was an emotional moment for me". The 50-years old actress' entire family came to the ceremony. To support her on this big day.
For attending this big ceremony, the actress wore a golden saree with a black blouse and styled it with a golden huge statement Jhumkas and bangles. Raveena shared her photos on Instagram, she also posted a photo of her and her family with SS Rajamouli, who came there to support his friend music composer MM Keeravani.
Apart from them, Sudha Murthy, wife of Infosys co-founder Narayan Murthy and a novelist, was awarded the Padma Bhushan award for her great contribution to social work. An educator and founder of the 'Super 30' coaching programme, Anand Kumar was also awarded Padam Shri for his contribution to the education field.